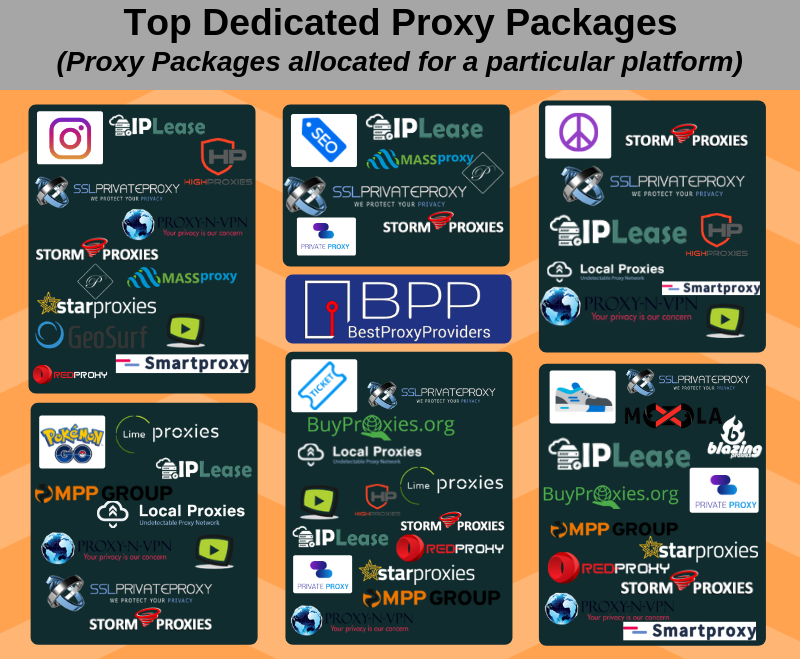 Very few people, both market insiders and outsider know how wide is the private proxy market. The guys at BestProxyProviders have created an infographic with the whole proxy market. Check it here.
Anybody looking at this kind of market will not manage to make an educated decision on which proxy provider to choose from which to buy his proxies. Luckily, we have a few tips for you and anybody looking to buy proxies. These tips will help you choose not a particular provider (not even us) but will help you choose the best provider for your needs.
Private Proxy Market Fragmentation
With more than 70 proxy providers (according to the Infographic) and several selling channels, you might not know where to start looking to buy proxies for your project.
Besides a large number of providers, there are also multiple types of proxies, such as datacenter or residential. Furthermore, datacenter ones split themselves into HTTP and Socks proxies.
On top of that, some providers started offering IPv6 proxies, which are different than IPv4 proxies.
If this doesn't sound confusing yet, you need to check the dedicated proxy packages section. While here there are listed only the top six packages (for Instagram, SEO, Craigslist, Pokemon GO, Ticketing and Sneaker proxies), there are other packages sold by providers as well. Here we can add other social media proxies such as Pinterest proxies.
Which provider should you choose? And why? There isn't a right answer, but let's see how you can decide on choosing a particular provider for your proxies.
Check proxy review websites
Searching on Google, or simply accessing it directly, you can find proxy review authority websites like BestProxyProviders. Here you can check proxy provider's review from both a technical and sales perspective.
These reviews are performed by people with knowledge of the private proxy market. So they know what they are talking.
One great advantage of checking BestProxyProviders and other review websites is the ability to compare providers and their offers. Not only in terms of price, but also on service level or server locations.
Another aspect worth taking into consideration is that these review websites do not post reviews for any provider, but they select an publish only certain providers. So, you can consider such a review as a vote of confidence is a provider's service.
Forum Talk
Another great way of checking a proxy provider before buying proxies from him is to check forums for what other users are saying about them.
One such forum is BlackHatWorld, where you can find a proxy selling place and discussions centered around a provider's offering.
Here, we recommend you check the negative reviews first because they are a better indication of a provider's level of service. Another thing to check is the response time. If the provider has a decent service, it will answer to its potential customers in a timely manner.
Besides BlackHatWorld, there are other online forums where you can check both proxy provider's threads and forum members discussions.
Online review websites
Aren't these similar to proxy review websites? The answer is no.
Proxy review websites have reviews conducted by professionals and people with knowledge. Whereas, online review websites like TrustPilot have listed reviews of past customers explaining their experience with a particular service.
You can check these websites as well for reviews on a proxy provider's level of service. And as mentioned above, always look for the negative reviews first because they are a better indication of a provider's service.
Don't expect a provider with no negative reviews. Instead, check all the negative reviews and see if the provider's service is poor or if customers' claims are ludicrous.
How to choose your private proxy provider
was last modified:
March 3rd, 2019
by