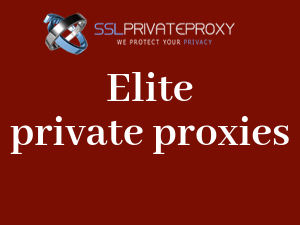 Can tools like elite private proxies be an investment in the future? With more and more aspects of our lives moving online, certain tools are becoming more important. People start using them more frequently and in different ways. This is also the case with private proxies and VPNs. However, it depends on each person's need how to use and when to use these tools. In this article, we are going to discuss why private proxies are an investment in the future and why businesses should use them.
DO YOU NEED ELITE PRIVATE PROXIES?
Elite private proxies are private proxies with a high level of anonymity. Most of these proxies are HTTP, allowing users to connect and mask their IP on any website or online platform available today.
For some purposes, there is no need to use elite proxies, simple, cheap shared proxies will do. For example, for SEO, you can perform most tasks with shared proxies mixed with public ones. And at a certain period of time, you can ask your provider for proxy randomization so you can get your IPs refreshed.
However, not all your online needs revolve around SEO tasks. And the need for elite private proxies comes into play when you need to connect accounts to a certain online platform. So, a rule of thumb is that you need elite proxies if you must connect accounts to online platforms.
ELITE PRIVATE PROXIES FOR THE ONLINE WORLD
We started conducting more business online. For business and marketing needs, we leveraged certain online platforms. These platforms can be used only for creating accounts and using them.
But more users of these platforms started understanding that they can benefit more from online platforms if they automate tasks or create online bots to serve their needs through these platforms. But to perform such tasks, they must use elite private proxies. They started experimenting and investing in working proxies for their needs. And there are two major ways of using these proxies.
USE ELITE PRIVATE PROXIES FOR AUTOMATING TASKS
The first way of using elite private proxies is to implement them in automation tools and automate certain online tasks. This use of private proxies benefits marketers and those looking to create a distribution platform for their needs.
For example, marketers started using HTTP virgin proxies to automate multiple social media accounts. Thus, by using private proxies and automation tools, they created a content distribution network for their needs. They need virgin proxies because social media platforms are some of the most restrictive online platforms available today. And they do not allow connecting more than three or five accounts per IP. Thus, marketers looking to manage 20 or 30 accounts need to use elite private proxies for each account. Moreover, using a ratio of one account per proxy, marketers protect their accounts from possible bans due to abusive behavior or reports on certain accounts.
Another use for elite private proxies is to automate online purchases for which the buying process limits the number of purchases per IP. In this category, you'll find event ticketing websites and limited edition sneakers releases. The buying process limits the number of purchases per IP and the availability of these items. Thus, to increase their chances of getting more items, buyers started using buying software and elite private proxies. The proxies they need should be virgin HTTP proxies, meaning they have never been used to connect to these online platforms before. And they need proxies to hide their IP and make buying queries from as many non-sequential IPs as possible.
GET ELITE PROXIES FOR ANONYMITY
Besides using elite proxies for automating accounts or buying processes, other people will buy elite proxies for anonymity. They need tools to mask their IP while surfing online.
The need HTTP proxies to set them in their browser or in proxyfier. Moreover, depending on their privacy requirements, they can also use VPNs or International proxies to spoof their geolocation.
Anonymity and buying anonymity tools become more important as more aspects of a user's life move online. Thus, the need for anonymity and elite proxies use increases with the more personal data the user sends online.
THE INVESTMENT IN ELITE PRIVATE PROXIES
As you saw above, with more tasks moving from the offline world to the online world, we need tools to keep our IP anonymous. We need to keep our IP anonymous for various reasons. Some need privacy and anonymity. For them, elite private proxies and VPNs are the best-suited tools. While others need to mask their IP to automate tasks like marketing or buying limited items. Thus, they need elite proxies to perform multiple queries at the same time, from multiple locations/IP. And as we need to use these services more often, our need for private proxies increases. Therefore, start using elite proxies and invest in them now to reap the rewards in the increasingly digital future.
Why elite private proxies are an investment in the future
was last modified:
September 16th, 2019
by