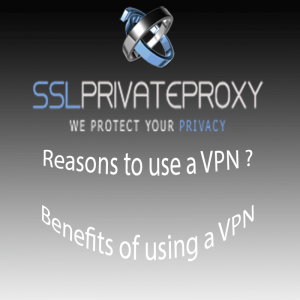 Why use a VPN?
As you might know, our company provides not only proxy servers but secure Virtual Private Networks as well. On SSLPrivateProxy review, one can find all benefits of your private networks. However, what is a VPN? Is it vital to use it nowadays?
The history of VPN dates back to 1996. A private network was initially developed for governments and employees of big corporations who worked remotely and had to transfer their data securely. However, in the 2000s, the boom of security breaches contributed a lot to the widespread popularity of a VPN among individual users. People became aware of all risks and vulnerabilities on the Internet. They wanted a perfect tool that would be able to guard their data against vulnerabilities and malefactors. Likely, Virtual Private Networks were able to ensure security and privacy on the Internet at the appropriate level. Today they are highly-regarded by internet users worldwide.

What are the main benefits of using a VPN?
The main purpose of a reliable VPN provider is to create a private connection between multiple servers. By creating a secret tunnel and providing a virtual IP address, a VPN makes it possible to hide the most sensitive data from prying eyes. However, it not only masks personal information but also encrypts it. This makes the data really protected.
Bypassing geo-blocking is another reason for using a VPN. By using a virtual IP address, one can easily unblock restricted websites from any country. It can be especially useful while traveling. The truth is that a lot of VoIP messengers, media websites or streaming services are not available in certain countries. In such cases, one just needs to connect to the server in the country where a website or service is not banned.
Actually, a VPN gives a lot of benefits to its customers. Together with such important advantages as guarding privacy online, a VPN is able to provide you with pleasant bonuses like saving money while shopping online.
Anyway, each internet user will obviously benefit from using a VPN on his device! Thank you for reading! Good luck and stay secure online!
SSLPrivateProxy Review by BestVPNRating
was last modified:
March 1st, 2019
by