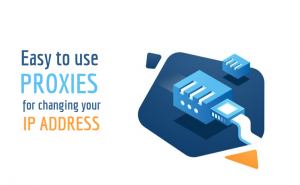 The Internet has an important role in our lives. During the years, things have changed pretty much, as now we use the Internet in the most personal and private way. We no longer use the Internet just to connect to Facebook. Now, we buy things online, we take classes online, we book our holidays, we try to find solutions for our problems or cures for our health issues.
On the Internet, IP stands for Internet Protocol. An IP address is a string of numbers used to identify an individual computer. Implicitly, all the activities you perform online are linked to this unique string.
So, anytime you go online, your IP address is there, doing its job, revealing all the data related to your online activities to your ISP or other third-party allowed to have access to such information.
Why do you need to change your IP address?
Once you start to be aware of all the risks you are exposed to, you may want to change your IP address easy and fast.
The most common reason why internet users choose to change their IP address is to enjoy private and anonymous online sessions. Even if there is nothing wrong with your search intents, you may want to keep them private and away from the curious eyes. Why would you want your ISP to know that you have a medical problem? You don't, that's why changing your IP is a good solution.
Another good reason to want a new IP address is to bypass online restrictions. Censorship is taking the Internet by storm due to a series of reasons.
Geo-blocking is the most common form of Internet censorship. This technique implies an advanced algorithm that checks all the incoming traffic on a website. In case the incoming traffic is generated from a blacklisted country, the access to that specific website is automatically restricted. A good example of such practices is the geo-blocking performed by the giant media streaming services like Netflix, BBC iPlayer, Spotify, or Pandora.
Changing your IP address to bypass online restrictions is also known as geo-spoofing and is the best solution you may want to use so you can surf the Internet privately and, most important, freely.
How to change your IP address?
There are a handful of options you can use in order to change your IP in the fastest and the most efficient way possible.
Users' top picks are two popular technologies – the VPN and the Proxy.
Both technologies share some common points. However, there are a lot of dissimilarities driving these two solutions on different paths.
Besides the capacity to change your IP address, the VPN uses encryption standards and VPN protocols to encrypt your traffic, a fact that may affect your internet speed.
Why are proxies the smart option?
We need to learn how to surf smart, not hard. Improving the way we navigate the web it shouldn't affect the experience we have while browsing. For example, our speed should remain untouched, so we can enjoy the online streaming experience at its fullest.
For this purpose, the proxy technology is the smart option.
The principle that stands behind a proxy is another computer that serves as a bride for your data. So, anytime you use a proxy, your device will first connect to the proxy server and, after that, your traffic will be directed to the destination address on the web. As soon as your computer connects to the proxy server, you will automatically get a new IP address and, in this way, you will be able to enjoy an anonymous connection, while being able to access all kind of restricted content. As proxies imply not encryption, your speed will remain untouched.
To visualize the whole process, just check the image below:

How can you easily change your IP address with a proxy?
Now that you know what proxies are and what value does this technology bring to your day-by-day online activities, it's time to get to the action part and learn how to enable a proxy connection so you can easily hide your IP address.
The manual configuration.
When you opt-in for the manual configuration, you need to possess two important skills – patience and a little bit of tech knowledge (but just a little bit).
As proxies help you change your IP address while browsing the web, it means that to enable a proxy connection, you will need to stick your nose into your web browser's settings.
The most popular web browsers in 2019 are Chrome, Firefox, and Edge, but since the most of us use Edge just to download Chrome or Firefox, let's turn our attention to these two browsers.
Setting up a proxy connection on either of these tools works almost the same, so follow the above tutorials to learn:
Easy to use browser extensions.
Setting up a proxy connection manually is very easy, we must admit it. However, there is an easier option you can use to enjoy free and private internet access – the proxy extensions.
The proxy extensions or add-ons work like regular browser extensions. So, all you need to do is to find a proxy add-on that meets your needs and requirements, install it, create an account, and connect to a proxy server.
For example, you may install the Proxy SwitchOmega Chrome extension, get your proxies from the SSLPrivateProxy Account and add them to the SwitchOmega extension. You will be able to turn ON and OFF the proxy connection in a matter of seconds.
Once the connection is successfully established, nothing is stopping you from achieving your online goals.
Conclusion
There are a lot of things that happen on the Internet, without us being aware. In the online world, everything gravitates around IP addresses. Even so, our IP address can be our biggest enemies, revealing all important information about ourselves, allowing ISPs to easily create our digital portrait.
Luckily, this inconvenience can be fixed easier than we may think. The most efficient online tool we can use is the proxy.
The proxy technology is capable of changing your IP address in the blink of an eye, without affecting your speed, allowing you to browse freely and privately. Online challenges require smart decisions, and using a proxy is definitely the right one to make… right away!
Easy to use proxies to change your IP address
was last modified:
September 25th, 2019
by