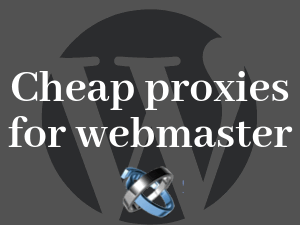 We sell cheap proxies for webmastersThis is not a title for ranking high in Google. We do sell cheap proxies for webmasters. While our main products are special use proxies, which are sold for a premium and offer you full control over their use and connections, we do also have cheap proxies. These proxies are shared private proxies, meaning that you split their cost and performance with a couple of other clients (the maximum clients using a shared proxy is limited to 3). We offer such proxies because there are webmasters in need of cheap proxies for their projects.
WE SELL CHEAP PROXIES
Our cheap proxies are sold in large packages. Some proxy packages containing as much as 1000 proxies. For such a package, webmasters will get cheap proxies, they will receive 1000 IPs with a medium price of $0.65/proxy. Making such a proxy package ideal for large projects where webmasters need thousands of proxies.
WHY WEBMASTERS NEED CHEAP PROXIES
First, not all proxies are needed to connect to social media websites, such as Instagram proxies or Pinterest proxies. Nor to connect to restrictive websites, such as sneaker websites or ticketing websites, where sneaker proxies or Ticketmaster proxies are required.
Some proxies are needed for another type of projects where they need to connect to several websites, thus the proxy rotation of a large package is more profitable and feasible for webmasters.
Therefore, webmasters need cheap proxies for large scale projects where scraping several domains is required. Moreover, some webmasters need cheap proxies for projects that will involve scraping and making queries to a whole Internet niche. And for such projects, a few tens IPs from more expensive, premium proxies will not be enough. An adequate option for such projects is a large proxy package with hundreds or thousands of cheaply shared proxies.
CHEAP PROXIES VS ROTATING PROXIES
Some webmasters will ask why shouldn't they choose a rotating proxy provider that offers them a different IP with every new query. The only answer that interests them is the price.
Moreover, cheap private proxies with static IPs offer webmasters a better management over their connections. A proxy package comes as a text file or csv file, thus webmasters can split, divide and allocate their proxies as they find fit. This option comes in handy when they must test different software alternatives. Making it easy to identify suspicious software behavior.
BUSINESS MODELS AND APPLICATIONS THAT REQUIRE CHEAP PROXIES
As mentioned above, not all business models or web applications require cheap proxies, or any other proxy whatsoever. But there are a few web apps that by default require private proxies.
1. ONLINE SCRAPING SERVICES
Web scrapping is not a new endeavor. In fact, Google can be considered a large web scraper. Webmasters looking to develop web scrapers need to buy cheap proxies and implement them in their scrapers.
Depending on the domains or web sectors used for scraping, chances are they will perform several hundred or thousands of queries to certain domains. And their server IP will certainly be blocked. Therefore, a proxy setup must be implemented in their scraper.
2. RESEARCH SERVICES
Research services are very similar to web scrapers. They will crawl the web and make several hundred or thousands of queries to gather and return quantifiable data points. And webmasters developing research services need to implement cheap proxies in their app.
3. BOTS AND AUTOMATED SERVICES
While bots or automated services will perform only a series of instructable tasks, their speed will certainly raise suspicion to the visited domains. Even if a domain or IP makes just a few queries, their speed can raise suspicion to the targeted domains.
USAGE FORMULA FOR CHEAP PROXIES
There is no correct formula or ratio for cheap proxy allocation. However, a rule of thumb has been developing over the years. The more domains a web app needs to access the less qualitative the proxies need to be.
And the opposite is true as well. The fewer domains need to be accessed, even if only one domain, the more premium proxies needs to be.
LESS REQUESTS PER DOMAIN => CHEAP PROXIES
MORE REQUEST PER DOMAIN => PREMIUM PROXIES
So, before deciding or buying premium or cheap proxies, webmasters must consider how and where are they going to use these proxies.
OUR RECOMMENDATION
We do not recommend using solely premium proxies or cheap proxies. However, we recommend using the above formula, or rule of thumb. Consider how many times a proxy will make requests to a certain domain. And the fewer requests per domain, the cheaper the proxies a webmaster can buy and implement in its web app. SSLPrivateProxy sells both premium proxies and cheap proxies.
We sell cheap proxies for webmasters
was last modified:
September 16th, 2019
by