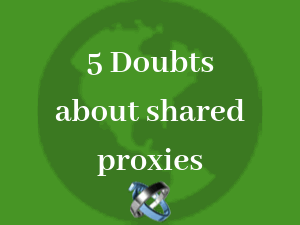 The private proxy world is full of uncertainty and doubts. There are several factors over which a private proxy buyer has no control. One such example is the lack of control over who uses the proxy. While a customer might buy a private dedicated proxy and think that he is the sole use and beneficiary of that proxy, the provider might actually have sold the same proxy to other two customers. Thus, the buyer will get a shared proxy instead of a private proxy. Unfortunately, some proxy providers are abusing their power and scam their customers in this way. However, not all proxy providers use false advertising. And not all proxies on the market are shared and sold as private ones. Moreover, when it comes to cheap shared proxies, similar doubts might occur. Therefore, this article was created with the intent of clarifying some of these doubts. And help you make a better decision when buying cheap shared proxies.
1. CHEAP SHARED PROXIES ARE NOT PUBLIC PROXIES
This is one of the worst misconceptions and doubts one can have in regards to shared proxies. First, there is a major distinction between shared proxies and public proxies. Shared proxies are used by a limited number of users and these users paid for using the proxy. Whereas a public proxy is free to use and open to the public.
Another major difference between a shared proxy and a public one is the control over the proxy server. A public proxy is hosted on a public server and there is no information about who is control of the proxy server and the data passing through it. While a cheap share proxy is hosted on a private server and sold by a proxy provider which has a duty to protect and keep your data private. Now, I think you can see how different a cheap shared proxy is to a public proxy.
Moreover, based on these two arguments alone, we consider you should never use a public proxy server to connect and log any account that contains your private information.
2. HTTP/HTTPS PROXIES AS CHEAP SHARED PROXIES
Another doubt and misconception over what are cheap shared proxies are the protocol they are using to connect to the Internet.
Some users think that shared proxies use only HTTP proxies because they are cheap. However, this is not the true. Shared proxies are both HTTP and HTTPS proxies. There is no difference over the protocol a shared or dedicated proxy is using.
The only difference between a shared and dedicated proxy is the number of people using the proxy. The protocol used is irrelevant to the number of users.
3. DON'T USE SHARED PROXIES FOR SOCIAL MEDIA
Some people might consider using cheap shared proxies for social media. While these proxies use the HTTPS protocol, they are not safe to use to connect social media accounts.
Shared proxies are used by two or three other people which might employ an aggressive behavior on certain websites and trigger an IP block. In turn, this IP block can block the social media account you are connecting through the proxy.
Therefore, the best thing to do is to not use shared proxies for social media. Instead, focus on using these proxies for tasks where you are not required to connect accounts. Such as SEO tasks.
4. SHARED PROXIES FOR SEO AND AUTOMATION
One of the best uses of cheap shared proxies is for SEO and scraping tasks. Basically, any task that involves scraping and information gathering without accounts login.
You might also ask yourself which proxies are a better fit for SEO automation and scraping tasks. As mentioned above, cheap shared proxies are the best fit for such tasks, both in regards to their price and technical setup.
5. SHARED PROXIES FOR ANONYMITY
You might consider using cheap shared proxies for anonymity. But, we do not recommend them. Instead, we advise to buy a VPN. Because, if for a third party, a shared proxy and a VPN might look the same. The security issue arises between your device and the proxy/VPN server. And you can always be susceptible to a man in the middle type of attack.
A shared proxy does not encrypt the traffic between your device and its server. Whereas a VPN will encrypt it and nobody, neither your government or ISP can sniff on your traffic.
TO WRAP-UP
This article has the mission to shed some light over certain doubts regarding the purchase and use of cheap shared proxies. However, one article is not enough to cover the approach needed to buy shared proxies effectively. We recommend you do some extensive research and even contact us for further inquiries before buying cheap shared proxies.
5 Doubts about cheap shared proxies you should clarify
was last modified:
September 16th, 2019
by