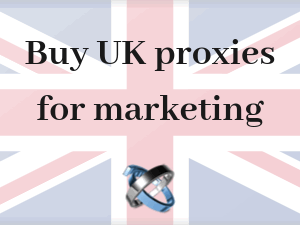 When it comes to online marketing, almost all marketers will think of the United States as the only viable market to promote and sell their products. However, by paying little attention to the surrounding world, marketers can see that there are other countries offering tremendous value to marketers. One such market is the UK. And marketers can gain exposure to it by buying UK proxies. They must buy UK proxies if they are looking at ways to develop and implement local marketing strategies or social media automation.
WHAT ARE UK PROXIES?
UK proxies are dedicated private proxies with their IP location in the UK. They are technically identical to all other private proxies. The only difference is that UK proxies are located in the UK. Thus, by using them, marketers can geo-spoof their location and appear as they are residing on the island.
Furthermore, there are several reasons for which marketers must buy UK proxies for marketing. Bellow, there are five reasons for which they should consider buying such proxies. However, the list doesn't stop here. There are many other reasons.
1 YOUNG ONLINE DEMOGRAPHIC
While the UK doesn't have the youngest European population, its online presence is comprised by its youngest demographic groups. Therefore, marketers can promote and sell directly to online-savvy customers that know how to use the Internet freely.
A marketer must buy UK proxies if the products, services or company he's promoting are appealing to teenagers and young demographic groups.
2 BIG ONLINE SPENDERS
The United Kingdom's population is one of the biggest online spenders in the world. There is no particular reason for which they are, but the amount of money per capita spent online is already big and still grows at a surprisingly high rate.
Marketers must consider and buy UK proxies if they want to promote and be part of an online market that grew 16% year on year in 2016. Moreover, another appealing reason the buy UK proxies for marketing is the amount spent by Londoners online alone. Each online shopper from London spends almost $1200 per month on online purchases.
And with a population of more than 8 million people, London is a powerhouse in online shopping. And if marketers want a piece of it, they can buy UK proxies.
3. BUY UK PROXIES TO SCALE YOUR OPERATION
Unsurprisingly, people in England talk English. Leaving the sarcasm aside, the common language shared by the US and the UK makes the later a great place to scale your online operation.
For scaling online operations, marketers do not need to translate their website's copy or social media posts. The only thing they need to do is to buy UK proxies and start promoting to the UK consumers.
Moreover, one more great aspect for which any marketer should consider buying UK proxies is that the UK is the largest English speaking country outside the US. Its population is larger that Canada's population and Australia's combined.
4 HIGH CONVERSION RATE
If the above stats have not convinced marketers yet, this one will make buying UK proxies proposition more appealing.
In 2016, the conversion rate for Desktop purchases was 3.6%. For untrained eyes, 3.6% is a small number. But for marketers, a conversion rate of 3.6% is a great one. For example, if a marketer using UK proxies, manage to generate 10k visitors to its promotional pages. The statistic says that almost 360 visitors will turn into buying customers.
Now the math becomes clearer. And once can see how appealing is to buy UK proxies to scale an online operation.
5 BUY UK PROXIES TO WRESTLE WITH GIANTS
Another great stats about the UK online market is that 18% of products and services online are sold by small businesses, individuals or single product websites. Thus making it easy for marketers to develop several landing pages or single products websites.
Moreover, this is a great aspect. Because it means that UK online shoppers are less concerned about the platform from which they buy. Therefore, a marketer can 'wrestle' online with the giants Amazon or Ebay.
This is probably the major difference between the US and the UK, in favor of the later. UK online shoppers will buy anything they need from any online resource they could find. Therefore, making it a great way to also split-test landing pages.
Moreover, because of this particularity, the UK is also a great place to develop dropshipping websites. Making it a great market for entrepreneurs looking to develop their own ecommerce presence, without needing to promote via Amazon or Ebay.
IN CONCLUSION
Every marketer looking to develop and scale their online operation should consider buying UK proxies. Above we presented five appealing reasons for which a marketer should consider buying UK proxies. But there are many more appealing reasons for which marketers should consider the UK a perfect place to scale their online operation.
5 reasons to buy UK proxies for marketing
was last modified:
September 16th, 2019
by