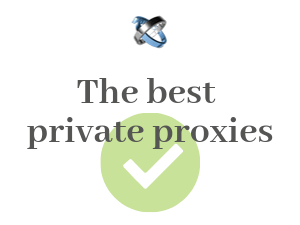 We don't want to brag about it, but we have some of the best private proxies you can buy online. Why do we think that? First, for a buyer/user is very hard to control if his private proxies are dedicated or shared. Second, is difficult to monitor uptime for a private proxy, or its overage speed. Therefore, along the years, some so-called private proxy providers started selling proxies devised as private dedicated proxies. And without accountability, they started allocating cheap shared proxies for private proxies.
These providers' lifespan is very short. Moreover, their customers' unhappiness is reflected on forums or on private proxy review website. Therefore, we are going to present you five real reasons for which we think we sell the best private proxies. Furthermore, for these reasons we are also considered, by others, one of the best proxy providers available today.
1 BEST PRIVATE PROXIES NEED LOCATIONS
A provider's main strength is its server locations. Similar to real-estate, where the location is important, in the private proxies world, a provider must be able to allocate proxies from major urban areas of the United States or Europe.
Therefore, to sell the best private proxies, location-wise, we have more than 33 server locations in the United States and Canada alone. Furthermore, we provide virgin and dedicated proxies from Europe as well. There [in Europe], we have 5 server locations spread across Western European, such as the United Kingdom, Germany or Switzerland.
Moreover, to continue selling the best private proxies, we are always on the hunt for other server locations. But, we add them to our location portfolio only after they pass a thorough test by our technical team.
2 MOST EXCLUSIVE PACKAGES INCLUDE VIRGIN PROXIES
Exclusive packages are those proxy packages allocated especially for a certain special service. Sometimes, they are called special use proxies. These packages are exclusively allocated for a certain online service.
Some online services are very restrictive, therefore, we offer only virgin proxies for them. Which means that your allocated private proxies have never been used for your requested service before. Therefore, they have a clean history, because best private proxies must always work for the requested service.
3 BEST PRIVATE PROXIES ARE CUSTOM ALLOCATED
In addition to including virgin proxies in exclusive packages, sometimes, best private proxies must be manually allocated to each individual buyer. In this way, we make sure our buyers receive the service for which they paid.
For example, Craigslist proxies must be manually allocated from servers located in a specified area. Because we can't allocate Detroit located proxies for a Craigslist proxy package for New York.
Moreover, by manually allocated certain proxy packages, we are certain that the proxy IPs in the package are working and connecting successfully to the underlying online platform or service.
4 BEST PRIVATE PROXIES HAVE NON-SEQUENTIAL IPs
Apart from offering flagged IPs, the worst thing a proxy provider can offer to its buyers are sequential IPs. These [sequential IPs] are consecutive IPs from the same IP range.
But, our service is better. Each proxy package we sell comes with non-sequential IPs. This means that if you buy 10 Instagram proxies, you will get 10 virgin proxies from 10 different IP ranges. Thus, making it almost impossible to draw a connection between your accounts.
The non-sequential IP argument is strongly related to the 1st reasons why we offer best private proxies, the servers locations. By managing more than 30 server locations, our IP pool is large enough to customize is proxy package so a buyer's will never receive sequential IPs.
5 BEST PRIVATE PROXIES ARE GUARANTEED TO WORK
The last reason for which, we think, we sell the best private proxies online is that we always guarantee to sell working proxies. The first proxy allocation will always work, regardless of which proxy provider you choose.
But, if by error you manage to flag your IPs and get them banned, you will need other working proxy IPs for your service. At which point, many proxy providers will take a step back and refund your payment, because they are unable to continue to offer working proxies.
But, SSLPrivateProxy will offer working proxies for your exclusive proxy package every time you request an IP refresh. Basically, we consider each IP refresh as a buyer's initial allocation. Therefore, we will perform again our process of manually allocating guaranteed working proxies for your service.
TO WRAP UP
Based on our records and the success of our clients, our service can be considered one of the best private proxies available today. From server location to non-sequential IPs or manual allocation, our proxy packages are always guaranteed to work and connect you to the specified online service.
5 reasons why we have the best private proxies
was last modified:
September 16th, 2019
by