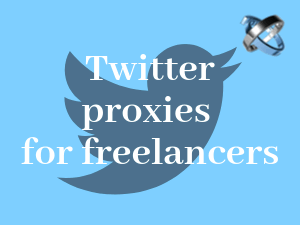 Freelancers can use Twitter proxies for marketing and promote their business. There are several ways in which freelancers can use proxies for Twitter or any other social media proxies. Regardless if you are a veteran freelancer or a starting one, Twitter and social media proxies can help your business in several ways. First, through these proxies, you can develop a content distribution network through which you'll get more leads. Second, you can use these proxies to develop an outreaching operation towards other freelancers with which you can later collaborate.
TWITTER PROXIES DESCRIBED
Twitter proxies are social media proxies, these are HTTPS proxies allocated for Twitter. Moreover, most social media websites, including Twitter, are restrictive domains, proxies allocated for these platforms are usually virgin proxies. This means they have never been allocated to be used on these platforms. Meaning they have a clean history with this platform.
Moreover, most private proxy packages allow monthly randomization. Therefore, if by any chance you block or ban your proxies, you can always ask the provider to refresh your IPs and receive other virgin ones. But, banning your IPs could trigger also phone verifications and accounts' blocks. Thus, making useless both the social media proxy and the account. So, a rule of thumb is to never abuse these proxies. Instead, you should take a cautious approach and develop your accounts steadily.
Once the technical bit has been cleared, let's look at the six ways in which Twitter proxies can help freelancers.
1. USE TWITTER PROXIES TO DISTRIBUTE CONTENT
Twitter is a great content distribution network. And using Twitter proxies can leverage this aspect of the social media platform.
Freelancers need to develop several accounts, usually one account per proxy and automate these accounts to follow people within their industry. This way, they will develop a network of followers within their niche.
Then, they can advertise and promote their content to this network. What content can freelancers promote? They should promote their work. Regardless if the freelancer is a content writer or graphic designer. Promoting work and distributing within a network of several accounts leads to exposure in their industry. Exposure which brings the next way these proxies can help freelancers.
2. TWITTER PROXIES CAN GENERATE NEW LEADS
By automating their accounts through a social media automation tool and reaching people within their industry, freelancers can generate new leads and help grow their business.
They only need to use Twitter proxies and automate accounts to distribute their work and then promote their services. This will help them generate new leads. Moreover, freelancers can create a social proof dimension around their work if they use several accounts connected through social media virgin proxies. This social proof dimension leads to the next point.
3 THEY WILL BECOME AN AUTHORITY
If a freelancer, a lone wolf by definition, has ten or twenty accounts promoting their work within their industry, they will be seen as an authority.
This is an essential status for anybody looking to grow an online business or simply generate work through social media marketing.
This authority status will help freelancers both getting more work and at the same time demand higher rates for their services.
4. USE SOCIAL MEDIA PROXIES TO CONNECT WITH OTHER PEOPLE
Social media proxies, as Twitter ones, can help freelancers both get more business and also connect with other like-minded freelancers.
This connection with other freelancers is strongly related to the above point. Once a freelance has established itself as an authority, it will be easier to connect and reach to other freelancers.
Basically, Twitter proxies will help open new doors and grow their business in every aspect.
5. TEST HYPOTHESIS
Another way Twitter proxies and social media automation tools can help freelancers is by testing hypothesis.
Freelancers are always in search of new projects and new work. Moreover, choosing which project to reject is as important as choosing which project to work on.
Therefore, freelancers can use their proxies to test which projects or fields can attract new work.
6. LOOK FOR COLLABORATION OPPORTUNITIES
Once freelancers tested a hypothesis through their Twitter accounts, they can use the same accounts to reach for new collaborations.
Depending on the domain and specialization, these collaborations range from guest posts opportunities to collaborative software development projects.
Freelancers can use their network of accounts connected through social media proxies to reach blogs or publishing companies to collaborate and promote their services.
IN CONCLUSION
Not only businesses and marketers can use Twitter proxies to promote their businesses. Freelancers can achieve this thing as well by simply using these social media proxies to develop accounts and grow a following withing their industry.
Once the following has been established, freelancers can promote their services and market their knowledge.
If you are a freelancer, you can buy Twitter proxies from SSLPrivateProxy. We offer virgin HTTPS proxies for Twitter. Meaning these proxies have never been allocated for Twitter use before.
6 Ways Twitter proxies can help freelancers
was last modified:
September 16th, 2019
by