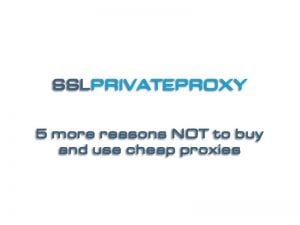 Following last month's article in which we presented five reasons to avoid cheap proxies. This month we come with five extra reasons that you and any other private proxy buyer should consider before choosing a cheap proxy package from any provider.
Indeed, cheap proxies are useful. If you think of scraping websites for data, without connecting any kind of accounts through your proxies, then, by all means, go for the cheapest proxies you can find. If this is the purpose of your proxies then you should never consider paying extra for premium proxies.
On the other hand, if you need elite proxies, HTTPS proxies through which you will connect one or more accounts than cheap proxies can be considered a risk for your online operation.
Furthermore, from a business standpoint, the costs and risks incurred by using cheap proxies can be higher in the long run than the extra couple of dollars that make the price difference between a cheap proxy and an elite premium proxy.
We are no trying to convince anybody to buy our most expensive proxies. But we want you to consider the real cost of a proxy. Not only from a monthly cost point of view but also from the point of view of the risks you could face by choosing the wrong proxies for your online operation. So, let's see the five extra reasons for which you should avoid cheap proxies.
1. CHEAP PROXIES ARE NOT ELITE PROXIES
Some cheap proxies cost less because their infrastructure is less expensive. And by paying less, you risk getting proxies without anonymous headers.
Furthermore, if you are not using high anonymity proxies, you risk disclosing your real IP. Even if many users set their proxies to work on a software, or program installed on a VPS and they don't care about disclosing the VPS's IP, this can cause problems if you are automating social media accounts through these cheap proxies.
So, by disclosing the real IP behind the actions and behaviors of several social media accounts, the risk of getting these accounts banned and IPs blocked is very high.
2. SOME CHEAP PROXIES HAVE BAD HISTORY
This is the truth! Some proxies, so to speak, come with a baggage. Not most, but all proxy providers rotate their proxies between their clients.
However, this can cause a risk when you buy cheap proxies advertised as virgin proxies. Probably, the first proxy package you received is composed of virgin proxies. But, what happens if you flagged some of your allocated IPs and ask for an IP refresh.
If the proxies you buy are cheap, chances are the provider will send you another package of cheap proxies. But this time, [he] 'will forget' to include only virgin proxies.
This is a major issue if you connect any kind of accounts through your proxies. You can risk getting instant phone verification and block your accounts.
3. CHEAP PROXIES COULD MEAN AN UNRELIABLE PROVIDER
Browse any marketing or hacking forum and you will see plenty of threads accusing certain proxy providers of offering unreliable service.
While the price of a proxy will never reflect the reliability of a provider, we noticed that along the time, cheap proxies are advertised at unbelievably low prices and capabilities to connect exaggerated. This false advertising causes an issue for the whole industry.
For cheap proxies and providers offering unbeatable offers, we have to say only that if it is too good to be true, then is not true at all.
Always consider the history of a provider and look for reviews. Because the quality of a provider is reflected in their proxies.
4. JACK OF ALL TRADES TYPE OF PROXIES
Proxies are a commodity. Basically, regardless of the price you pay, a cheap proxy will always look like a premium proxy. You get an IP, a port, and login details.
Therefore, inexperienced users will look for cheap proxies to use for their online setups. However, a proxy's value is given by the high anonymity or the ability of the proxy to connect you to your desired platform.
Likewise, unreliable providers will start advertising cheap proxies as usable for any kind of service.
We recommend to always buy proxies for certain services. If you want to use your proxies on Craigslist, then do not buy regular private proxies. Look for Craigslist proxies. This way, you know with certainty that your proxies will work on Craigslist.
5. SMALL IP POOL – ANOTHER ISSUE FROM PROVIDERS
This is another issue encountered when using cheap proxies. In order to keep their costs low, some providers will look for the cheapest data center packages. Thus, limiting the number of servers, locations and IP pools.
This can become an issue if you want to refresh the IPs of your cheap proxies. Instead of getting fresh IPs for your proxy package, you could get other IPs that you have previously used. Now, they are allocated back to you.
This is a major issue if you ask for proxy IPs refresh only when you flag your IPs. Because you will end up getting allocated other IPs previously flagged by yourself.
IN CONCLUSION
While we do not discourage the use of cheap proxies, we want to raise awareness of the risks one might incur by simply choosing cheap proxies and having their decision based solely on the price of proxy packages.
Simple products as proxies, if used in a wrong way, can cost your business greatly. Therefore, always consider all factors, do not think that cheap proxies are good only because you can save a few dollars.
Avoid cheap private proxies – 5 more reasons
was last modified:
May 19th, 2017
by