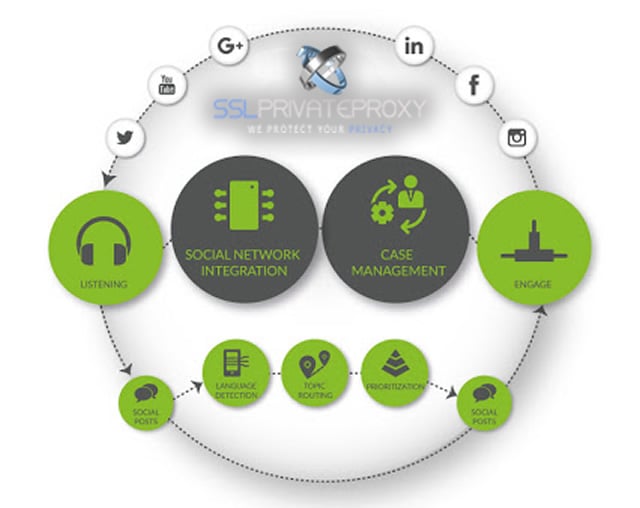 When in comes to social media monetization there is more than one way of generating returns. Private proxy servers can help you expand your reach and multiply the methods of monetization.
Before we start, you have to understand that if you want to implement the following, you need to buy private proxy and a social media automation tool, such as MassPlanner or Follow Liker.
WHAT CAN YOU DO WITH PRIVATE PROXY ON SOCIAL MEDIA
With private proxies, either cheap shared proxies or premium proxies, you can basically do anything. Anything as long as is ethical and does not infringes on other people's privacy. It is worth mentioning this because anonymity tools offer great power to those who are using them. And as we know, with great power comes great responsibility.
In addition, anonymity and private proxies give you the flexibility of monetizing in different ways.
THE STRAIGHTFORWARD FORMS OF MONETIZATIONS
Usually, internet marketers had a few ways of monetizing their social media accounts. More often than not, this sort of monetization, even through private proxy servers, had a media/advertising approach. The approaches are shootouts, affiliate marketing or brand endorsements.
Shout-outs are periodical promotions of other accounts or brands through your own accounts. If a marketer is running accounts through private proxies, and his accounts are mainly in the fashion business, the shoutouts that he will be able to promote will more often than not be from the fashion industry as well.
Usually, the payment of a shoutout is directly related to the following of your account. You can increase your revenues if you run multiple accounts through private proxy servers and promote multiple shoutouts at the same time.
As Instagram generates the highest conversions at the moment, Buy Instagram Proxies and start promoting multiple shootouts now.
One of the oldest internet monetization form, the affiliate commission programs are simply promoting and selling other people products in return for a commission.
For marketers, up to date, Pinterest and Instagram have been the biggest commission generating platforms. For a marketer to increase his exposure and opportunity to receive a higher revenue, he should buy Pinterest proxy or Instagram proxy and integrate them with Pinbot or Follow Liker. Or just any other social media automation tool that support private proxy.
THE SIMILARITY OF THESE TWO METHODS
As you can see, the similarity of these two methods, even if you run multiple accounts through social media proxy or premium elite proxy, is that you will use your accounts as a media outlet. Which means that you will promote and advertise other people content or products.
However, with the help of anonymity and private proxies, there is one other way to generate revenues from your social media accounts.
WHAT PRIVATE PROXY CAN ACHIEVE FOR YOUR MARKETING ROI
Simply put, with the help of private proxies, you can develop and sell your accounts once they reach a certain followers count.
To achieve this, you have to think of your social media accounts as real estate domains. Once they reach a certain following, it means that they moved from outer city to a premium location. And with the help of your social media proxy, you can develop as many premium real estate locations as you find fit.
Now, once you developed your accounts and start thinking this way, you move from the advertising paradigm into the real estate developer paradigm. You will understand that more accounts you have through private proxy, the more you can sell to others.
SELL YOUR ACCOUNTS WITH THE HELP OF SOCIAL MEDIA
Once marketers create multiple accounts with the help of private proxy, usually they look at ways to promote and generate revenues via media/advertising methods. However, now you can sell your accounts, because if you continue to buy private proxy, you can continue to create other accounts.
For a successful account flipping business, there are usually two ways of developing the accounts. The only constant is that both methods are using social media proxy or private proxy.
First method is the development of accounts in unrelated niches. With this method, the marketer makes sure that he will not duplicate content and by diversifying the niches, he spreads his risk evenly. By developing these accounts as one account per one private proxy, he then can sell each account individually.
The second is developing accounts in related niches. With this method, still keeping the same ratio of one account per private proxy, the marketer can sell them in bulk to other marketers that are running already affiliate websites and are looking to expand their customer base.
No matter what method you decide to follow, if you keep the ratio of one account per one private proxy, you can than sell your accounts and create a successful business. Start investing in premium elite proxy or buy social media proxy and start developing your online real estate business.
IN CONCLUSION
With the help of anonymity and private proxy servers, you can expand the monetization methods of your social media accounts.
The straightforward method of monetizing so far has been to automate social media accounts with the help of private proxies and generate revenue by sharing and promoting other people's content or products.
But with the help of social media proxy or premium proxy, a marketer can treat his accounts as online real estate. When the followers count increases, the account becomes valuable as prime real estate.
By keeping the proxy ratio of one account per one private proxy, or one social media proxy, the marketer can develop multiple related or unrelated accounts and sell them once the following increases. Buy social media proxy now and start developing.
Developing Social Media accounts through private proxy
was last modified:
September 19th, 2016
by