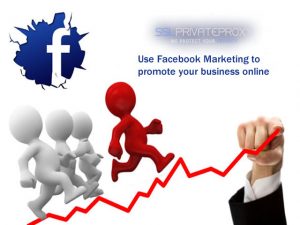 Facebook, with its appeal to almost all demographic groups can be a great marketing tool. The largest social media platform, if used correctly, can become your website's main traffic source. In order to profit the most, you can use Facebook proxies to run multiple accounts, in the same way as many online businesses are doing.
In these article, we are going to show how to market on Facebook, what are Facebook proxies and what types of businesses are already promoting and marketing on Facebook by using Facebook proxies. Some marketers might choose cheap shared proxies, but if you are looking to nurture and grow your accounts, they are not the best solution. Best practices recommend avoiding cheap proxies and implementing virgin social media proxies.
HOW TO MARKET ON FACEBOOK
Facebook marketing, if done correctly, can be a great profit generator. There are two ways to market on Facebook. Either by created and developing business pages or by posting to relevant, niche related groups.
Business pages are great, but it takes an incredible amount of time until you will see any returns. On the other hand, by posting on Facebook groups through accounts connected through Facebook proxies, you can see results almost immediately.
Group marketing through accounts and Facebook proxies is similar to forum marketing. You search for relevant groups and then you create posts linking to your website. You can scale this marketing technique by using multiple accounts through Facebook proxies that are posting on multiple groups.
Before you start marketing on Facebook groups, you need Facebook accounts and Facebook proxies.

WHAT ARE FACEBOOK PROXIES
As any social media proxy, a Facebook proxy is a virgin one. Meaning it has never been used to connect to the social media platform before.
These are HTTPS proxies, making it safe to connect to Facebook through its SSL encryption. In addition, Facebook proxies, being HTTPS enabled, let you implement and connect your accounts through social media automation tools.
SSLPrivateProxy offers Facebook proxies. These are virgin private proxies. And upon your request, we make sure to allocate them manually. In this way, you will know with certainty that these proxies have never been used for social media before.
HOW TO USE FACEBOOK PROXIES
The marketing technique of posting in relevant groups requires you to run multiple accounts. The need to run multiple accounts will require also the implementation of Facebook proxies.
Once you setup your accounts and you have connected them through Facebook proxies, it is time to search for relevant groups related to your niche. Once you have identified these groups, start posting and creating links towards your website.
If you are running multiple accounts, for social proof, you can start by posting with one account. And use the other accounts that connect through private proxies to comment, like and share your main account group post.
WHAT BUSINESSES USE FACEBOOK PROXIES
Basically, any business or website can use dedicated proxies for Facebook. As a side note, if you are looking to connect your personal Facebook account, you can use a cheap share proxy. But if you want to run a business, you will need virgin private proxies.
Drop shipping websites can use Facebook groups. A drop shipping company running several accounts through Facebook proxies can use relevant groups as a way to promote and market their services.
Software and services companies can also market easily on Facebook groups with the help of Facebook proxies.
The most successful online businesses that can promote on Facebook and generate a consistent amount of profit are affiliate marketers.
Affiliate marketers are looking only at ways to generate traffic towards their affiliate links. By using several accounts connected through Facebook proxies, they can generate as much traffic as they need. Facebook proxies are an affiliate greatest tools.
It does not matter what the affiliate marketer is promoting, because on Facebook they can find relevant groups for any particular niche.
From furniture to gym supplements, affiliate marketers can promote almost anything as long as they use Facebook proxies to post in relevant Facebook groups.
TO WRAP UP
There are two ways in which you can market on Facebook. Either by creating a business page or by using accounts to post in relevant groups. The strategy with the quickest results is the group posting one. For posting on Facebook groups, you will need Facebook proxies.
A Facebook proxy, is a virgin social media proxy, never used to connect to the social platform.
SSLPrivateProxy offers Facebook proxies. Our proxies are virgin proxies allocated manually. This way, you are sure nobody used those proxies to previously connect connect to Facebook. Therefore, you do not run the risk of getting your IP flagged or your account banned.
Most online businesses can promote and market on Facebook groups with the help of social media proxies. The only task of marketers is to find relevant groups to connect to Facebook.
Buy Facebook proxies today and start earning money.
Facebook Proxies are used for marketing by these busineeses
was last modified:
October 30th, 2016
by