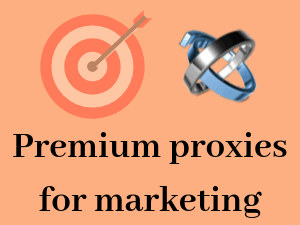 It is enough to have a look on a proxy provider's website and you'll notice the different kind of premium proxies on offer. Likewise, if you visit our website, you'll notice premium proxies for various services. You can buy cheap shared ones or virgin ones for a certain online platform. We have dedicated proxies to satisfy every need. Surprisingly for many, one domain that uses proxies extensively is marketing. And in this article, we are going to discuss how marketers can scale and leverage their work through proxies.
THE PREMIUM PROXIES' POWER
Basically, with the power offered by premium proxies, marketers can achieve tremendous things. First of all, premium proxies are used on certain online platforms. Therefore, the best ones to use are virgin ones. These are HTTPS proxies, with IPs never used on a certain platform.
Marketers will probably use their proxies on a few or just one platform. Thus, they can use special use proxies for that platform. Moreover, if by error they ban their proxies, they can ask for the monthly randomize option. And their IPs will be refreshed.
However, the power of these proxies doesn't rely on their technical aspects. Their power relies on the things and objectives marketers can achieve through them. By simply having multiple IPs, independent from one another, marketers can start a snowball effect with a positive impact on their website or business.
WHO NEEDS PREMIUM PROXIES FOR MARKETING
Before we start showing examples of how private proxies can be used for marketing, we must define who's going to use these proxies.
The best use of premium proxies is by entrepreneurs and marketers looking to launch a product for the first time. At the beginning, nobody will care to endorse a brand new product or service. Therefore, the best way to advertise is to post on other platforms. But posting from the same account, or the same IP, can trigger a ban. Thus, it is better to use third-party IPs from where to post.
And by posting from other IPs marketers can achieve two things. First, they will leverage the power of premium proxies by being able to post from each IP. Thus, using the proxies to leverage and scale their content publishing arm. Second, these proxies' use will help marketers create a social proof dimension for their product. And this social proof can ignite a buzz for their product.
USE PROXIES TO START THE BUZZ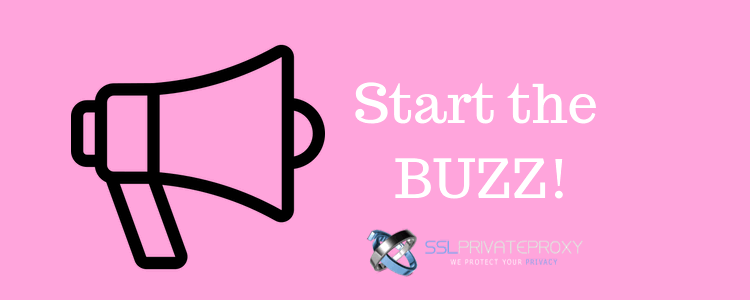 At first, every product or website is unknown. Thus, they hardest thing to do is to make people endorse it. But once endorsed, the power of word of mouth and recommendations can start a buzz around the product or service.
To begin, marketers can use the proxies to create this initial buzz, hoping to take a snowball effect and people start actually talking about it. For example, marketers can use premium proxies and post different pieces of content, recommendations or reviews on other platforms through the use of premium proxies.
From each IP, marketers can create a different post for various websites. This will achieve two things for their underlying product or service. First, it will create the social proof needed for some people to start looking for this product or service. Second, they create backlinks that generate traffic towards their websites.
The buzz can be created through premium proxies, but once people actually start talking about the product or service, marketers can discontinue their use of premium proxies.
IS THE INDUSTRY RELEVANT?
Some may argue that this method can be used only for certain industries or niches. However, we consider this method independent of the industry or niche for which the marketers plan to advertise. Actually, it does not matter which industry premium proxies are used for marketing. All that marketers need are certain domains, forums or platforms where other Internet users are interested and talking about related products or services. Therefore, the proxies used are just a tool through which they can connect to this platforms. Because as long as there are a few people talking about the industry, marketers can post content relevant to them.
TO WRAP UP
Premium proxies are used for various reasons. But one way in which proxies are used is to create a marketing buzz for a product or service. Proxies offer the power to create this buzz by simply leveraging their independence from one another. Through which marketers can scale their content posting on other websites. This content acts as a traffic source for interested users while at the same time creating a backlink profile for the product website.
How premium proxies facilitate marketing
was last modified:
September 16th, 2019
by