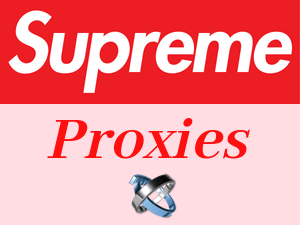 How Supreme Proxies Could Help You Start A BusinessWhat would you do if I tell you that you can start a lucrative business by buying Supreme proxies to cop sneakers online? It might sound strange and unreal but is exactly what some of our customers are doing when buying Supreme proxies. They get their proxies, start coping shoes online and then sell these items on various websites, social media or e-commerce platforms.
WHAT ARE SUPREME PROXIES
Supreme proxies are dedicated private proxies for supremenewyork.com limited edition releases. These are virgin proxies, never used for Supreme website or any other sneakers websites.
Similar to other sneakers proxies, Supreme proxies are sold in bulk. While other providers sell them in packages of 50 proxies (the general Supreme, sneakers proxies package) we sell these proxies in whole ranges of IPs. Thus, when you buy Supreme proxies, you buy 250 dedicated IPs. The main reason for which Supreme proxies are sold in bulk is the restrictiveness of the website. When sneakers selling websites detect suspicious behavior during limited edition releases, they do not ban the proxy's IP, but the whole range of that IP.
Therefore, to protect your proxies and be sure they work on Supreme during release, a whole range of IP is allocated to you. Thus, you are the only user of that range. In this way, you full control over what connections and traffic are passing through these proxies.
Some people consider this measure a marketing trick, but this is actually a protection towards your working proxies. Protection through which we guarantee working proxies as long as you do not abuse them and Supreme doesn't ban them when they [the proxies] are under your management.
HOW TO USE SUPREME PROXIES
The best way to take full advantage of Supreme proxies is to implement them into a sneakers bot and leverage their scalability to cop multiples times during the limited time of the release.
There are several sneakers bots that support proxies and can be used for Supreme. We recommend you choose a bot built for this website, such as Supercopbot or SupremeBOT.
If the above-mentioned bots are not suitable for you, there is always the option to order and custom build a bot by online developers. Moreover, besides coping for Supreme, you can use these proxies to cop on other sneakers websites, such as nike.com or adidas.com.
CAN YOU START A BUSINESS WITH SUPREME PROXIES?
Starting a business today is very easy. The basic principle is that you need a product that has a market and can be sold with a markup. And you need a way to reach this market.
If you can get both the product [limited edition sneakers] and a way to reach the customers, then you can easily consider it a business.
However, to make this business profitable, one key factor needs to be present. The scalability factor. Basically, you must create the environment to scale this business from selling a few products to selling several tens or hundreds of products.
Limited edition sneakers and Supreme items are products that can easily find a market. Thus, the only issue if the scalability of coping these items on a regular basis. Here is where Supreme proxies and sneakers bots are helpful. They leverage the proxies' ability to make several connections at the same time and cop multiple items. Thus, thanks to these proxies, a passion for sneakers can be scaled easily and become a profitable business.
COP AND DISTRIBUTE SNEAKERS
The next step in building your business is to find a distribution channel for these items. Because of the website's restrictiveness and the limited number of items released, finding a market for Supreme merchandise is rather easy. This is a seller's market, meaning that the product is so rare and limited that sellers have power over buyers in price setting decision.
There are several ways and platforms one can use to sell limited editions sneakers. Some of the most common and frequently use are social media platforms such as Twitter, Instagram, and Facebook. Here, you can use the same leverage created by proxies and develop multiple accounts to create a social media offer distribution channel.
Also, sneakers can be sold on other platforms as well. They can be sold on Craigslist and classified ads websites. Where one can use Craigslist proxies to advertise in more than one region or area.
And other online platforms where one can sell these limited edition items are e-commerce platforms such as eBay or Amazon.
IN CONCLUSION
Anybody can start a business by coping limited edition items through Supreme proxies. While coping manually trough a home PC is a limited action with limited results, leveraging the proxies and bots ability to cop at the same time from multiple locations, one can start a business by selling these items.
Once these items are copped, the next step is to find a distribution channel and reach buyers. Here, you can either use social media, classified ads websites or e-commerce platforms.
How Supreme Proxies Could Help You Start A Business
was last modified:
September 16th, 2019
by