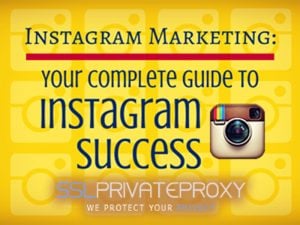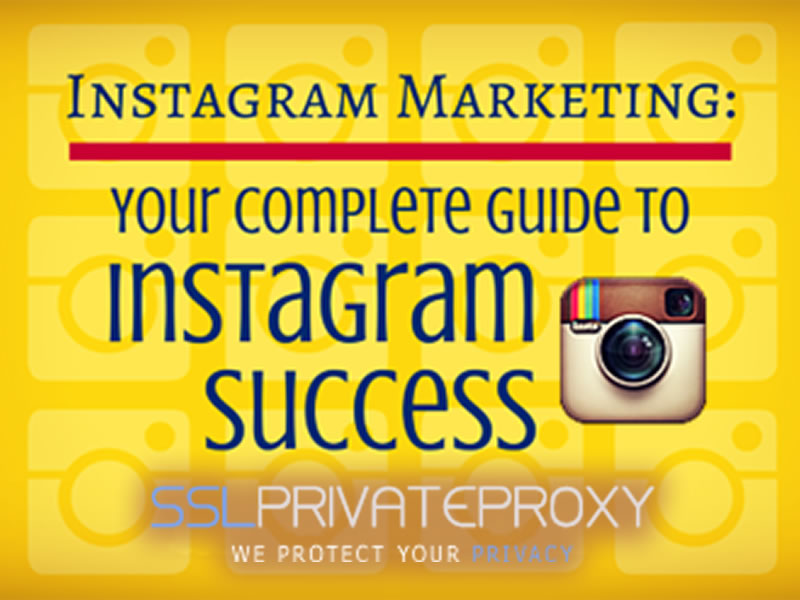 Instagram marketing through Instagram proxies has been one of the hottest trends of 2016. Following this trend, in 2017, chances are it will continue to grow. As being a growing trend, many new marketers will be drawn to it. Along the way, mistakes will be made and many accounts and proxies will be banned. Therefore, as a guideline to Instagram automation through Instagram proxies, follow these six simple rules.
These rules have been created drawn from marketers' experience with Instagram automation. It is easy to learn from your mistakes, but it is easier and less costly to learn from other people's mistakes. Thus, follow the next six simple rules and your Instagram proxies and accounts will be safe from blocks and bans.
1. ACCOUNT PER INSTAGRAM PROXIES RATIO
There is no set rules to how many accounts should you connect through one Instagram proxy. The social media platform limits the number of simultaneous accounts connecting through one IP to a maximum of five.
But, drawing from experienced marketers, the best and safest ratio to use is one Instagram proxy allocated to one account. In this manner, each account is ring-fenced and in case of one account getting banned, the others are safe and can continue to run.
2. DO NOT USE AGGRESSIVE FOLLOW SETTINGS
If you connect and market on Instagram through Instagram proxies, the certain way to increase your account's followers number is to do the follow / no-follow strategy.
Basically, to increase your account's following, you follow other users and after a certain period of time, you un-follow those not following you back.
This mutual following strategy can be risky only if you do it with aggressive settings. Even if your accounts are connected through Instagram proxies or virgin proxies, if you are too aggressive in your settings, you still risk getting your accounts blocked.
The safest process is to let your accounts age for a certain period of time. Once they sat to age, start following only a limited amount of people. As a rule of thumb, start building slow and increase your followers ratio steady over time.
3. USE INSTAGRAM PROXIES WITH ONE AUTOMATION TOOL
The best way to automate your accounts and have success in growing your following, is to use automation tools proven to function properly with this strategy.
The most used automation tools are Mass Planner and Follow Liker. Through them you can connect your accounts and implement your Instagram proxies. In addition, Mass Planner has a setting through which you can upload a list of proxies. Thus if you run tens or hundreds of accounts, you can download a text file from SSLPrivateProxy with your Instagram proxies' details. Thus saving a lot of time.
4. CREATE YOUR INSTAGRAM ACCOUNTS MANUALLY
Be careful with buying social media accounts in bulk. Usually they are created in from a few IPs. Therefore, even if you connect your freshly bought accounts through Instagram proxies, you still risk getting your accounts and proxies banned. Simply because they have been created from a common IP.
The safe way is to create accounts manually. For these, you can use Bluestacks, an Android emulator on your PC. And each account of yours will be created from the different IP. Thus, you will ring fence each account from its inception.
5. DECIDE AND STICK WITH ONE CONTENT STRATEGY
There are two main content and monetization strategies for Instagram marketing. No matter if you connect three accounts or 300 through Instagram proxies, these two strategies still apply.
The first strategy is the silo strategy. Through this strategy, you assign one or a few accounts of yours as main accounts. And use your other accounts to re-post from your main account. This strategy is slower, but allow you to create and grow accounts into real brands.
The second strategy is to grow each account individually. And for monetization, insert into each account bio a link towards a landing page. To further protect your accounts, use a cloaking script that will divert Instagram crawlers away from your domain.
The cloaking script is important because if does for the Instagram crawlers what Instagram proxies do for the social media servers. It ring fences each account and makes it independent.
6. USE VIRGIN PROXIES
Avoid getting your accounts banned due to faulty IPs or shared proxies. Always use Instagram proxies. These are private virgin proxies allocated to you especially for Instagram. Thus, from a connectivity point of view, your accounts are safe. And the only risk you face is your accounts behavior. Behavior on which you have control.
TO WRAP UP
For Instagram marketing, use Instagram proxies. If you decide to buy virgin proxies for Instagram from SSLPrivateProxy, the only risks you will face will be the account settings. And you can control these risks.
Follow the above guidelines and your accounts should be safe and grow steady over time.
Instagram proxies and 6 marketing rules to follow in 2017
was last modified:
December 1st, 2016
by