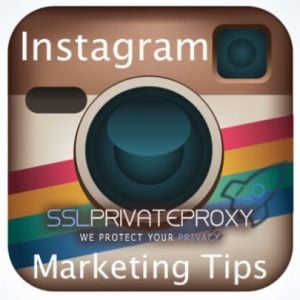 When it comes to using Instagram proxies for Internet Marketing, many marketers think that only using a large number of accounts and then promoting any type of products will make them successful. However, there are certain 'best practices' marketers should consider before developing any Instagram marketing strategy through Instagram proxies and automated accounts. From the type of offer, to the type of Instagram proxies they have to use, certain variables should be considered and decided upon.
Instagram proxies are virgin private proxies and they are nothing more than a tool used to connect your accounts to social media. So, let's see what are the best practices for marketing on Instagram with the help of ssl proxies for Instagram.
Firstly, you need to understand the limitation Instagram is bringing to the world of social media.
USE INSTAGRAM PROXIES TO PROFIT FROM INSTAGRAM LIMITATIONS
For marketers, the main difference Instagram is bringing to the table is the limited use of links. Each account is limited to using only one link in their bio. Therefore, promoting on Instagram is challenging.
What marketers can do to benefit from Instagram is to use multiple accounts, automate them and connect through Instagram proxies. SSLPrivateProxy offers ssl proxies for Instagram. These are virgin private proxies never used for this platform before.
The best use of Instagram for marketing is to use fast emotional triggers for your potential buyers. Otherwise, promoting on Instagram will have limited to no success.
After you have understood the limitations of Instagram marketing and why you should use private proxies for marketing, it is time to see what offers, and who can actually promote on Instagram.
DO NOT USE INSTAGRAM PROXIES FOR LARGE OFFERINGS
Instagram proxies for marketing are not suited for an ecommerce business with a large offering. Why? Because your offering will be limited to only the link in your bio. And you will have to change it more often than not. Simply, you do not get enough referral links for most or all your products.
With these limitations, it is difficult to create appealing offers for many products. Therefore, even if using Instagram proxies, for large offerings, we recommend using the social media platform as a branding tool. And the link in bio should be used occasionally for promoting special offers.
INSTAGRAM PROXIES ARE BEST SUITED FOR A SMALL OFFERING
If Instagram is limiting the amount of links to only one per account. Marketers should leverage this particularity and turn it into an advantage for their promotions.
Therefore, you have to use the link in bio feature to divert traffic either to a landing page to capture leads, or towards an one-product website, where the ad copy should entice and trigger the need in visitors to buy.
This is the most successful method of promoting and making a profit on Instagram. But, for best results, you have to use Instagram proxies and scale this operation.
USE INSTAGRAM PROXIES FOR SCALING WITH MULTIPLE ACCOUNTS
Firstly, you will need an automation tool and private proxies for Instagram. For Instagram we recommend you buy proxies from us. And as an automation tool, you can use either MassPlanner or FollowLiker, two of the most used automation tools.
Whereas, for Instagram accounts, we recommend creating them manually, straight from your proxies. Thus, you account will be tied to only one proxy. This way, avoiding any footprints.
Also, the proxy/account ratio should be one account per proxy. So your accounts will be independent from one another.
HOW TO USE THE BIO LINK WHEN SCALING INSTAGRAM MARKETING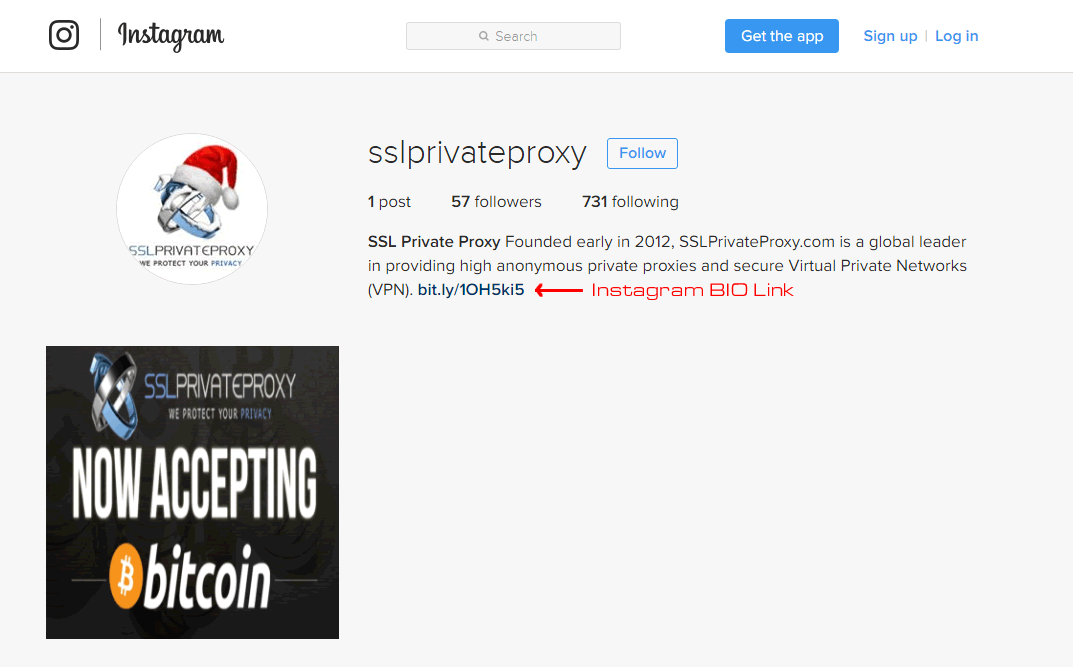 There are two ways you can use the bio link to promote your Instagram marketing when scaling automated accounts through Instagram proxies.
The first, the most used and the cheapest method is to use a cloaking service. Through this method, you post one link in all your accounts' bio. And then let the cloaking service divert the Instagram crawlers to different parts of the Internet. With this method, the only costs you incur are hosting, automation tool and Instagram proxies. Making it the most cost effective method.
However, the disadvantage of this method is that upon a manual review of just a few of your accounts, you risk your website blocked on Instagram.
On the other hand, the second method is to use multiple landing pages and domains in your accounts' bio. You can use cheap hosting as .xyz domains and then setting either redirecting scripts or email caption pages.
The disadvantage of this method is the time consuming task of creating multiple landing pages. Also, if you want to use .com domains, the costs might rise significantly.
IN CONCLUSION
Instagram can be used for marketing. But for best results, you have to use multiple accounts and Instagram proxies.
The best online businesses to promote on Instagram are either small one product shops or landing pages for capturing emails.
This method can be scaled up with the help of Instagram proxies. Also, you can take advantage of this method by using the link in bio and a cloaking service to stop the Instagram crawlers from recognizing the connection between your accounts.
Instagram proxies are best suited for small businesses
was last modified:
December 10th, 2016
by