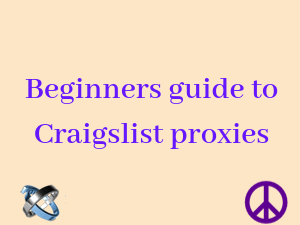 For those new to local marketing, classified ads websites can be a great way to attract new customers and potential leads. Moreover, one can leverage these platforms by using Craigslist proxies to post multiple ads in the same area. Thus, increase the odds and conversion rates.
WHAT ARE CRAIGSLIST PROXIES
For those who don't know, Craigslist proxies are private proxies for classified ads websites. They are virgin proxies, meaning they have never been allocated to Craigslist or to other classified ads website.
All proxies for classified ads websites are HTTP dedicated proxies. Thus, they are allocated to only one user. Moreover, Craigslist proxies are some of the few proxy packages for which a customer can choose his IP locations.
Most proxy packages do not require a certain location for their IPs. For example, Instagram proxies can be allocated from different server locations from across the United States or Canada. However, for Craigslist and classified ads proxies, the proxies need a certain IP location. Usually, all the proxies must have IPs located in the same area. Therefore, for Chicago proxies for Craigslist, the buyer should expect all proxies to be located in the Chicago area.
Furthermore, another feature presented both by most proxy packages and also by Craigslist proxies is the IPs' monthly randomization. This means that with every billing cycle, or at every 30 days, the buyer can ask for an IP refresh. Thus, getting new IPs for their proxy package. This way, they can post new ads from completely new IPs.
CRAIGSLIST PROXIES VS VPN
Some might argue that for posting multiple ads on classified ads websites a VPN, virtual private network, is better suited than using proxies. However, the opposite stand true. Proxies for classified ads websites are a better tool for posting multiple ads than a VPN.
A VPN used for posting multiple ads has two main issues. First, it encrypts the traffic, which is not necessary for posting multiple ads. The other issue with a VPN is the server's IP through which your traffic will divert. The IP might not be in the area you intend to advertise. Thus, if you plan on posting multiple ads in Chicago, a VPN could divert your traffic through a Sacramento server. Making it impossible to reach the Craigslist Chicago page.
On the other hand, a Craigslist proxy package will provide multiple IPs located in the same area. Thus, you will be allocated several proxies located around Chicago. So you can easily post multiple ads in the Chicago area.
HOW MANY CRAIGSLIST PROXIES DO YOU NEED?
This is a question that only you can answer it. There is no definitive answer. However, there are a few factors you can consider when deciding how many Craigslist proxies to buy to post multiple ads.
First, consider the product and how long is the buying cycle. The rule of thumb is that the shorter the buying cycle and the more items are on display, the more proxies you need for your classified ads campaign.
On the other hand, if the buying cycle is longer, as for sailing boats or real estate ads, you need fewer proxies. However, for items with a longer buying cycle, you can buy Craigslist proxies from other areas and post your ads in multiple areas. The objective with long buying cycle items is to reach a larger number of visitors.
EXTRA STUFF – OTHER THAN CRAIGSLIST PROXIES
Apart from using proxies for Craigslist, some might look into social media as a natural way of promoting certain items. For example, you can use virgin proxies to create posts for the same items in local Facebook groups.
Also, one can consider using a Craigslist auto poster software. This type of software will post multiple ads at the same time. These tools can be used with proxies, so each ad will be independent of the others.
Moreover, you should also consider buying a certain number of SIM cards, because using the same phone number for multiple ads could enforce a ban on your ads and a block of your proxies.
START POSTING
Some users will ponder for too long on what type of proxies to use for Craigslist and what ads to post and for how long. They will simply get analysis paralysis. They will buy ten or twenty Craigslist proxies but will not post until everything is perfect. However, we have only one advice for them, to start posting as fast as possible. They should start posting immediately and experiment along the way. Buy Craigslist proxies today and start posting multiple ads to increase your conversion rate.
The beginners guide to Craigslist proxies
was last modified:
September 16th, 2019
by