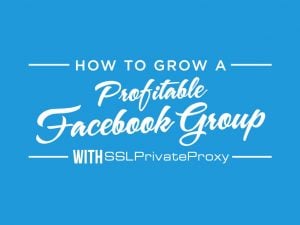 The most effective way to market online and generate revenue is to build tribes, or communities of like minded people and to cater to their needs. By using Facebook proxies and building groups on the social network, you can create large communities of like minded people to whom you can market your services.
In this article, we are going to explore the reasons why you should use Facebook proxies and why you should consider creating communities online.
WHY USE FACEBOOK PROXIES
Facebook proxies are private proxies used to connect your accounts to the biggest social network in the world. They are virgin private proxies, meaning they have never been used for Facebook before.
The main reason to use these proxies is to connect multiple accounts to Facebook and leverage its power. Because, by simply running multiple accounts, you can reach a large following and connect to like-minded people.
Once one has created and managed multiple accounts, then he can invite his followers to join specific Facebook groups. In addition, if the marketer is the creator of this groups, it becomes the moderator, thus, will have complete control of every piece of content that gets published on that group.
With this new power, comes a great privilege of actually being able to market anything to the members of these groups. However, marketing without a purpose can bring questionable results, thus is best to create focused groups and run targeted campaigns.
3 REASONS TO CREATE A COMMUNITY GROUP
Apart from being able to control the content, creating Facebook groups with the help of Facebook proxies has other advantages.
It is worth mentioning that for creating a group, you do not require Facebook proxies. But, you will need them once you have to populate the group with members. You need the Facebook proxies to run multiple accounts for the main purpose of inviting your friends into that group.
Below, there are three more reasons to create groups and use Facebook proxies.
1. MORE EFFECTIVE THAN A PAGE
A group is more efficient than a page. Whereas a page is better at communicating and promoting content, through a community group, you can also engage your users, thus creating a dialogue, instead of a monologue. In this way, all your users, that are invited through your accounts that use Facebook proxies, can participate in the conversations you are starting.
Apart from inviting your members to be part of the conversation, through a group, a sale can be simply disguised as a content marketing technique. Thus, your marketing becomes even more effective.
3. A BIT OF PR – YOU WILL BE SEEN AS AN AUTHORITY
Strongly related to point no 2, a group, or community developed on Facebook can bring you the authority status by simply gathering a large following of like minded people and catering to their needs and questions.
In addition, by using your accounts connected through Facebook proxies, you can also participate in conversations and boost your authority status by simply liking and commenting on your main account posts.
HOW TO GENERATE REVENUE THROUGH FACEBOOK GROUPS
Simply using multiple accounts through Facebook proxies and posting in groups will not bring any revenue. However, as mentioned above, with large communities, come large responsibility and large power. And with the power of controlling a large community, the revenues will start being generated sooner or later.
You should consider the creation and development of Facebook groups as a method of developing a distribution channel for your content and offers. For content, you can use both the groups created, as well as the accounts connected through Facebook proxies to promote it. Whereas for your offers, the best marketing technique to use is content marketing.
For posting ratio, we recommend 4 to 1, meaning for every post promoting your offer, you should repost 4 pieces of content relevant to your niches. This way, your marketing will not come across as desperate. In addition, your followers will appreciate more your content when you will use your Facebook groups as a place where they can get impartial information regarding their niche or domain.
TO WRAP UP
You can leverage the power of Facebook groups by creating communities around a common interest of your users. In addition, with the help of Facebook proxies, you can run multiple accounts that will be able to gather the largest number of members that can be invited to join your groups.
The main advantage of creating and promoting through Facebook groups is that you will build authority status for a targeted audience. In other words, it is similar to developing a niche forum. Buy Facebook private proxies and start marketing on the largest social network.
Use facebook private proxies to grow a community group and market to it
was last modified:
January 6th, 2017
by