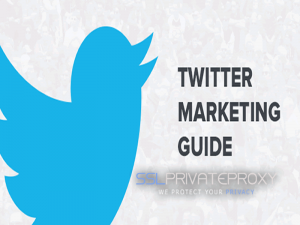 Many marketers have called the end of Twitter marketing. But the social media platform is as alive as ever. And with the help of Twitter proxies, marketing returns can be enhanced.
Apart from other social media platforms, Twitter presents a few characteristics that can render it perfect for developing a silo content strategy. Basically, through Twitter a marketer can receive free PR. In addition, because the way Twitter is set up, by using Twitter proxies, some of your accounts can become brands in themselves. This is due to the fact that some of your accounts will amass a larger following than others.
HOW TO USE TWITTER PROXIES
First, Twitter proxies offered by SSLPrivateProxy are virgin proxies. Meaning they have never been used for Twitter before. Thus, a marketer can securely develop and automate multiple accounts.
Following the development of multiple accounts, for marketing, the next step is to use those secondary accounts as a distribution hub for the main account content. Also, because of Twitter characteristics, a marketer can take an approach that can become 100% vertical.
Another great aspect of Twitter, and marketing through Twitter proxies, is that a vertical approach can be developed on more than two levels. For example, a main account content is re-tweeted by second tier accounts. And third tier accounts can re-tweet the content of the second tier ones. This will help a marketer reach a larger audience and as well create a social proof aspect of main account's content.
Furthermore, if marketers are not convinced about the validity of marketing on Twitter, we are going to present four more reasons to consider this social media platform for marketing and automating accounts through Twitter proxies.
1. TWITTER IS SIMPLE
The single best aspect of Twitter is its simplicity. All an user has to do on Twitter is to send short messages or to follow and interact with the messages (tweets) of other users. This simplicity makes it perfect for running an ongoing interaction between users and brands.
For marketing, this simplicity becomes a powerful tool. All that a marketer needs to do is to create a blueprint for tweets and start reaching audiences. And then, through Twitter proxies and automated accounts, can leverage this simplicity and reach the largest audience possible.
2. NO HIDDEN CONTENT – TWITTER IS TRANSPARENT
All content on Twitter is visible. Both for users and for non-users. But, apart from Facebook or Instagram, where there is hidden and private content, on Twitter, every piece of content is public and free to use.
For marketers, this means that one can easily use the content of his niche either for research, or for reaching a larger audience. Reaching larger audiences can be achieved by simply interacting with users that engaged with the niche content.
For example, an authority account on Twitter posts a tweet and receives a high engagement rate. A marketer can then use his second or third tier accounts connected through Twitter proxies to interact with that user. All with the intent of mutual following. Following that will generate extra eyes for the main account content.
3. NO FILTERS APPLIED TO USERS WALLS
Pinterest uses the 'pick for you' function and filters 'in an intelligent fashion' the content an user can see on its wall. Thus, limiting the times an user can see the content of the accounts it follows. In comparison, Twitter makes visible all content generated by the accounts followed by one user. Thus, every tweet, either content tweet or promotional one, published by a marketer, has the chance of reaching most of its users wall.
This aspect can truly be scaled and leveraged with the help of automated accounts and Twitter proxies.
4. LINKS EVERYWHERE! – MORE TRAFFIC THROUGH PROXIES
Apart from Instagram, on Twitter, you can post a link on every piece of content you publish from your main account.
This aspect can turn a Twitter marketing campaign into a tiered campaign through which an audience can be used to generate traffic towards a desired website.
Similar to no3, a marketer can enhance this Twitter characteristic by simply scaling his Twitter operation through multiple accounts and Twitter private proxies. In addition, by scaling and reaching the largest audience through Twitter proxies, more users will interact with a marketer's tweets, Thus, any piece of content published has the potential of reaching viral status and generate extra traffic and returns.
TO WRAP UP
Twitter might not be the desired social media platform for marketers looking to automate content and accounts through Twitter proxies. But its simplicity makes it a powerful tool.
A marketer can use Twitter proxies to manage multiple accounts and develop a sile type of content strategy. A strategy that, thanks to Twitter, can be developed vertically on more than two tiers.
Every social media marketer on Twitter should consider buying Twitter private proxies.
Use Twitter Private Proxies to create a Silo Content Strategy
was last modified:
January 6th, 2017
by