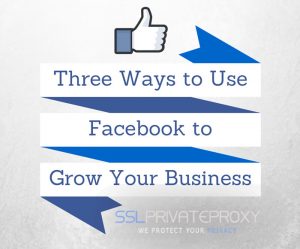 One of the oldest Internet marketing techniques is still profitable today. Building email lists and promoting offers through newsletters turns a profit even in 2017. If you are an Internet marketer looking to build email lists, than Facebook proxies can become a great tool in your arsenal. One of the main advantages of using Facebook for building email lists is the viral factor. In other words, you can build large email lists in a short period of time. However, for long lasting results, use Facebook private proxies in one of the three ways described below.
WHY YOU NEED FACEBOOK PROXIES
Facebook is the largest social media network. You can use its power to reach customers from all over the world. But notably, you can use Facebook to attract any demographic group suited to your products.
The demographic factor makes Facebook a suitable network to develop multiple accounts. Accounts that can be run at the same time with the purpose of expanding your user base. In order to run multiple accounts, you will need to buy virgin Facebook private proxies. In addition to running multiple accounts, you need Facebook proxies to locate your accounts in target areas. Usually, these target areas are large metropolitan cities across United States.
Therefore, with the help of Facebook proxies, you will manage to have an ever expanding user base that will include friends and followers from high-income areas across US cities.
Furthermore, you will have to include your proxies in a marketing automation software. The most marketing software are MassPlanner and FollowLiker.
WHY CREATING EMAIL LISTS
The number one reason of using email lists for marketing is the versatility they offer. Once you have an email list, the newsletter you send to them can be either one filled with content or one filled with offers. Subscribers will not know the difference at hand. They will not notice the difference because newsletters are fully customizable. In comparison with websites that require a certain theme, design and content type, newsletters can be created as you find fit. So, once you have built an email list with the help of Facebook proxies, you can sell them anything.
3 WAYS TO BUILD EMAILS LIST WITH THE HELP OF FACEBOOK PROXIES
Before starting to build email lists with the help of Facebook proxies, you will need to either develop a following, or to gather a large number of targeted users in the same place. So, we found 3 ways you can achieve this with the help of Facebook proxies.

The first great way to build email lists on Facebook is to join existing groups. Usually, these groups are composed of like-minded users looking to solve the same problem. Therefore, is a great way to meet users looking for fixes to their problem.
For joining existing groups, you can use Facebook proxies to join multiple groups with multiple accounts. Once you have achieved this, you can start promoting a landing page on this groups with one account. And you can use the other accounts to review and post positive feedback for your landing page.
If the amount of available groups is limited, you can simply create groups. You can use your Facebook proxies to reach a large amount of friends and then to invite most of them to your groups.
In addition to joining friends to your groups, another great advantage of creating groups, is the control you can have over the content published on them.
Also, you can use your existing users and incentive's them to invite their friends to join your groups. Even if you are using Facebook proxies, this simple technique of asking users to invite their friends is very effective.
The third way of using Facebook proxies to create email lists is to run multiple accounts and then use them to share and re-post your landing pages that contain email capturing forms.
The sharing post method is the simplest way through which you can use Facebook proxies to create an email list. As you have noticed, this method is horizontal. Meaning, you don't need a main account, or group. Thus, your accounts will be independent from one another. And the only connection between them is their mutual friendship.
IN CONCLUSION
Facebook can be a great environment for building email lists. Furthermore, you can leverage the power of the most used social network with the help of Facebook proxies. There are three main ways through which you can use Facebook proxies to build email lists.
The first way is to join existing groups and promote your landing pages. The second way is to create your own groups, and then promote your email lists. And the last method is to use your accounts only for posting once in awhile your landing pages. Use Facebook proxies to build email lists as you find fit.
3 Ways to Use Facebook Private Proxies to Build Emails List
was last modified:
January 28th, 2017
by