The premium proxies and private proxies world is not a straight forward one. Similar to other virtual goods, such as hosting and VPNs, one must know exactly what needs to buy in order to make smart buying decisions. Therefore, to help those in need of clarification and who find it difficult to purchase premium proxies, we have created this article about five of the general doubts that surround premium proxies. These five popular doubts have brought a negative aura over the private proxies world. Therefore, we hope to shed some light and make it clear for everybody the current "state of the union" of the private proxy world.
PREMIUM PROXIES ARE ALL ABOUT BLACKHAT TECHNIQUES
Many webmasters, marketers and Internet users consider the premium proxies world closely related and tied to blackhat techniques. They consider premium proxies necessary only if one needs to hide his real IP to perform unorthodox actions.
The truth is that for most blackhat techniques one needs premium proxies, but not all proxies are used for blackhat.
For example, one can use premium proxies for a pure whitehat project. They [proxies] can be used to scrape the web for research purposes. In addition, proxies can be used by PR companies to manage multiple social media accounts on behalf of their clients. Thus, limiting the risk of account correlation.
PREMIUM PROXIES ARE EXPENSIVE
The second general doubt about premium proxies is that they are expensive. At a closer look, one will understand that they are not so expensive. And one should consider the proxies' price as an overhead cost.
For example, a sneaker proxies package might cost north of $500, but if treated as overheads, their price doesn't seem too expensive. Especially if they are part of the infrastructure needed to perform the coping process. And once items are acquired, one can deduct and insert the proxies' costs in the selling price.
PREMIUM PROXIES ARE A COMMODITY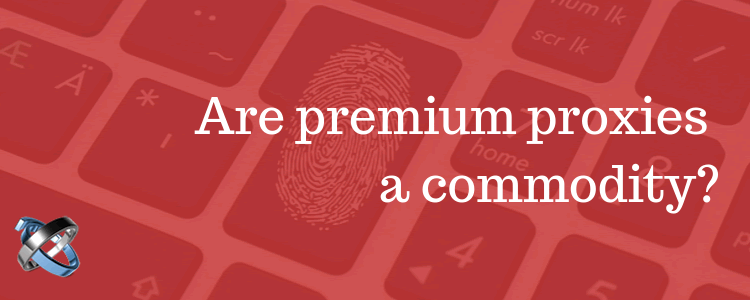 Many think that premium proxies are a commodity. They are no different than public proxies, which on the surface, look the same. All proxies have an IP and PORT.
However, the main differentiator between proxies is not their look. But what you can do with these proxies. While on the outside, one can't distinguish between a public and premium proxy, when used, these proxies behave differently.
A public proxy's uptime and connectivity can be so poor as to make the proxy useless. And if one plans on using the public proxy to connect accounts, one can expect issues in both being allowed to log in, due to the proxy's history, and being able to stay connected due to the proxy's server uptime and setup.
On the other hand, a premium private proxy comes with guarantees of connectivity and uptime. Moreover, if one intends to use the proxies for a certain platform, he might find special use proxies for that platform. Usually, these are virgin proxies never used for the underlying platform, thus eliminating the risk of bans due to proxy's history.
YOU'LL GET IN TROUBLE BY USING PREMIUM PROXIES
This issue brought a stigma over the premium proxies world. There are users considering using premium proxies will get them in trouble with both online services and local authorities.
There is no law governing the use of premium proxies. Premium proxies are just a tool allowing you to connect to the Internet via a proxy server, thus to mask your real IP. This is not a criminal offense. But the reason for masking the IP can be a criminal offense if one uses premium proxies to scam or hack other Internet users.
As long as the intended purpose for which one uses premium proxies is not illegal, then the use of premium proxies will not cause troubles.
I DON'T NEED PROXIES AT ALL
There are webmasters, developers, and marketers thinking that they do not need premium proxies at all. But the truth is that not people need proxies, but their projects.
For example, a developer might create a web scraper, thus he will need proxies and an IP pool through which to perform queries. While a marketing might need proxies to connect and manage their client's social media accounts. Therefore, the need of premium proxies should be considered at a project level, not at a human level.
TO WRAP UP
There are many doubts surrounding the world of premium proxies. Above, there were presented five of the most common doubts for which webmasters, developers, and marketers do not consider using premium proxies.
The main take is that premium proxies are just a connectivity tool and the risks and doubts should arise not from using them, but from the project in which they are implemented.
5 Doubts about premium proxies you should clarify
was last modified:
September 16th, 2019
by