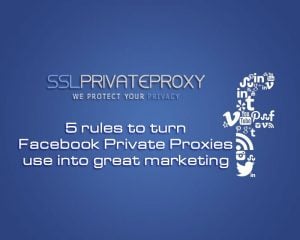 Using Facebook proxies to connect multiple accounts to the largest social media platform is a great marketing strategy. However, achieving excellence with this marketing strategy can become a difficult task.
However, there are certain steps and rules one can follow in order to increase his engagement and returns. These rules are simple and can be followed by anybody involved in Facebook marketing. These rules are not only for those marketers using Facebook proxies. Even you can start following these five rules to boost your engagement and returns.
WHERE TO BUY FACEBOOK PROXIES
Facebook proxies are virgin private proxies. It means that they have never been used for connecting accounts to Facebook.
Besides being virgin ones, Facebook proxies are also https proxies, meaning you can securely connect accounts through them.
We, SSLPrivateProxy offer virgin Facebook proxies which you can easily and securely use to connect your accounts and start running marketing campaigns.
Furthermore, let's see the five rules one must follow to achieve excellence in using Facebook proxies for social media marketing.
RULE 1 – USE REAL NAMES FOR EACH ACCOUNT USING FACEBOOK PROXIES
Some marketers might be tempted to use fake names, or niche related names. You should never try naming your accounts this way.
You can name your Facebook business pages after your niche, but you should always give to your accounts real, personal names.
Most people use Facebook for personal use. They are looking to interact with other people. Therefore, if you use Facebook proxies for marketing, give your accounts real names, similar to real people.
Don't make the error of creating accounts with niche related names. They never work. Even if you have several Facebook proxies under your management, do not waste your chances by giving unreal names to your accounts.
RULE 2 – USE THE RATIO OF 1 ACCOUNT FOR EACH FACEBOOK PROXY
Do not make the greedy mistake of setting several accounts through one proxy. Even if at home your whole family uses only one IP, none of your family members have automated accounts.
Therefore, the moment you plan on setting several automated accounts, you should start using Facebook proxies. One proxy for each account.
Always try to stay on the safe side. Is better and in the long run brings the best rewards.
RULE 3 – MIX YOUR CONTENT
With several accounts under your management, it is easy to make the mistake of setting them on 'spam mode' and post only links and posts related to your website.
However, in the long run, the safest bet is to mix your content and build your accounts around a niche, not around one particular website.
Your Facebook friends will be more engaged if you accounts are posting relevant information from several websites.
In the meantime, slip a few posts and links pointing back to your website. In this way, no one will ever think your accounts are automated and used for content distribution.
RULE 4 – FOLLOW AND MAKE FRIENDS REGULARLY
Your accounts should never stop growing. The more accounts connected through Facebook proxies, the better for your marketing reach.
Leverage the power to make new friends with your accounts and grow your friends base.
RULE 5 – DON'T USE YOUR FACEBOOK PROXIES 24/7
This is one of the most ignored rules. Most marketers get this one wrong and increase the risk of getting their accounts and Facebook proxies blocked.
You should always make your automated accounts, connected through Facebook, replicate human behavior. This means to slow as much as possible your accounts' behavioral settings.
In addition, you should make these accounts 'sleep' every day. This means to set aside a period of 8 to 10 hours per day in which your accounts do not take any action on Facebook.
Even if this looks like a waste of time and a missed opportunity, it is best to take this approach. Because, as long as your accounts replicate human behavior, they will be safe from any block or ban coming from Facebook.
And by keeping your accounts safe, you will also protect your Facebook proxies.
TO WRAP UP
Very few people consider the requirement for an excellent marketing campaign through the use of Facebook proxies.
Furthermore, there are several rules one must follow if he wants to achieve great marketing return by using Facebook proxies.
From accounts' name to Facebook proxies ratios and from the content considered to post to the accounts activity hours, follow the above rules and your Facebook proxies use and marketing campaigns will offer you great returns.
Buy Facebook proxies from SSLPrivateProxy. Our proxies are virgin ones, never used for Facebook before.
5 rules to turn Facebook private proxies use into great marketing
was last modified:
May 24th, 2017
by