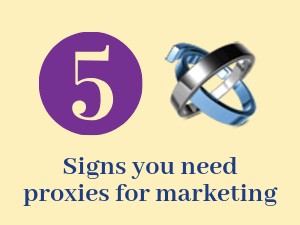 Marketers will try to distance themselves as much as they can from the technical stuff that goes on a marketing campaign. However, if they pay little attention to what goes behind the hood, they will better understand how things work and find imaginative ways to employ their tools to increase their marketing campaign's return. While they pay little attention to how things connect over the Internet, if marketers will pay attention to how proxies work and how they can be used for marketing, they will rush to buy proxies for their campaigns. Therefore, in this article, we are going to show five signs that clearly demonstrate when you, as a marketer, need to buy proxies for a marketing campaign.
1. BUY PROXIES IF YOU USE THE SAME DOMAINS OVER AND OVER AGAIN
Let's say that on a weekly basis, you use the same domains to build backlinks towards your website. Now, wouldn't it be nice to use these domains and increase the number of backlinks pointing to your website?
If you are creating links in a niche forum, you can buy proxies to create multiple forum accounts and post links from these accounts as well. In this way, you will be able to increase the number of links pointing towards your website and at the same time, decrease your main account's ratio of forum posts with and without links.
2. YOU USE A SEARCH ENGINE SCRAPER
Another good indication that you must buy proxies is if you are using a search engine scraper for your SEO and research tasks. You must buy proxies for two reasons.
First, buy proxies to protect your real IP. A common issue when scraping Google is to get the IP banned. Therefore, to avoid your IP blocked on Google domains, buy proxies and divert your scraper's connection through the proxy server.
Second, if you use proxies when scraping search engines, you can get area specific SERP results. For example, if your business is targeted to the United States, but you reside in Europe, when scraping Google from your real IP, you will receive local Google ranking. However, if you divert your scraper's activities through a US proxy, you will get results from Google.com for United States users. Thus, by buying proxies and using them to scrape search engines, you will get more accurate research result.
3. BUY PROXIES TO SCALE YOUR SOCIAL MEDIA MARKETING
Another great benefit of buying proxies is to use them for social media marketing. With the help of specific tools and private dedicated proxies for social media, you can scale your social media operation. The main benefit of scaling social media marketing is the opportunity to reach a larger audience. The math is simple, if you run one account with 500 followers, you will reach a fraction of them. But, if you scale your operation and manage 20 accounts with 500 followers, your marketing reach increases exponentially.
4. YOU WANT TO BUILD BACKLINKS
In the point (1) of this list, it was mentioned to buy proxies if you use the same domains. However, you can also buy proxies to create backlinks when reaching and testing new domains.
One simple example is new forums or discussion boards which you want to test before deploying a marketing campaign. You can use proxies to post both the content with backlinks towards your website and from other proxies, IPs to start engagement around your initially posted content to gauge the potential of this new domain.
5. BUY PROXIES TO AVOID SPAM
Not many will think of the benefit of buying proxies and using them to avoid spam looking content. Let's get an example. If you use only one forum or social media account to post promotional links, sooner of later your account will look like spam.
To avoid such issue, you can buy proxies and distribute your promotional content across multiple accounts. Thus, the ratio of useful content to promotional one diminishes and your accounts will look more authoritative.
WHAT PROXIES TO BUY
By now, the benefits of buying proxies and using them for marketing are clear. You need them for various tasks. However, if you decided to actually go and buy proxies, you journey actually starts now. First, define how you are going to use your proxies and what proxies you need. Second, if you find it necessary, contact the proxy provider and ask them and inquire about what proxies are better suited to your needs. If you need further guidance and information on how and where to use private proxies, check the other articles in our blog section.
5 Signs you need to buy proxies for marketing
was last modified:
September 16th, 2019
by