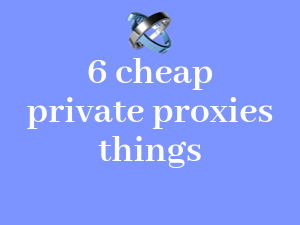 As you probably know, private proxies are similar in appearance but different in their usage. They all come with an IP and PORT, but depending on the proxy's IP history and the number of users connecting through the proxy, some private proxies are better than others. Cheap private proxies are just one category of private proxies offered by providers along with shared proxies and virgin ones. But depending on the usage of these cheap proxies, certain things tend to happen. Below, we have listed six of them.
1. BLOCKED CHEAP PRIVATE PROXIES
One of the most common issues happening to cheap private proxies users is the inability to connect to certain online platform due to their proxies' IP history.
You should think about this issue in purely economic terms. Why would a provider sell cheaper proxies than other providers? Usually, proxies sold as cheap proxies tend to have flagged IPs, making it impossible to connect to major websites.
Their IPs have been used and abused prior to your allocation, thus making it impossible for you and future users to connect these proxies to certain websites.
2. SAVE MONEY
The second thing that happens when using cheap proxies is saving money. Some private proxies are sold at half the price of virgin proxies. Making it economically viable to use cheap private proxies.
However, this price difference comes at another cost. These costs are not paid in price, but they are paid in the proxies settings. Or better said lack of settings. Because as mentioned above, some providers will sell blocked IPs as cheap private proxies. Thus, while saving money will also create connectivity issues.
3. CHEAP PROXIES FOR SCALING OPERATIONS
One great use of cheap private proxies is for SEO tasks. For which proxies are used to create backlinks by posting blog comments and forum posts.
For SEO tasks, cheap private proxies are a better fit than virgin proxies. An SEO expert needs as many IPs as possible. Thus, for his budget, he can get more IPs by buying cheap private proxies. And can scale his SEO operation with fewer resources.
4. SHARED PROXIES ADVERTISED AS PRIVATE ONES
This is a common issue for which proxy users need to be aware. For each private proxy, either shared or dedicated, the provider is incurring some costs. Thus, they can't sell their proxies below a certain price.
Yet, we see often providers advertising private proxies at a price level too good that raises questions. In other words, dedicated private proxies can't be sold at less than $1 per IP. Regardless if this is an HTTP proxy or SOCK one. The costs to create and maintain a proxy is higher than the price at which most of these cheap proxies are advertise.
But, some providers found a way to sell these proxies and still make a profit. They simply started selling cheap shared proxies as dedicated private proxies. Unfortunately, the buyer can't verify if his private proxy is dedicated or shared. He can only trust the provider that is reliable.
5. BAD CONNECTIVITY
Another major issue of using cheap private proxies is their poor connectivity. Some proxies servers are terrible and will make it almost impossible to use those proxies.
First, their performance lacks in connectivity and uptime. Making it hard to perform a task over a long period of time. Second, the connection's speed could limit the number of tasks performed during the proxy's uptime.
Some cheap private proxies have great uptime and high-speed connections. But, as a buyer, you must be aware that when buying cheap proxies in bulk, the bad connectivity issue could arise to some of your proxies.
6. MISS-ALLOCATED CHEAP PRIVATE PROXIES
The last issue on our list is the risk of getting miss-allocated proxies. For example, you might find cheap Facebook proxies at a provider. These are HTTP private proxies and their price is half of other providers.
While at first, it sounds great to buy cheap proxies for Facebook. These proxies could be miss-allocated by the provider. Thus, you'll end up buying proxies that do not work for Facebook.
And while these proxies state they are allocated for Facebook, you'll not be able to use them on the social media platform.
TO WRAP UP
Cheap private proxies can be a great tool if used correctly and only for certain operations. However, you should be aware of some providers offering too cheap proxies. These proxies are usually blocked on major websites. And some of them are shared proxies advertised as private proxies. While other proxies have terrible uptime and speed and making their use almost impossible.
6 Things that happens when using cheap private proxies
was last modified:
September 16th, 2019
by