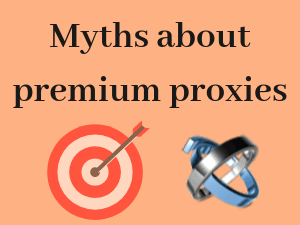 The private premium proxies world is full of myths and stories. Often, providers, users and those interested in buying premium proxies mistake these myths for reality. Therefore, we think it is time to shed some light over some of the most popular myths revolving around premium proxies. We are going to list them and then explain if and why they are untrue. Some myths are pure lies while some have some ground in the real world. However, you should read this article if you need to buy premium proxies in the near future.
MYTH 1: ALL PREMIUM PROXIES PROVIDERS ARE THE SAME
This is the general myth regarding all online, digital goods. Users believe that all providers are the same and there is no difference between them. While the service is similar (providers competing in the same business area) they are different entities.
Each premium proxies provider is a small or large business. And actually, there are real people, humans, behind these websites.
Users who believe this myth tend to switch providers often. And sometimes they think that premium proxies from one provider are similar to the proxies allocated by another one. Hence, they think myth number two as well.
MYTH 2: PREMIUM PROXIES ARE OVERPRICED COMMODITIES
Why pay a premium price for premium proxies when you can find public proxies for free. This myth considers that all proxies are the same. And there is no difference between them. Thus, the price should be close to zero.
Indeed, all proxies look the same on the outside. They are comprised of an IP and PORT, basically two numbers. But the advantage offered by premium proxies is in their ability to connect to certain Internet domains.
Users who must connect and login accounts to certain online platforms must use premium proxies. These proxies have a clean history and they will successfully connect accounts without the risk of getting banned. So, in the end, proxies look the same, but the premium price is paid for their ability to connect everywhere, anytime.
MYTH 3: PREMIUM PROXIES ARE WORST THAN VPN
First, it depends on what the user is planning to use the premium proxies and the VPN. If he wants to use premium proxies, then he will have a hard time staying anonymous. For this purpose, VPNs are better suited than proxies.
However, if the user plans on using premium proxies to automate certain tasks that require reaching an online platform, then proxies are a better fit than VPNs.
So, premium proxies or VPNs are not better or worst in general. They are better or worst at performing certain tasks. Thus, first users must identify the problem and then consider the appropriate tool for it.
MYTH 4: DATACENTERS IPS ARE FLAGGED AND DON'T WORK
There is a bit of truth in this myth. Some data center IPs are flagged and they will not be able to connect users to certain online domains. But, it doesn't mean that all data center IPs are flagged and they will not fulfill their scope of connecting to certain websites.
Among data centers, there are still premium proxies that have never been used before. These are unallocated IP pools. Users can consider them virgin proxies because they have never been used before.
MYTH 5: IPv6 WILL REND PROVIDERS USELESS
Many expect the implementation of IPv6 IPs to render premium proxies providers useless.
However, these new form of IP hasn't been implemented on a large scale. And there are still users that need premium proxies for their projects. Therefore, for the moment, there is need to be fatalists.
This myth is holding back users who should buy premium proxies and start using them for their projects. Instead, they are waiting on the sidelines for the implementation of IPv6 IPs. And while they are waiting, they miss precious time and opportunities.
MYTH 6: THERE ARE NO MORE VIRGIN PROXIES
This myth is completely non-sense. There are still premium proxies with virgin IPs. However, while the pool of IPs has been exhausted, there are still virgin proxies with have never been allocated to users.
These premium proxies are waiting to be used. And they will be allocated to users looking for virgin proxies because they will be the ones appreciating the proxies' clean history.
MYTH 7: YOU CAN BUY ANY PROXY FOR ANYTHING
This myth is similar to myth no 2. While at first sight there is no difference between public and premium proxies, the proxy's ability to connect is the main differentiator. Thus, users should consider buying a proxy and expecting it to connect to anything.
The best practice against this myth is to buy special use proxies or to ask the provider to allocate premium proxies that will connect to a certain domain.
IN CONCLUSION
The above myths do not help users choosing and using premium proxies wisely. Moreover, they will stop some users from buying premium proxies for their projects and will slow their development.
7 Myths uncovered about premium proxies
was last modified:
September 16th, 2019
by