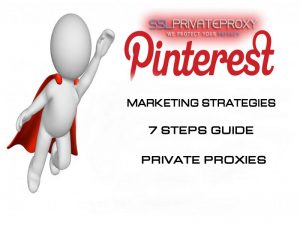 Starting to use Pinterest proxies for marketing is an easy task. First, you must create several accounts and connect them through Pinterest proxies and then look for ways to promote your website and offers on Pinterest by pinning and repining from several Pinterest accounts.
WHY YOU NEED PINTEREST PROXIES
The number one reason for using Pinterest proxies is to scale your marketing operation and reach more potential buyers for your products.
Pinterest proxies are similar to most other private proxies. However, the only difference is their lack of history on Pinterest. Basically, they are virgin private proxies for Pinterest. Meaning they had never been used to connect Pinterest accounts through them.
Pinterest, like any other social media platform, limits the number of accounts connect per IP to a maximum of five. This means that with more than five accounts, you run the risk of getting your accounts blocked. Thus, you could lose all the progress and following of those accounts.
HOW TO USE THE PINTEREST PROXIES YOU BUY
The following step after you buy your Pinterest proxies is to implement them, together with your accounts, in a social media automation tool.
Online, you will find several automation tools, however, we recommend you buy and use one of the most used Pinterest bots. So, please choose any of the following social media tools, such as Pinbot or FollowLiker.
Regardless of the one you choose, all of them will perform the same tasks of pinning, following and unfollowing users.
Basically, all of them will try to make all your accounts replicate human behavior.
And in order to keep each account independent from the others, use Pinterest proxies.
Now that the logic behind using Pinterest proxies for marketing has been displayed, it is time to show the seven steps guide to using Pinterest proxies and creating a scalable operation.
STEP 1: CREATE EMAIL ACCOUNTS
You will need one email for each Pinterest account. This is the first step, even before creating Pinterest accounts.
First, you need the emails with which you will be able to create your accounts.
For this step, we recommend you choose any of the big email accounts providers such as Gmail, Hotmail or Yahoo. In addition, you will need phone numbers to verify your accounts.
While this step can't be skipped, if you do not have the time to create email accounts, you could buy them from any online service specialized in creating email accounts.
Following, you will need to create your Pinterest accounts with the help of Pinterest proxies.
STEP 2: MANUALLY CREATE ACCOUNTS THROUGH PINTEREST PROXIES
Once you have you email accounts you can start manually create your social media accounts. For this step, you should use Mozilla Firefox.
First, set your Firefox browser to connect through Pinterest proxies. Then connect to Pinterest.com and manually create your accounts.
Repeat this step of creating one account for each Pinterest proxy, but each time use a different email addresses.
STEP 3: AUTOMATE YOUR ACCOUNTS
This is the step that most people find confusing. First, automating your accounts doesn't imply you should start following people and re-pinning Pins from others.
This step simply implies you should start setting each account through the proxy it was created, into the social media automation tool of your choice. And then let it warm up by simple keeping it connected for a few days.
To mention that during this warm up period, you should not take any significant action with your accounts. Just let them stay connected. Then, slowly start building these accounts by following people.
This is the step when your accounts start becoming active. Every account using Pinterest proxies should start pinning from authoritative websites.
First, create a few boards and re-pin in them 3 to 4 times a day.
This step should be continued through the whole lifespan of your accounts.
Start this step after your accounts have performed the step 4 for a couple of weeks.
In this step, you can use a few authority accounts and automate your accounts to follow their followers. In this way, you will create a followers base comprised of niche followers, targeted to your desired domain.
STEP 6: START UNFOLLOWING SLOWLY
This step should be started only after your accounts have been connected through Pinterest proxies and automated for more than a couple of months.
Starting this step sooner increases the risk of getting your accounts blocked.
Remember, you must try to make your accounts replicate human behavior. Unfollowing a large percentage of your followers can trigger alarms and raise suspicions over your accounts.
STEP 7: POST YOUR CONTENT WITH LINKS TO YOUR WEBSITE
Finding relevant content to use for multiple accounts connected through Pinterest proxies is challenging.
However, you could try scraping other platforms for visual content. Instagram is the best place to look for potential pining material.
TO WRAP UP
After you buy Pinterest proxies, you must develop a system through which you will be able to safely create accounts and scale your operation.
Furthermore, take into consideration every step mentioned above and you will decrease the risk of getting any of your accounts banned and Pinterest proxies blocked.
7 steps guide to using pinterest private proxies for marketing
was last modified:
May 24th, 2017
by