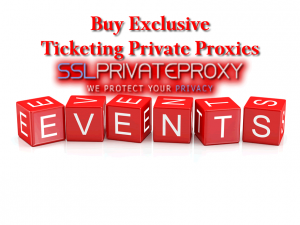 Very few are aware that using private proxies for ticketing, such as TicketMaster proxies, can bring fun and joy to you and your friends. Ticketmaster proxies are not a funny thing per se, but using them wisely, you can get some 'perks' you will definitely enjoy with your friends.
WHY YOU SHOULD BUY TICKETMASTER PROXIES
Everybody has his own reasons for buying and using private proxies. Those of you buying Ticketmaster proxies have only one reason in mind when purchasing them. More or less, you are looking to have fun with your friends by getting tickets to some of the biggest concerts or sport events.
The way to achieve the above mentioned is to get Ticketmaster proxies and buy several tickets for your group of friends. Someone may argue why you need Ticketmaster proxies when you can simply buy tickets as a normal user. Indeed, someone might buy tickets using his one and only account and through the IP address of his home internet connection.
However, there is one major shortcoming if you think to buy tickets through you home Internet connection. This is due to the fact that Ticketmaster offers a variable number of tickets that can be purchased from any given IP. Therefore, if for your desire event the number of tickets is limited to three (3) tickets per IP, and you are a group of 7 friends, you cannot buy tickets for all your friends. Thus, you risk getting tickets only for half of your group. Therefore, the only way you can stand a chance to get tickets for your whole group is by using Ticketmaster proxies and bid for tickets from multiple IPs.
In this way, you can bid from two separate browsers, Google Chrome and Mozilla Firefox, from the same desktop PC, by diverting Firefox internet connection through you Ticketmaster proxy. In this way, the Ticketmaster servers will recognize your bid as coming from two separate locations. Thus, you increase your chances of getting the desired amount of tickets so that you can enjoy your favorite even with all your friends.
THE USE OF TICKET BOTS – HIGHLY PROHIBITED
It is well famous the fact that Ticketmaster employs an army of data analysts and their only job is detecting automate behavior and banning the IPs from where the behavior originates.
In addition, in the autumn of 2016, a handful of big news websites reported that US authorities might start prosecuting procedures for persons caught using automate behavior for purchasing online tickets for resale. Therefore, turning the activity of ticket scalping illegal. Furthermore, because of the gray surrounding what represent ticket scalping we do not recommend using ticketing bots until further information.
So, the only viable way you can purchase the desired number of tickets is by performing manually the ticket buying process, but through Ticketmaster proxies, so you can increase the chances of getting as many tickets as you need. Moreover, if you dispose of one desktop PC and one laptop, you can set on both of them Ticketmaster proxies and further increase the chances of getting tickets.
3 MEGA EVENTS TO ATTEND WITH THE HELP OF TICKETMASTER PROXIES
Now, that you understand how to use Ticketmaster proxies in order to get tickets to big events, lets us see some of the major events that you can attend with your freshly purchased tickets.
Metallica – 14th May – New Jersey
You can reach show performed by one of the greatest rock bands of all time, if you purchase Ticketmaster proxies.
Lady Gaga – Aug – Sep 2017
You and your group of friends can get access at one of the most extravagant artists living today. This event tour is during the vacation period of August – September. So make sure you can get tickets to this show.
Bruno Mars – 23rd July – Portland
Some may not agree with our last choice, but Bruno Mars had a few songs reaching top places in music charts. You can increase your chances of seeing Bruno Mars by applying the above method of getting your tickets.
IN CONCLUSION
Reaching the concert of your favorite artist or buying tickets to a big sport event can be a daunting task. Ticketmaster limits the number of tickets purchased from a single IP. Therefore, in order to increase the chances of getting tickets for your whole group, buy Ticketmaster proxies and start bidding for your tickets.
By using Ticketmaster proxies, you can bid multiple times, thus getting higher chances of getting more tickets than the impose limit of tickets per IP.
Buy ticketing proxies from SSLPrivateProxies and start planning your own concert tour today.
Buy Exclusive TicketMaster Private Proxies to attend the Mega Events of 2017
was last modified:
February 25th, 2017
by