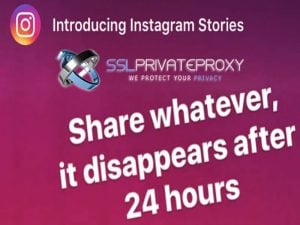 If you are an active marketer on Instagram, this news should be of interest to you. And if you are not marketing on Instagram, it should be of interest to you too. And for the best results, buy Instagram proxies from SSLPrivateProxy and start promoting and scaling your Instagram marketing operation.
BEFORE BUYING INSTAGRAM PROXIES – WHAT'S THE NEWS
A few days ago, Instagram released the news that its stories will include 'See More' links. At first this will be allowed just for approved accounts. But as usual they will expand this functionality to all accounts. But first, let see why this is important.
Instagram never allowed the introduction of links on any of its posts. If you wanted to promote and present further details, you had to include only one link in your bio. Most marketers had to promote only one link. For marketers it was tricky promoting new offers. They had to change the in bio link most of the time.
This new feature is a blessing for marketers who use multiple Instagram accounts through Instagram proxies.
WHAT ARE INSTAGRAM PROXIES
If you are marketing on Instagram, for best results, you have to scale up your operation. The best way you can do this is to run multiple accounts and automate them. To run multiple accounts, you need to buy Instagram proxies.
Instagram proxies are HTTPS proxies allowing you to connect multiple accounts through an SSL encrypted connection.
Instagram, as any other social media platform, is very restrictive, therefore, it makes it very hard for marketers to automate accounts. Thus, any account suspicious of automated behavior gets blocked or banned.
In order to avoid accounts blocked, SSLPrivateProxy offers virgin Instagram proxies. These are private proxies allocated only to you. These proxies are virgin because they have never been used to connect accounts to Instagram.
Very few providers offer virgin dedicated proxies for social media platforms. Due to the fact that you need to connect accounts through your private proxies, we offer SSL encrypted proxies.
HOW TO USE INSTAGRAM PROXIES FOR MARKETING
With the help of Instagram proxies, you can connect and automate multiple accounts. Thanks to your Instagram proxies, you can run all your accounts from the same place.
You can automate your account with the help of social media tools, such as Instagress, MassPlanner or any other automation tool. All these social media tools do the same thing of following and unfollowing users and posting different types of content. In addition, all social media tools allow you to implement social media proxies, therefore, you can allocate each Instagram proxy to one account. Thus, you make your accounts safe from getting blocked.
WHAT CAN YOU PROMOTE WITH THE HELP OF INSTAGRAM STORY LINKS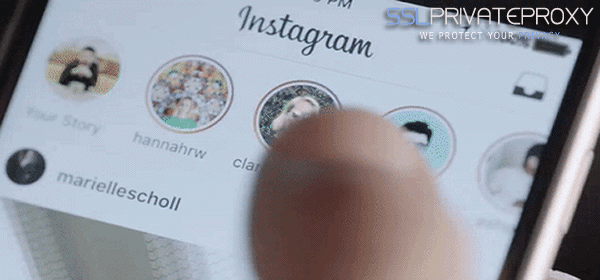 Most marketers use Instagram in bio link to promote CPA offers. This method includes running multiple accounts through Instagram proxies and expanding the followers base on a daily basis.
The only flaw of this method is that it can never nurture an audience, it just promotes to new users who are curious and click on your bio link. This method, even if used with hundreds of accounts and hundreds of Instagram proxies has a very low conversion rate.
But now, with the help of in story links, marketers can nurture their audience. Any marketer, can use their Instagram stories in the same way pins are used on Pinterest. Any story can promote a link towards a page or blog post.
And with the help of Instagram proxies, this marketing operation can be scaled up and reach the largest audience possible.
IN CONCLUSION
Instagram released the news that its stories section will include in story links. This links can be used by marketers to promote their offers or content.
In story link, changes the game of Instagram marketing because, previously only in bio links were used to promote content. And the only thing marketers could do was to expand their user base on a daily level.
Previously, Instagram proxies were used to connect accounts that will increase their following count on a daily basis. But now, private proxies for Instagram can be used to expand and also nurture an audience.
Take advantage of this new feature with the help of Instagram proxies, through which you can scale up your operation and increase the number of accounts managed.
Once you have implemented your accounts and connected them through private proxies, you can like stories from your main accounts, thus increasing your content reach.
SSLPrivateProxy offer virgin dedicated proxies for Instagram. Buy proxies from us and you will never face any problems regarding the connection of your accounts.
Buy Instagram Virgin Private Proxies for Instagram Stories
was last modified:
November 16th, 2016
by