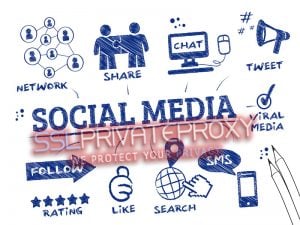 Social media marketing is one of the best and fastest way of promoting your business.There are many questions to ask and many factors to consider before defining a clear social media marketing strategy for a business. Even if you buy proxies to market on social media, you still need to consider who is your target audience. Some of these questions, irrelevant to the social media platform chosen to promote, are relevant to the success of your campaign.
WHY YOU MUST BUY PROXIES?
This simple question can be tricky to answer. But, the most clear answer to this question is that if you buy proxies, you will be able to promote your offers and scale your social media marketing to a size large enough to guarantee profitability.
Another reason to buy proxies is the possibility to experiment and run A/B tests. This factor is beneficial if you are looking to promote several offers at the same time. Also, with the help of private proxies for social media, you can run several tests at the same time. Thus, saving precious time and resources.
However, even if you buy proxies for the right reasons and you know how to use and market through them, there is one more important factor to consider. To whom to market? Different products and services are marketed to different groups and audiences. To leverage your message's power, you have to buy proxies and reach the targeted group.
Most products and services are targeting one of the following three groups. Consider each one of them and then choose the most appropriate group for your campaign. Then, buy proxies to scale your reach towards it.

TO WHOM TO MARKET WITH YOUR PROXIES?
Buy proxies and promote to this group if your product or service is targeting managers or specialist buyers designated to buy products or services for their companies. In this case, your marketing campaign can take a B2B approach, but with a twist. This twist is given by the use of proxies. You can use your social media proxies to promote and share your content by targeting these specialist buyers. This strategy comes with a twist, because you will be promoting to specialist buyers as individuals, instead of promoting to their business as a pure B2B campaign.
Buy proxies and start following specialist buyers from certain domains. One way to achieve this is to buy LinkedIn proxies, then search and interact with this buyers.
Another target group that should be considered is the end user, or the beneficiary of your products or services. Usually, end users are part of the greater population. And most products and services advertised to them are goods of consumption. In this case, your marketing campaign should take a B2C approach. You will have to promote your content and campaigns with the intent or becoming viral. To reach this objective, you will have to buy proxies with the purpose of reaching the largest audience possible for your campaign.
In comparison with promoting to specialist buyers, promoting to end users could be achieved on almost all social media platforms. Therefore, depending on your content type and demographic group, you could buy proxies for Pinterest, Facebook or Instagram. In addition, you can buy proxies and develop your marketing strategy for only one social network, or for all of them. It all depends on your target demographic and your resources.
The last group to which you can promote and market your product and services are influencers.
In recent years, we have been used to consider only social media influencers. However, influencer marketing have been around for ages, even before the creation of private proxies.
The first type of influencer marketing was performed by pharma salesmen and doctors. It involves a salesmen incentivising doctors to recommend and prescribe a chosen medication.
To market to influencers through social media proxies is a bit tricky. Is harder to do it, but not impossible. One way you can achieve this is by buying proxies and include in your post an influencer and one of your accounts. With time, most followers will pick up on this association between the influencer and your account and they will become curious. Even if the influencer will not get involved, their followers could become very interested.
IN CONCLUSION
Buy proxies and decide what group is the best suited for your product. As shown above, even if you buy proxies for marketing, promoting to the end user is not always the best strategy.
Therefore, before developing your marketing message, think twice which group will bring the best returns if marketed correctly.
Buy Private Proxies for marketing to these 3 groups
was last modified:
January 26th, 2017
by