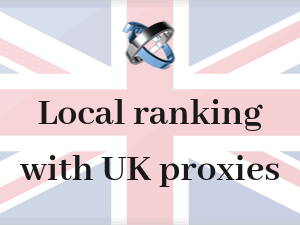 Everybody knows the Internet was created for content. Websites post content, search engines return content and web scrapers will find content for you. Supposedly, everything revolves around content. Therefore, the rule of thumb is to create as much content as possible to help your website stand out and rank better.
Content is the central pillar on which the Internet is built. But, there are several niches in which content in the form of blog posts or knowledge base can't be created on a regular basis. And webmasters must rely on a different type of advantage to make their websites stand out and rank in search engines. One such type is to create local, niche specific backlinks, to help websites rank locally.
In this article, we are going to show how to rank a United Kingdom targeted website, a .co.uk extension with a local backlink profile. Webmasters can use such a tactic and get better results if they buy UK proxies to scale this backlink building operation.
WHY WEBMASTERS MUST BUY UK PROXIES
The main reason for which webmasters must buy UK proxies is to scale their link creation strategy and to rank higher. They must buy UK proxies to create either an automatic posting or manual posting strategy for content on other websites. Content that will include backlinks towards their website.
The need for UK proxies for this strategy is for creating several posting channels, one independent from another. For example, webmasters can use one proxy to post a thread or piece of information on another website or platform. And then use another private proxy to comment on that content and post a link towards their website.
In the remaining of this article, we are going to show where to use the freshly bought UK proxies.
WHO CAN RANK WITHOUT CONTENT
It is recommended that all websites post content and create it on a regular basis. This will show search engines that the website is active. However, there are several niches in which content can't be created that often. Therefore, webmasters must rely on creating backlinks to improve their off-page SEO.
The websites that can use UK proxies to create backlinks without creating content are specialized services. These are niche websites that specialized in a certain online or offline service and use their website to land potential customers.
Some might argue that social media is a better fit than creating backlinks. But, the truth is that webmasters must look for ways to reach their main customer/audience base. And if this audience is using search engines to find the service, webmasters must ditch social media and focus on ranking better. They [webmasters] can use the following platforms to create backlinks for their websites.
BUY UK PROXIES TO USE THEM HERE
Most of this platforms offer nofollow links. On the other hand, using them, webmasters will create also a social proof dimension for their website.
PINTEREST UK
Webmasters can use UK proxies to post rich image content on Pinterest and create backlinks towards their website. Moreover, if they manage several accounts, they can repin and scale their link volume.
UK NICHE FORUMS
Other great platforms for which to buy UK proxies are niche related forums. Webmasters can use them to post service related threads. And then can use other UK proxies to create sub-accounts to comment and post backlinks towards their websites.
In addition, some of this niche related websites offer do-follow links, which will weight better in the backlink equation.
GUMTREE
Similar to the US Craigslist.com, Gumtree is a classified ads website. Webmasters can use it to either post backlinks or create traffic for their website.
UK BUSINESS DIRECTORIES
Similar to niche forums, business directories allows websites to register and post a link pointing to their website. Webmasters can buy UK proxies to comment and rate their business on these directories.
QUORA UK
UK Quora is the subdomain of the Q&A website Quora. Webmasters can leverage this platform to generate both backlinks and traffic towards their website.
They can buy UK proxies and create several accounts from which to post questions and answers with links towards their website.
UK BLOGOSPHERE
The UK blogosphere can be used to create links towards a website. Moreover, some blogs still offer do-follow links, thus webmasters can use their UK proxies to post comments with links to these websites and improve their backlink profile.
TO WRAP UP
Some niches don't allow the creation of content on a regular basis. Therefore, webmasters must find other ways to create backlinks and improve their rankings. One such way is to buy UK proxies and create content and backlinks on other platforms. Some platforms on which webmasters can create locally targeted backlinks to improve their local rankings are UK business directories, niche related forums and UK subdomains of online platforms such as Quora or Pinterest.
Buy UK proxies to rank locally without content
was last modified:
September 16th, 2019
by