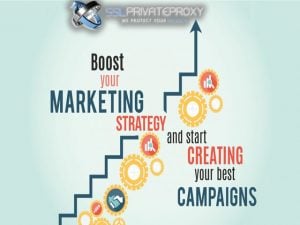 Content is what moves the Internet around. If you want your business to be relevant and attract visitors and prospects, you will need to generate content. But content on its own is not enough. It becomes relevant once you start spreading it and distribute it around the web.
Due to the sheer amount of content generated today, one of the best ways to stay relevant is to use private proxies and automation tools. In this article, we are going to show how private proxies can help your content reach a larger audience.
WHY YOUR BUSINESS NEEDS CONTENT
The trick of online selling is to look as if you do not sell anything. Either if you are using private proxies and automate tasks or not, the cardinal rule is to promote but not sell.
The goal of your content is to turn your website or blog into an industry authority. Once you establish your business as an authority, your visitors will have more confidence buying from you.
In addition to establishing your business as an authority, your content will help you rank better in Google and also will help your business social engagement.
To establish your website as an authority, in order to sell, your content needs to stay relevant. One way to keep it relevant is to distribute and promote it as much as possible. This promotion can be achieved with the help of automation tools as Scrapebox or social media bots and private proxies.
WHERE PRIVATE PROXIES FIT IN YOUR MARKETING
Private proxies, social media proxies or SEO proxies have to be an integrated part of your marketing infrastructure.
Due to today overwhelming amount of content, you need private proxies and automation tools in order to stay relevant and reach a larger audience as possible.
By automating your SEO and social media marketing and using either cheap shared proxies or virgin social media proxies, you can reach the largest audience possible for your industry.
As every marketer knows, the reach of your marketing impacts greatly the marketing funnel and the amount of possible prospects of your business.
HOW TO AUTOMATE YOUR SOCIAL MEDIA MARKETING
There are two ways in which you can automate your social media marketing. For large corporations with demanding social media marketing, a private proxy server with automation tools running almost 24-7 might be the best choice.
But for smaller companies, that only need to automate through social media proxies, setting up a VPS is the best option. VPS, or virtual private server can be order from any cloud based services, such as AWS. And once you set up you VPS, you can install social media automation tools to run through social media proxies, such as Instagram proxies or Pinterest proxies. You need these virgin private proxies because you can not run your multiple accounts through the VPS IP.
How can you actually promote your content through private proxies? There are two major ways you can do it.
OPTIMIZE CONTENT FOR SEO WITH SEO PROXIES
For the best SERP ranking, your SEO efforts need to establish as many inbound links towards your website as possible. The best way to achieve this is through Scrapebox, or SEO tools and SEO proxies.
You will need proxies because you will be making a large amount of queries on search engines, thus risking getting your IP banned. To circumvent this issue, you can use the even cheap shared proxies with your SEO tools.
The goal of your SEO through private proxies is to find as many relevant blogs and forums as possible in order to comment and create backlinks for your website.
The backlinks generated thanks to SEO proxies will send targeted visitors towards your websites. Visitors that will turn into prospects.
SPREAD YOUR CONTENT THROUGH SOCIAL MEDIA PROXIES
SEO, even through SEO tools with SEO proxies, takes time, from months to even years. A fast way to generate traffic and prospects towards your website is by automating your social media accounts.
Social media is a fast paced environment. In order to stay relevant, depending on the social network, you will need to post from a few times a week to a few times a day.
Due to its fast pace and large volume of content, the best way to promote on social media is through automation tools and social media proxies. Depending on your platform, you can use either Pinbot, Instagress, Massplanner, IgersLike or FollowLiker as social media automation tools.
But no matter what automation tool you will be using, you need to use social media proxies for your accounts. These are virgin proxies for social media. Meaning they have never been used for social media. Thus you do not risk getting banned. SSLPrivateProxy offers virgin Pinterest proxies as well as virgin Instagram Proxies.
In addition, social media proxies are HTTPS proxies, meaning that you can connect your accounts securely to social networks.
The main goal of social media marketing through automation tools and social media proxies is to spread your content as much as possible in order to get as many prospects as possible.
Also, by spreading your content to a larger audience, you have the opportunity of turning your content viral.
IN CONCLUSION
Content is king, you business needs to generate as much content as possible in order to reach a large audience and attract visitors that will turn into prospects.
Due to the sheer volume of content, in order to stay relevant you have to use social media automation tools or SEO tools with special dedicated private proxies.
You can create your own servers, but it will be expensive. The best way to automate your marketing is by setting up an VPS for your automation tools and connect your accounts through social media proxies.
For SEO, you can use cheap shared proxies in order to run multiple queries on search engines. But for social media, you will need virgin private proxies. These virgin proxies, have never been used for the underlying social media platform before.
SSLPrivateProxy, offers both cheap shared proxies and virgin proxies for social media.
Content is king and how private proxies can boost your marketing
was last modified:
October 2nd, 2016
by