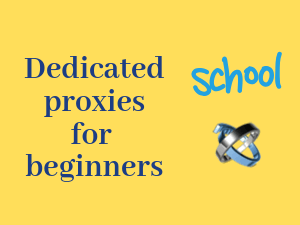 Any given time period brings new users to private proxies. Therefore, the technical notions of proxies and VPN need to be taught again. Notions like HTTP proxies, elite header, anonymity, privacy must be included in an article for beginners stepping for the first time in this world. Therefore, in this article, we are going to talk about dedicated proxies and how a beginner can understand them.
HOW MANY PROXY TYPES THERE ARE
First, one must understand how many proxies typed exist. First, in appearance, all proxies are identical. They are composed of an IP, PORT and authentication details. However, they are different through their connectivity and use.
The biggest difference between proxies is their type. There are two such types, the first is HTTP and the later are SOCKS proxies. This difference is drawn from their connectivity. The HTPP proxies allow connections over this protocol, while SOCKS proxies do not.
This is a technical difference between proxies. However, most proxies sold by private proxy providers are HTTP/HTTPS proxies. These proxies can be used to hide a user's IP and allow the user to surf the web anonymously.
Another distinction between proxies is by who and how many people they are used. This categorization splits proxies into two other big categories. A user will find public proxies, where anybody can connect and divert traffic trough them. And on the other hand, there are private proxies, which only the user or a limited number of users have access to them.
And the private proxies category can be split again into two other subcategories of proxies. Here, we'll find shared and dedicated proxies. And the main differentiator between these two types is the number of users allowed to use them. Shared proxies allow multiple users to connect to them. However, providers should allow a limited number of users in order to keep them functioning properly. In the remaining of this article, we are going to talk about dedicated proxies, their types and how beginners can start using them.
DEDICATED PROXY TYPES
Dedicated proxies are simply proxies used only by the user who buys them. During this allocation, they are not used by anyone else. The buyer/user can use them as they find fit, as long as they respect the provider's terms and conditions.
As mentioned above, dedicated proxies are mainly HTTP/HTTPS proxies. And their main appeal is how they can be used and the leverage given to its users. However, while most dedicated proxies look the same and each IP is used by only one customer, they are different through the connections they allow.
For example, there are dedicated proxies for general use. They are bought to divert traffic through the proxy server, allowing the buyer to hide the IP from where an action originated. On the other hand, there are special use proxies which are used to connect to a particular platform or website. These proxies are special use proxies.
PRIVATE PROXIES FOR GENERAL USE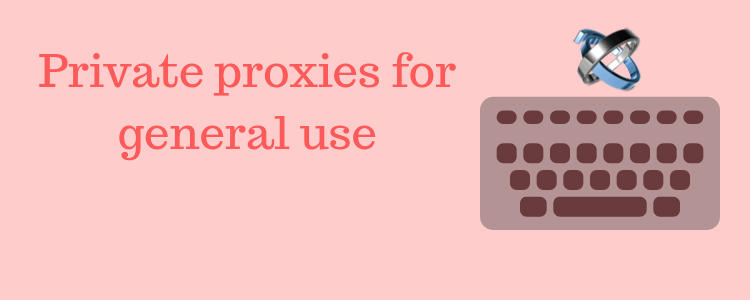 Private proxies are used for general purpose. Usually, they are used to automate tools, hide a user's IP when performing actions or queries. Moreover, they are used for website or platforms where there is no need to log in accounts to perform this tasks. Thus, private proxies can be used for scraping online content, perform SEO tasks or research on various websites.
On the other side of the spectrum of dedicated proxies, a user will find special use proxies.
DEDICATED PROXIES FOR SPECIAL USE
These proxies are allocated to be used on a particular online platform or website. Thus, the buyer knows he will get working proxies and the provider must guarantee the allocated IPs will allow the user to connect to the underlying website. It's a 2-way street, a win-win situation.
Depending on the website for which they are allocated, some of these proxies are virgin ones. This means they have never been used to connect to the underlying website prior to this user's allocation. Thus, these proxy IPs are virgins. They are clean proxies.
Usually, virgin proxies are used to connect to websites where an account with login details is needed to perform certain actions. Thus, a user can buy virgin proxies for social media websites, sneaker websites or ticketing one.
The rule of thumb is that the more restrictive a website is, the better to use virgin proxies. Especially if accounts log in are involved.
IN CONCLUSION
In appearance, proxies look the same. A proxy is a series of number group in an IP and PORT format and sometimes followed by authentication details. But there are major differences between proxies. From technical differences such as HTTP or SOCKS types to usage differences, where proxies can be public or private. Moreover, private proxies can be further split into dedicated and shared proxies ones. Furthermore, dedicated proxies can be split into dedicated private proxies and virgin private proxies. We hope this article had shed some light over how many proxy types exist and what proxies a beginner must choose for his projects.
Dedicated proxies for beginners
was last modified:
September 16th, 2019
by