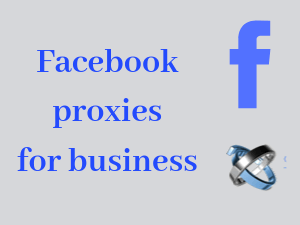 Almost everybody connected to the Internet uses Facebook, either for entertainment or marketing. And if you have a business, regardless of its size, there are high chances your target audience and potential clients are on Facebook. To leverage your business marketing, you can use Facebook proxies to expand the reach of your marketing message. In this article, you will find that businesses and their marketing departments can use Facebook proxies to develop and nurture their audience.
WHO USES FACEBOOK PROXIES?
The general perception is that Facebook proxies are used by lone Internet marketers looking to scale a marketing campaign by developing and managing several independent social media accounts. Accounts are developed through each Facebook proxies. Which then, they are used to grow a following to which links towards affiliate offers or shoutout will be posted. In addition, the same accounts developed through Facebook proxies are used to search for Facebook groups where links with offers are also posted.
It is believed that Facebook proxies' users recur mostly to black hat marketing tricks and never use their proxies for a legitimate purpose. This is the general view for Facebook proxies users. However, these proxies can be used and are used by businesses as well. However, their use by businesses is slightly different than when used by Internet marketers.
CAN BUSINESSES USE PROXIES?
As mentioned above, businesses can use Facebook proxies in their marketing endeavors. However, their use of these proxies is different. Business will not be able to use Facebook proxies to develop audiences and promote affiliate offers to them.
Marketers will need to focus on other factors when developing several social media accounts. They [marketers] should not focus on monetizing their actions. Because if they are using their proxies for a business, they do not need to sell more stuff. Therefore, marketers must track other metrics.
Thus, instead of focusing on monetizing an audience, marketers should look to growing an audience and turn it into a content distribution network. Thus, instead of posting links with affiliate offers towards an audience, marketers should focus on promoting relevant content that boosts engagement.
HOW TO USE FACEBOOK PROXIES
First, marketers need to buy Facebook proxies and a social media automation tool. The proxies for Facebook they must buy should be virgin proxies. Meaning that they were never used to connect to Facebook before. And the social media tool they must use should allow for proxy implementation. One such tool available today is FollowLiker, which allows its users to connect several accounts and divert each account's connection through the proxy.
After the Facebook proxies and automation tool are bought, the next step is to develop a following. At first, marketers should focus solely on growing their account's friend base to a considerable level. It is recommended to grow each account to have more than 250 friends.
Once these accounts are grown to a considerable size, marketers can start using them to promote content. As mentioned above, these accounts can promote content in two separate ways.
First, the marketer can promote content towards their friend base. All he [the marketer] has to do is to schedule Facebook posts to be posted on his business's accounts walls. The second way of promoting and distributing content is through Facebook groups. These are groups comprised of like minded individuals and nurturing their interests and needs can be a gold mine for businesses.
WHAT CONTENT TO DISTRIBUTE?
The next question arising is what content should marketers distribute through their accounts developed with the help of Facebook proxies. The best approach to content distribution through social media comes from the Content Marketing Institute.
They recommend taking a 3 to 1 approach to content shared. Basically, it means that for each promotional content, the company's social media accounts should post 3 relevant content pieces that are not promotional.
Regarding the use of accounts through Facebook proxies, the content ratio should be a bit different. We recommend taking a 5-3-1 approach, with a twist. Meaning that each account connected through Facebook proxies should promote 5 pieces of relevant content, followed by 3 posts from the business's social media account. And finally, post 1 promotional post. While this approach sounds slow, it is the best ratio to keep the accounts safe and the proxies away from a block.
In addition, while this approach looks slow, the promotion post of the underlying business will be promoted to the accounts friend base and posted in relevant Facebook groups. And if each account has developed a friend base of minimum 250 friends, simple math says that by using 20 accounts through Facebook proxies, the minimum reach for the strategy is 5000 friends. And if these accounts start posting in Facebook groups, the reach grows exponentially.
IN CONCLUSION
The general perception is that Facebook proxies are used only by Internet marketers. However, businesses can use Facebook proxies for marketing too. The only difference is the content promoted through these accounts. Instead of promoting offers towards other websites, as Internet marketers do, businesses using Facebook proxies should focus on developing a content distribution network.
Facebook proxies for businesses – An useful guide
was last modified:
September 16th, 2019
by