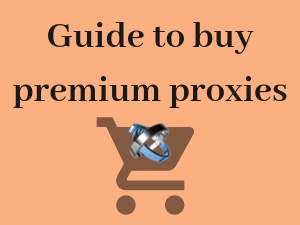 When it comes to buying premium proxies a few questions arise in every user's mind. First, there are more than 40 proxy providers offering their services. Second, there are more than 10 types of private premium packages sold by providers. Together, there are more than 400 options from which a user must pick one to use. Now, you can see how daunting this task is for those looking to buy premium proxies for the first time.
There are a few factors one should consider when searching a premium proxy package or proxy provider. Therefore, this article will help you understand what are the necessary requirements and what one should consider when buying a premium proxy package.
1. DECIDE ON THE YOUR PROXY PACKAGE
There are proxies for every online platform available today. Therefore, when looking for a certain proxy package, first you should consider premium proxies allocated for that particular platform.
If you plan on using accounts to log in, this is an important factor because you must protect your accounts and keep them away from restricted, flagged IP.
For example, if you plan on using your proxies to scrape data from Twitter then you should buy premium proxies such as Twitter proxies. Usually, these proxies have never been used before for Twitter accounts. Thus, you will be able to safely connect yours.
2. PREMIUM PROXIES REVIEW WEBSITES
Once you have decided on which premium proxy package to buy and use, you must find a provider offering such services. One way to start looking for providers offering working, premium proxies for the underlying platform is to search on proxy review websites.
You will find several proxy review websites where there are lists of providers by categories of price and proxy types.
Here, you create a shortlist of two to four providers offering premium proxies for the proxy type you are looking.
3. PROXIES AND NICHE FORUMS
The next step is to make further inquiries on your shortlist of proxy providers and go on niche forums to find what people are talking about them.
Forum talk is important when deciding on a proxy provider because you will be able to see unfiltered opinions of former or present users. Thus, you can easily gauge which proxy providers offer a serious service and which ones display a scammy behavior.
For this step, you can look on BlackHatWorld, or on similar forums for reviews and threads about your chosen proxy provider.
4. CHECK THE PREMIUM PROXY SERVER'S LOCATION
From you initial shortlist of two to four providers, the selection must have narrowed once you read the forum talk. Furthermore, you should look for the provider's locations.
While this is not an important factor if you plan on using the premium proxies for social media, a premium proxy provider must display its servers locations or IP inventory. This is an important factor as it clearly demonstrates the potential size of the provider's IP pool.
5. PREMIUM PROXIES AND THE SMALL PRINT
The next step is to read the so-called 'fine print'. Proxy packages are almost similar. At first glance, all the proxies look the same, they are a simple IP and PORT number.
However, what distinguishes premium proxies and working proxies from public proxies is the fine print.
Basically, a proxy's fine print includes factors such as virgin premium proxies, stating if these proxies have or have not been used before. Refresh IP rate, if you are allowed to refresh your proxies' IPs every given period. Or the proxy package's option to choose your IPs locations.
Always look for the technical fine print. Moreover, you should also consider the companies fine print as well. While the reading of fine print should be a mandatory step, most buyers neglect it completely.
6. CHOOSE YOUR PROXY PACKAGE AND DISCOUNTS
The next step, once a provider is chosen and the server locations are checked is to choose and buy your proxy package.
Here, depending on your use, look for premium proxies for the platform on which you intend to use these proxies. Next, look for either discounts or offers.
Proxy packages are sold on a subscription basis, therefore, you should consider looking for discounts when buying your package.
TO WRAP UP
Furthermore, if you find it necessary, contact the providers on your list and ask them hard questions about these proxy packages. Ask them about the fine print.
Before buying your proxies, look to gather as much information possible regarding the premium proxy provider and their proxies. It is better to spend more time before purchasing than to spend time opening support tickets or switching proxy providers.
Guide to buy Premium Proxies
was last modified:
September 16th, 2019
by