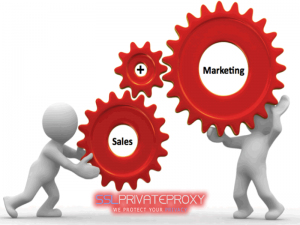 The difference between a successful online venture and an unsuccessful one is very little. Sometimes, the difference is so insignificant that is regarded as invisible. And many will believe that the successful online business became as such due to pure luck. However, at a closer look, a keen eye will notice that the difference lies in the successful entrepreneur's ability to gather and analyze information. This is a valid statement even for those marketers or entrepreneurs using premium proxies to automate or manage multiple social media accounts. In order to become successful, a marketer needs to track certain key metrics.
TRACKING PREMIUM PROXIES AND MARKETING PERFORMANCE
An entrepreneur needs to track its premium proxies usage and his marketing performance in order to get the desired results. Usually, these results tend to influence the business in a positive way and offer exponential growth and returns after a few minor tweaks.
Even though premium proxies do not need to be analyzed from a technical perspective, they should be studied from an economic point of view. Because, more often than not, the costs of managing multiple social media accounts can grow to considerable levels. And if the marketer proceeds to use premium proxies without caution, he might incur high costs and diminishing returns. Therefore, when using premium proxies, a marketer should always consider analyzing its returns and performance.
HOW TO ANALYZE YOUR MARKETING PERFORMANCE
Gathering and storing data about premium proxies is very easy. The difficult part is to analyze it and draw the correct conclusions out of this analysis. Therefore, a marketer should start with creating an excel spreadsheet containing all his accounts. Furthermore, the excel spreadsheet should include several key metrics for all the enlisted accounts connected through premium proxies.
Once the excel is created, the marketer should gather data at a regular period of time. In this way, it will create a standardized method of analyzing it and the conclusions he draws out of it will be more precise.
Furthermore, creating the excel spreadsheet enlisting your multiple accounts connected through premium proxies is the easiest part of the process. Is time consuming, but is a 'no brainer'. However, the repetitive task of periodically gathering data and then analyzing it, is more difficult and needs extra care.
Before the marketer considers gathering data, he should look which is the most important key metric for his marketing online operation. Therefore, in the remaining part of this article, we are going to consider three important key metrics which should be considered by any professional marketer managing multiple accounts through premium proxies.
KEY METRIC #1 – CHECK THE FOLLOWERS GROWTH PERIODICALLY
If the marketer using premium proxies adopted the follow – nofollow strategy with several accounts, he expect a certain percentage of followers to return the favour and follow his accounts back.
This metric is important when managing several accounts within the same niche while following users of different accounts. By checking this metric periodically, the marketer will notice which accounts are getting the higher following rate. And on a detailed level, he can identify if this account gets this higher rate due to the accounts followed or due to the content distributed.
KEY METRIC #2 – LOOK AT THE ENGAGEMENT RATE
The best way to test engagement rate is through the use of multiple accounts connected through premium proxies. By setting several accounts through premium proxies can examine the engagement rate and compare it with key metric #1.
In this manner, the marketer can gauge if the first metric, of followers growth has potential of offering higher returns. Because, if the accounts set through premium proxies are getting a high following rate, but the engagement rate is low, than the marketer had set his accounts to grow the wrong audience.
Therefore, analyzing the engagement rate and acting on it, the accounts connected through premium proxies can be directed and focused on targeted audience where the engagement rate is strongly related to success.
#3 MONITOR CLICK THROUGH RATE
The third key metric that should be considered is the CTR, or the click through rate. This metric complements the first two and offers a bird's eye view of the potential and performance of marketing with multiple accounts and premium proxies.
If an online operation has multiple accounts connected through premium proxies that get a superior follow-back rate. And if the engagement rate is high, with multiple shares and likes, an online operation does not become profitable unless the click through rate is high and people are drawn to click on a marketing campaign's posts.
Regardless of the social media platform chosen and the content shared, an online operation still needs clicks in order to become profitable. Therefore, the marketer should consider the click through rate as one of the most important key metrics. A key metric highly related to financial returns.
IN CONCLUSION
A marketer using premium proxies and managing several accounts at the same time should consider ways of tracking and analyzing the performance of his operation. As mentioned above, there are several key metrics that should be considered when tracking premium proxies use and marketing performance. Some of these metrics are the following rate, the engagement rate and the CTR, or click through rate.
How to Analyze your Premium Private Proxies Usage & Marketing Performance
was last modified:
March 4th, 2017
by