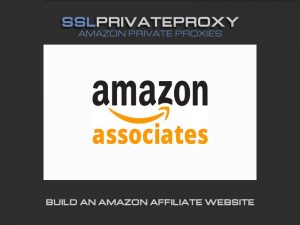 Upon starting their journey into Internet Marketing, a lot of marketers think of creating an Amazon affiliate website. But very few think of active ways of promoting their new website and reaching a larger audience. Starting a brand new website can be challenging. And promoting it is sometimes difficult. In this article, we are going to show how you can leverage private proxies to promote your freshly created Amazon affiliate website.
WHAT IS AN AMAZON AFFILIATE WEBSITE
An Amazon affiliate website is a blog, a review website or an ecommerce website that has Amazon products and affiliate links. Amazon has one of the largest affiliate programs on the web.
Some affiliate websites are very successful while others are lurking in the background. To reach success with your affiliate website, you can use private proxies. There are different ways in which you can use one private proxy to develop a successful marketing strategy.
WHY YOU NEED PRIVATE PROXIES
Usually affiliate websites are rich in content. And you can use private proxies to promote your content and reach a larger audience.
Content distribution is key to any successful website. And you can use either cheap shared proxies or the best private proxies in order to promote it. Let's see why you need to buy proxies and how you can use them to promote your content.
HOW TO BUY PROXIES FOR PROMOTION
If you decided to promote your content and buy proxies for this purpose, you need to understand that not all proxies are the same. And you do not need to buy the cheapest or the best private proxies on the market. You have to choose the proxies suited to your needs.
Depending on you need, you can buy social media proxies to promote on social media networks. Or you can search and buy SEO proxies to implement them in your SEO tool.
For social media you have to buy virgin dedicated proxies. Whereas for SEO, you can look for cheap shared proxies. As mentioned above, it depends on your needs which proxies are relevant to you.
First, let see what proxies you need for SEO and what you can do with them.
HOW TO USE SEO PROXIES
The best SEO technique to promote an Amazon affiliate website is through searching for niche related blogs and posting comments with your website link into the comment.
This is the single best method of promoting your website. At the same time with harvesting backlinks in this manner, you also generate traffic from targeted users that visit those existing blogs.
For SEO, you can use cheap shared proxies, available at SSLPrivateProxy. You can buy cheap proxies because you do not need any accounts to connect to online platforms. Therefore, by using cheap private proxies, you do not risk getting any accounts banned. So, for SEO, do not look for the best private proxies, but buy cheap shared proxies.
SEO takes time to show relevant results, so in the mean time, to generate traffic, you can use social media. And in order to leverage social media, you can use private proxies. But for social media, you do not need cheap shared proxies.
HOW AND WHAT SOCIAL MEDIA PROXIES TO USE
Social media is a great tool to leverage and promote your content. The main advantage of social media is that you can create instant engagement.
Depending on your demographics you can use one or all social media platforms. The best social media platform for your website is where your targeted audience is.
On social media, proxies come into play when you look to scale in your operation. You can use social media proxies to connect and automate multiple accounts. Once you generate a following for this accounts, use them to re-post the content of your main account. In this way, you can reach the largest audience possible.
Because you need to connect social media accounts through your proxies, you have to buy virgin social media proxies.
By buying virgin social media proxies, you protect your accounts. Virgin private proxies are proxies never used for the underlying platform. Thus, these proxies are clean and you do not run the risk of getting your accounts banned.
Because social media proxies are virgin proxies, you will notice proxies on sale with the name of Instagram proxies, Pinterest proxies or Twitter proxies. All these are HTTPS proxies, but they have a different name in order to distinguish themselves and be aware where you can use them safely.
HOW TO TRACK PERFORMANCE
If you start using private proxies for promoting your website, you can start to see results straight away. Especially if you use social media proxies.
The first sign or relevant use of content through private proxies is a spike in traffic. Try to maintain this spike by scaling your operation.
TO WRAP UP
If you want to start and create an Amazon affiliate website, use private proxies to promote your content and reach a larger audience. Depending on your needs you can choose to buy cheap shared proxies or virgin private proxies.
For SEO, because you do not need to connect any account through SEO tools, you can choose cheap shared proxies. But for social media, you need to get the best private proxies. Therefore buy virgin private proxies from SSLPrivateProxy.
How to use private proxies to promote an amazon affiliate website
was last modified:
November 6th, 2016
by