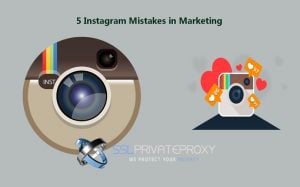 Using Instagram proxies for marketing can be a straightforward process. You need to automate your accounts through an automation tool and then connect through Instagram proxies. However, success will not come straight away. Apart from mistakes done while connecting and using social media proxies, marketers can also make marketing mistakes. Mistakes through which they will limit their potential reach and success.
For Internet marketers that uses Instagram proxies to automate accounts, avoiding the following five marketing mistakes is a must. As a bonus we are going to show what to do to correct these mistakes.
MISTAKE #1: USE INSTAGRAM PROXIES AS A SET-AND-FORGET STRATEGY
This mistake is done by most marketers. They think that automating accounts on Instagram is the same as pressing play on a DVD player. They simply think of social media accounts as bots set to increase the amount of followers they reach. And simply, do not consider anything else.
RIGHT WAY
Social media is a dynamic environment. People change, tastes change, platforms change, proxies change. In the same way, your account's following settings should change depending on latest trends. Therefore, be ready to modify any setting related to the following ratios, commenting or hashtags liking. Always keep up to date with latest trends in automating social media through social media proxies.
MISTAKE #2: FAIL TO CREATE EFFECTIVE CONTENT
Another common mistake, in automating accounts through social media proxies, is the lack of content marketers fail to create for their accounts. These accounts consist purely of a profile picture, a name and a link in bio. A link that is usually used to early.
RIGHT WAY
The easiest way to recognize a fake, automated account is the large number of people it follows and the lack of content on its wall. Thus, even before automating your following, create a minimum of 10 to 15 posts relevant to your niche and then start using following strategies.
MISTAKE #3: USE INSTAGRAM PROXIES TO CREATE SPAM ACCOUNTS
Similar to mistake number two, many automated accounts on Instagram will be created as a churn and burn strategy. Marketers simply do not care if their accounts follow a certain standard. Nor if their accounts look 'normal'. They look like spam. These accounts usually have spelling error in their name or bio. Also, more often than not, most of these accounts have an Instagram ID totally different from their Instagram name. For example the ID is 'morty2340' and the profile name is 'Sarah Black'. Does that look natural and normal to you?
RIGHT WAY
There are two ways to correct this mistake. Either create the ID from the beginning. Or ask Instagram account vendors for accounts with certain ID typologies.
MISTAKE #4: SELLING TO HARD
The math is simple and compelling. If you automate 20 accounts through Instagram proxies and each account has 500 followers, then your reach has a potential of 10.000 users. Furthermore, three promotional posts per day, per account, means 30.000 impressions. However, selling with this math in mind will not bring success to your Instagram marketing. You are going to spoil your accounts and your Instagram proxies.
RIGHT WAY
Best practices for social media marketing recommend using a ratio of 1-to-3 or 1-to-4 for posting promotional content. Meaning for each promotional piece of content you post on your account, you have to post 3 or 4 pieces of influencers' content. Meaning, you have to use your accounts as a content mill where your followers will find useful information related to your niche.
MISTAKE #5: FAIL TO THINK LIKE AN AUTHORITY
As in mistake number 4, most marketers fail to think of their accounts as potential authorities in their niche. Thus, resuming to use churn and burn techniques for growing their accounts. However, each automated account has the potential of becoming an authority in its niche. This is the power of using Instagram proxies and automating several accounts.
RIGHT WAY
By automating and using Instagram proxies, due to the potential of their reach, automated accounts can become important in their field. Therefore, marketers should think of not only using effective content, but also engaging and developing a social responsibility guide for their accounts. Social responsibility meaning that each account should follow a best practices guidance for content and behavior. Nobody knows when an account can become an authority.
TO WRAP UP
Using Instagram proxies to automate accounts is not enough for becoming successful. Even if your accounts will pass security threshold and verifications, for success, you still need to think of ways to develop your accounts in a white hat way.
To reach success with social media marketing, you should think of Instagram proxies as a tool to connect. And each account has to look, feel and behave as a potential authority in its niche.
Buy Instagram Private Proxies. We offer virgin proxies for Instagram. Thus, you can safely develop your accounts into authority ones.
Instagram Private Proxies & 5 common marketing pitfalls
was last modified:
December 16th, 2016
by