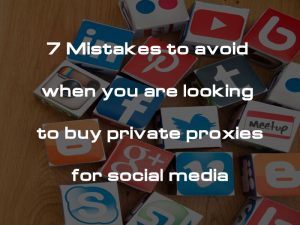 You buy proxies, even social media proxies and want to automate and grow your accounts. Prior to that, you also found a social media automation tool, of the like of MassPlanner or Follow Liker. But, this is only the beginning, you will need to be careful when setting your accounts and developing them. Not only you face risks getting yours accounts verified or banned due to social media platform rules, but you also face bans because of your accounts' setup, or history. In order to have steady growing and long lived accounts, avoid these 7 mistakes when creating or developing your accounts.
1. BUY PROXIES BASED ON PRICE
Cheap proxies are not a problem in itself. Actually, with growing competition, you might find cheap proxies decent enough to connect your accounts safely to social media.
However, when choosing a proxy provider we strongly recommend to not buy proxies based on their price. Lately, social media proxy best practices started developing. And these best practices recommend you to buy proxies based on their history, not price.
Therefore, buy virgin proxies or special dedicated proxies for social media. This way you will safely develop your accounts and avoid getting a ban due to flagged IPs.
2. BUYING ACCOUNTS OF UNKNOWN ORIGINS
For many, buying social media accounts is the easiest way to develop a social media following. But, by buying social media accounts from providers you do not have control over their creation. Therefore, you might be buying accounts that were created in bulk from the same IPs.
The risk with these accounts is that once you pass them through your private proxy setup, you risk being ask to phone verify them or even an unconditional ban. In the end, you get your accounts banned and your social media proxies flagged.
3. FORGET TO DELETE YOUR BROWSER'S COOKIES
This is dangerous only for those of you who want to create their accounts manually. If you want to avoid mistake #1, you have to create your accounts manually. But even this comes with a risk for your proxies.
Creating accounts is a boring task, and you might get sloppy. And, even if you changed your proxies, you might have forgotten to delete the browser's cookies and rendering your proxy setup useless. To avoid this mistake, use Mozilla Firefox and set custom privacy setting and then buy proxies to set them through your browser.
4. CREATING TOO MANY ACCOUNTS THROUGH THE SAME PROXY
Buying proxies is only the first step. After you buy proxies, you need to pay attention to your setup. One way to render your private proxies useless and banned is by creating many accounts from one proxy and then managing them from other proxies.
We strongly recommend you create and manage your social media accounts from the same proxy you initially used . So buy proxies and create an social media account for each one of them. And never create more than two accounts through the same proxy.
5. MISALLOCATING RESOURCES AFTER YOU BUY PROXIES
This mistake is purely a lack of focus. It involves buying proxies, creating accounts and then ignoring which accounts have been created through which proxy.
You might get away with this mistake on a small scale. But on a large scale, it will be a nightmare, because if you get a ban on some accounts, other accounts of yours or some proxies will have a stigma attached. And you could risk getting phone verified of banned any moment.
6. KEEPING THE SAME PROXIES AFTER A BAN
We strongly recommend you avoid this mistake at all times. Buy proxies from SSLPrivateProxy, because we offer IP refresh monthly. Thus we can replace any proxy you ban.
When an account ban happens, the proxy will be flagged. Keep track of which proxy it was and when you can, refresh your IP. This way, you will get a fresh one and you could implement a newly created account. Thus, avoiding any connection, even a proxy connection, with the previous account.
7. USING SAME LANDING PAGE FOR ALL YOUR SOCIAL MEDIA ACCOUNTS
Even if you buy proxies and use them for social media marketing, if you use them for accounts that have the same landing page, you risk getting your whole setup banned.
The best setup is to use a different landing page for each account. And one account per proxy. But if you use the same landing page for multiple accounts, you are creating a relation between them. Thus, in case of an account getting ban, you risk getting all your proxies flagged and accounts banned.
The best practice is to use cloaking for your landing page, thus diverting social media crawlers to different pages.
TO WRAP UP
If you buy proxies, you are only making the first step. The next steps will be the crucial ones. Depending on your behavior from the account creation stage and through the management phase, every action you make risk getting your accounts and proxies banned.
After you buy proxies, avoid making any of the following mistakes and your proxies and accounts will have a long life on the social media marketing stage.
Buy proxies and after avoid these 7 mistakes
was last modified:
December 10th, 2016
by