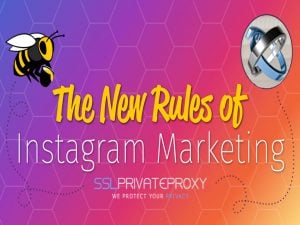 With 2016 close to its end, a lot of bottom lines will be drawn. For marketers, even for those using Instagram proxies and automation tools, is the moment of truth. This year saw an amazing increase in marketers using the Instagram method of using multiple accounts to generate revenue. Therefore, many will have to consider if this method is still a viable one of generating an income online.
If you have found success using Instagram proxies and automation tools in 2016, or if you are still looking for it, we are bringing into consideration 5 factors that you should think about going forward into 2017.
THE INSTAGRAM PROXIES FOR MARKETING – THE SETUP
Before we continue, we are going to define a general setup used for Instagram. Usually, most marketers use automation tools, either MassPlanner or FollowLiker. And they connect their accounts through private proxies. Most often than not, they use Instagram proxies, which are virgin private proxies allocated especially for Instagram use.
The setup we are going to focus is compose of 50 Instagram accounts, 50 Instagram proxies, MassPlanner for automation and a VPS to run the software 24-7.
1. FOLLOW SETTINGS – THE DEATH OF INSTAGRAM PROXIES
SSLPrivateProxy allocated virgin proxies for Instagram. Therefore, you do not risk getting your connection blocked due to flagged IPs.
However, due to aggressive follow settings, a majority of accounts will be banned and Instagram proxies will be flagged. The rule of thumb is to automate your accounts in such a way that their behavior will replicate that of normal, regular people. So, don't follow hundreds of accounts one day and unfollow them the very next day. Let your accounts grow in a linear, slower fashion. This way you will avoid any churn and burn. In addition, in the long run, your accounts will have a higher return as you do not have to change proxies or buy accounts to replace the ones that are banned.
For follow setting, have a look on BHW, a marketing forum, there is plenty of information regarding Instagram marketing.
2. FOLLOW SOURCES – VIVA INFLUENCERS
The second most important factor after your follow settings are which accounts you should follow. For this, you should ask the following questions:
Is this influencer part of my niche?
How active is this influencer?
Is he still relevant?
Does he get a high engagement on his posts?
How big is his following?
By answering all these questions, you will have a clear picture and the answer to if you should follow this influencer or not should come easy.
3. HASHTAGS RELEVANCY
Hashtags are used for engaging users. Every niche has a certain number of hashtags that can be targeted. Luckily, with a setup of 50 accounts connected through Instagram proxies, you can test hashtags relevancy by simply allocating 10 accounts per hashtag.
After a couple of weeks, you will have a clear image of which hashtag can increase your accounts engagement.
4. CONTENT
While the following setup and hashtags are your 'off-account' factors, content is what defines your account. Therefore, even if you have 50 accounts and use Instagram proxies, you still need to populate your accounts with content.
Many online resources mention high-quality content. But what is high-quality content and how you can measure it? The simple answer is that you can not do it. There are a few guidelines, but there is nothing standard about content.
As for hashtags, with a 50 accounts setup, you can test content ideas. The only issue is to try to avoid duplicate content.
5. LANDING PAGE DESIGN
Instagram lets you set only one link per account. So, you have to make the most of it. Even if you have 50 accounts through Instagram proxies, posting the same link will draw a clear connection between your accounts and will likely get them banned.
The only option is to use a cloaking service to divert the Instagram crawlers of your page.
Whereas, for the design of your landing page, we recommend you use a simple design, with large fonts, easily readable and intuitive. With Instagram you have only one chance, through your only link, to get your users on your landing page. Don't spoil the landing page. Try to capture as many conversions as possible.
A FINAL WORD
Instagram marketing through automation tools and Instagram proxies has been one of the most profitable methods of generating profits online in 2016. Reconsider the above mentioned five factors to run safely your accounts, avoid bans or flagged Instagram proxies.
For 2017 we wish you many conversions.
Instagram proxies and marketing in 2017 – 5 factors to reconsider
was last modified:
December 23rd, 2016
by