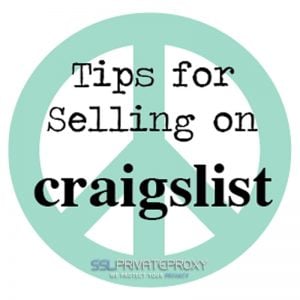 Many marketers perform ROI tests and experiments before starting a campaign. But few marketers will consider performing an audit of the tools and systems already in placed.
For marketers using Craigslist and Craigslist proxies, audits are even more important because they can help you gauge, if the costs you are incurring with advertising, are well spent.
While a marketer using Craigslist, as secondary sales funnel, performing an audit is not necessary. But for someone using Craigslist and Craigslist proxies, an audit becomes necessary. It can help you re-allocate resources and scale your operation in the right direction, in order to increase your reach and profits.
WHAT ARE CRAIGSLIST PROXIES
For those of you starting to use Craigslist, craigslist proxies or classified ads proxies, they [Craigslist proxies] are private proxies allocated for local ad posting websites.
Most of these craigslist proxies are location dependent. Which means they are usually allocated to the desired location specified by you. For example, if you need Craigslist proxies from Los Angeles, you will not be allocated proxies from Miami or Chicago.
Therefore, when you hear Craigslist proxies, always think of location specific proxies.
Furthermore, Craigslist proxies are used to post multiple ads in the same geographical area, with the intent of increasing your conversion rate.
WHY YOU NEED AN AUDIT?
An audit helps you find ways to improve your marketing and craigslist proxies use. The intent of running an audit is to identify the weak spots of your marketing and then improve or eliminate them.
The audit process will give you a list of actions that you can improve upon if you act on them.
In addition, another argument for using craigslist proxies audit is that by failing to improve your marketing, your operation and proxy use could run costs that you will fail to recoup.
POINTS OF CRAIGSLIST PROXIES AUDIT
There are several points for which you can run an audit and gauge if your craigslist proxies use is relevant and profitable. However, we shall consider only the three most important ones.
1. AUDIT THE NUMBER OF CRAIGSLIST PROXIES PER EACH LOCATION
This should be your number one priority when performing a craigslist proxies audit. Craigslist proxies are the highest cost incurred by your operation. Therefore, you should always analyze it and look for ways to reduce it.
While using multiple craigslist proxies might be best for most proxy providers, for you might be detrimental.
Moreover, depending on the buying cycle of your product, analyze your proxy use and craigslist proxy performance on a fixed period of time. It does not matter if it is twice a month or once every two years. It is important to maintain a standard.
The thing you should review periodically is the number of calls you receive for each ad posted on each proxy. After tracking your performance for a period of time, you will notice that some craigslist proxies from a given area/city are performing better than others.
The solution we recommend is to get rid of most proxies from weak performing areas. But keep a couple of them, just for maintaining your presence.
Another thing to consider when performing the audit of your craigslist proxies use is to consider the wording of your ads.
While this is not an incurring cost, wrong wording can cost you money and will have diminishing returns.
Also, thanks to craigslist proxies, you can run multiple ads with different wording and target the same areas.
And as stated above, at a standard period of time, perform an audit of your ads' copy, choose the best performing wording and then spread it through all your craigslist proxies.
Images are always relevant. However, some images are more relevant than others. Luckily, with the help of craigslist proxies, you can perform an audit and run it for a period of time, to find the best performing images for your ads.
Regardless of how many proxies you are using, some images will be better performing than others. In addition, because of your use of multiple proxies for the same location, you have to luxury of posting a few ads without an image. Thus, you will be able to post any type of ads and audit their outcomes.
TO WRAP UP
You should always consider ways of running audit performance for your craigslist proxies use. The main reason for performing an audit of your craigslist proxies is to measure performance and costs.
The most important things to consider when running a craigslist proxies audit are measuring the performance of each proxy location, the wording of each ad and the images that are the most relevant for your ads.
Perform a craigslist proxy audit to increase conversions
was last modified:
May 25th, 2017
by