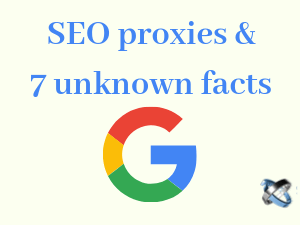 Private proxies are used in different ways. The reason to use them varies from one user to another. But there are a few uses more common than others. One such use is for SEO where proxies are used to perform queries and scraping on search engines. Almost all providers offer SEO proxies. Therefore, if you intend on using proxies for SEO, there are a few unknown facts that you must understand about them and how they are best used.
SEO PROXIES ARE SHARED PROXIES
Most often than not, to perform SEO tasks such as scraping and research, you do not need to log in any account. Therefore, most SEO proxies are shared proxies. This way, costs are cut and the task of SEO becomes more effective for webmasters.
YOU DON'T NEED VIRGIN PROXIES FOR SEO
Another reason for which proxies for SEO are cheap shared ones is the lack of risks regarding accounts bans. If a user displays abusive behavior through one of its proxies, Google or other search engines will ban the proxy's IP.
Because there is no account log in involved in the process, the user can always ask the provider for an IP refresh. Therefore, the lack of this factor or risk makes it a binary option for the user to either use shared proxies or not for SEO. And the proxy's cost/price becomes an important factor. More important than choosing a proxy based on its IP's clean history.
SEO PROXIES SHOULD REST
One more reason for which shared proxies should be considered for SEO queries is that proxies will not be always used.
For example, in social media, or on other platforms where ones need to connect accounts 24-7, proxies need to have a clean history and must allow the user to stay always connected. On the other hand, for SEO, such tasks are not needed, and the proxy can and will be used throughout the day, a few seconds at a time.
In the meantime, the proxies need to "rest" to avoid any unnecessary bans from search engines. Therefore, always rotate your SEO proxies and use them a few minutes per day.
YOU CAN MIX YOU PRIVATE PROXIES WITH PUBLIC ONES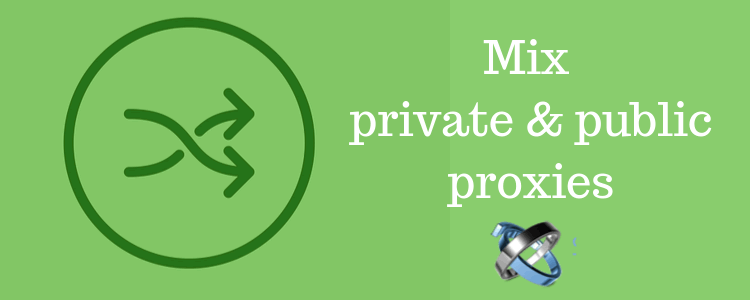 Because you do not need to log in any accounts through your proxies, all you need is to be able to connect to search engines to perform your scraping or queries. Therefore, any working proxy can be considered useful for SEO.
To mix the IP profile of your proxy tasks, you can use public proxies as well. They are free and by using them, you take off some of the heat/risks off your SEO proxies' back. And making your SEO operation more secure.
SEO PROXIES ARE NOT USED FOR CONTENT POSTING
Two important SEO tasks involve forum posting and article commenting with links pointing to your desired domain.
Content posting through proxies can easily be considered spam by search engines and webmasters. Usually, this content is either spin content generated from spin tools, or it is scraped content from around the web.
Therefore, to avoid any spam looking activity, do not post automated content through proxies. Instead, use the proxies to scrape and gather data from possible link building domains. And then post manually your content with backlinks.
This task is time-consuming but it will help your operation look more legitimate and more content will be recognized, accepted and posted by webmasters.
SPAMMING IS TOO EASY AND TEMPTING
Again, do not fall into the trap of using proxies and SEO tools to post in large volume. It will look spammy and you face the risk of getting a penalty from Google.
In fact, you should almost never use your proxies to post content or perform any activity that would look spammy.
To avoid this risk, you should use your SEO proxies only to perform queries on search engines and to scrape for relevant domains. Then, the action of submitting backlinks or content perform it manually.
YOU CAN POST ON FORUM
For SEO, you do not need to log in any accounts to perform your queries. Thus, most SEO proxies are shared proxies. However, you can use your proxies to log in on specialty forums.
Niche related forums are less frequently accessed by other users. And chances are that your shared proxies have never been used to log into these forums. Therefore, you can use your proxies to log in multiple accounts and post content and backlinks towards your domains without the risk of getting a ban. And in the process, increasing the productivity and efficiency of your proxy's use.
IN CONCLUSION
By now, we hope you have a better understanding of what are SEO proxies and why you can use shared proxies for SEO tasks. You should always remember that as long as there is not account log in involved in an operation, cheap shared proxies can be used instead of virgin premium proxies.
SEO proxies and 7 unknown facts
was last modified:
September 16th, 2019
by