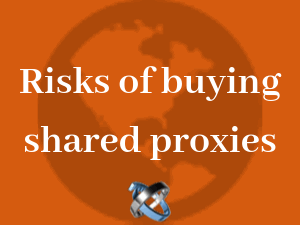 When purchasing an item or tool for their business, everybody wants to get the best available price. But, going for the best price doesn't mean you will get the highest quality as well. In the private proxy world, we have the same situation. There are buyers looking for cheap shared proxies. Moreover, due to the nature of this product, where you can't make a visible difference between premium proxies and cheap shared proxies, many choose a proxy's price as the sole differentiation between providers.
WHO BUYS CHEAP SHARED PROXIES?
To answer the above question, cheap shared proxies are usually bought by newcomers to proxy usage. As mentioned, private proxies are a commodity. At first, you can't spot the difference between cheap shared proxies and premium proxies because both have the same appearance. Basically, they are a series of numbers in a text file.
However, the power of a premium elite proxy or the weakness of a cheap shared proxy is spotted once a buyer starts using it and connect through the proxy to their desired online platform. Moreover, this power or weakness is spotted once the buyer paid already for his proxies. Thus, making it difficult for newcomers to proxy usage to appreciate the benefits of premium proxies.
Furthermore, cheap shared proxies, beside our recommendation to avoid them, present several risks for which you should disregard using them.
1. CHEAP SHARED PROXIES NOT CONNECTING
This is maybe the main issue with cheap shared proxies. Usually, they are allocated to you after they have been flagged and banned on other platforms. Thus, once you get them, you won't be able to connect to the desired platform.
However, not being able to connect at first is actually the best risk you can face when buying these proxies. Because you can ask for an IP refresh immediately. Therefore, once you buy any cheap shared proxies package, we recommend you check them immediately to see if they are working.
2. BANNED ACCOUNTS DUE TO CHEAP SHARED PROXIES
However, the worst risks you face by buying them is to have your proxies and accounts banned during their usage. Usually, you face the risk of flagging a cheap shared proxy either if you buy shared ones and somebody else using the proxy banns is. Thus, making it impossible for you to connect.
Another way to flag proxies is if you are using aggressive settings and exhibit automated behavior. Moreover, regardless of the ban, a flagged proxy during its use is the worst risk you face.
3. LOST BUSINESS / LOST OPPORTUNITY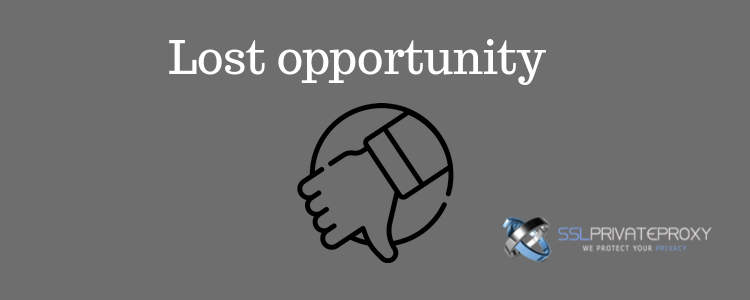 This risk is strongly related to the above one. Because, once proxies are banned during their usage, most providers will not refresh the proxy IPs until the next billing cycle.
Therefore, if the proxies are banned 15 days before the billing period ends, you will not be able to use them for the next 15 days.
4. MISSING PERFORMANCE TARGETS
If a cheap shared proxy is slow, unable to connect or has a terrible uptime, you will not be able to use it for a long time. Thus, any performance metric you track for your proxy use will miss its target.
For example, social media follow/unfollow strategy has a return rate of 0.2. Meaning that for each 100 accounts you follow, it is expect to receive 20 followers.
However, if cheap shared proxies are unable to connect or have a terrible uptime, than the 0.2 rate will be missed.
5. CHEAP SHARED PROXIES COST MORE IN THE LONG RUN
Any buyer of cheap shared proxies wants them because they are cheap. However, the appealing of buying proxies based on price dissipates quickly as your proxies will not be able to be used accordingly.
Therefore, once a cheap shared proxy package fails to deliver, users will start looking either for other providers or for other proxy packages.
Moreover, if the proxy package gets banned before the buying period ends, to be able to use the proxies, buyers will have to purchase other proxies, thus paying more. And by paying more and facing unexpected risks due to cheap proxies or lack of performance, cheap shared proxies can hurt the bottom line of any proxy user.
OUR RECOMMENDATIONS
We do not disagree with using cheap shared proxies. But, buyers need to be aware of the proxy's quality. Furthermore, our greatest recommendation is to use special use proxies. Thus, buy proxies allocated specially for your desired platform. And if the platform on which you are going to use your proxy allows for cheap shared proxies, then feel free to buy them.
The 5 risks of buying cheap shared proxies
was last modified:
September 16th, 2019
by