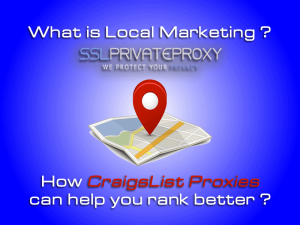 What is local marketing and how Craigslist proxies can help you rank better, get more conversions and increase your profits. All these will be discussed in the following article.
MAIN ARGUMENT – LOCAL IS POWER
For more than a few months now, everybody in the online marketing world is talking about local marketing and how to profit from it.
The main reason to start doing local marketing is the sheer amount of data and noise generated over the years since the inception of the Internet. Now, there is more data than a company can analyze. Over the Internet, there is such a tremendous amount of noise that just browsing became a strenuous experience.
There are not enough filters to analyze and sort this data. For example, let's take online searches performed on any search engine active now. Upon a simple query, the search engine will return hundreds of thousands or even millions of results.
The logical step for the user is simple, they have to input a more targeted query. With the hope to receive a more precise result. Therefore, in order to stand a chance and get results in today's Internet, marketers needs to look for methods to increase their relevancy and rank for more long tail keywords.
USE CRAIGSLIST PROXIES FOR THE ABOVE AND BELLOW
One characteristic of most long tail searches described above is the use of local terms in searches perform in a certain area.
Craigslist Private Proxies can be used both for posting on local ads websites and also on connecting social media accounts targeted at local searches.
While your website can be located on a remote, or even offshore, hosting, the use of Craigslist proxies is necessary in order to create local content about your business. Content that is relevant to your potential customers.
Furthermore, for those still questioning why you should use Craigslist proxies and why local marketing is relevant, we are going to give three reasons for which you should start considering the above information. So, read bellow.
REASON 1 – GOOGLE ENTITIES
It was discussed in another article on our blog how to use Craigslist proxies in order to stand a chance and be recognized by Google as a local entity.
Furthermore, this is one of the best reasons to use Craigslist proxies because Google entities, and the way they are displayed, occupy a major portion on the first page of search results.
REASON 2 – THE NEAR ME SEARCHES
A major part of online searches are conducted with a long tail keyword at the end. Usually these includes the 'near me' term. Meaning users are looking for fast, accessible results that are highly relevant.
One might use Craigslist proxies for simply maintaining several social media accounts, especially Facebook and Google+ in order to rank them for local searches.
Even if your website might not be ranked, by using Craigslist proxies, you can rank several Facebook pages. Thus you can draw traffic from both search engines and social media.
REASON 3 – THE LONG TAIL RULES THE WORLD
When doing keyword research, many SEO expert try to rank for the most competitive search term. Their hope is to rank for a competitive search term with hundreds of thousands, or even millions, of searches a month.
However, the easier way and the most profitable one, is to rank for several long tail keywords. Thus, creating a portfolio of multiple keywords that will generate traffic towards your website.
The convincing argument for the above is a research conducted by Ahref blog through which they found that 95% of the last five years searches on Google had more than 3 keywords. That's right! 9 people out of 10 input four or more keywords when performing a search query.
And how should you use Craigslist proxies for the above? You have to use them to manage several social media accounts that will create backlinks with local relevancy towards your website.
And once you build a backlink network targeting a local niche, start creating content and ranking for long tail keywords.
In addition, another reason to rank for long tail keywords is the targeted users that it brings. Because an user search for 'Nike running shoes near my office' is further down the buyer's journey than somebody looking only for 'Nike shoes'.
IN CONCLUSION
The Internet is a global medium. However, due to the tremendous amount of noise and irrelevant information, many users started using a more targeted approach to search engines. A marketer can profit from this trend by using Craigslist proxies with the main goal of creating local content on major websites and social media platforms. Therefore, if you are a savvy marketer, start buying Craigslist proxies from SSLPrivateProxy.
Use craigslist proxies for local marketing
was last modified:
April 3rd, 2017
by