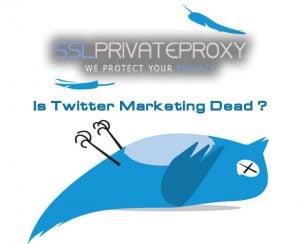 Is Twitter marketing dead? Many people think that if they fail to generate revenue on Twitter, they should disregard it as a social media platform for marketing and profit. However, with the help of Twitter proxies and a few marketing tweaks, Twitter can become one of your most effective mediums of generating leads, thus income online.
Does this platform still converts? The answer is yes, as long as you know how to engage your target audience. Because, even if you use Twitter proxies, without a clear focus and strategy, you will not be able to generate income online.
Twitter is a particular social media platform because it draws most professionals in social fields. Fields as business, creative arts, current affairs or news junkies. Basically, everything society-related can be found on Twitter.
WHY USE TWITTER PROXIES?
Do not use Twitter to generate sales, it might not happen. However, you can use Twitter to capture leads. Leads that can be used later on to generate revenue.
You can use Twitter proxies in order to create a social proof for your offer. Basically, with your accounts connected through Twitter private proxies, reposts tweets of your main account. These tweets will be visible by the followers of your accounts. This type of strategy is called a content mill strategy.
In addition, due to Twitter characteristics and demographics, you can follow not only targeted accounts but certain type of users as well. For example, you can follow only users that have tweeted in the last X number of days. Or you can follow users that have a follow ratio higher than 90%, meaning you will get a follow back more often than not.
With all this into consideration, Twitter proxies can be used to leverage all the characteristics of the social media platforms.
WHAT NICHES TO USE TO GENERATE LEADS
Not all niches are created equal. Certain niches are more profitable than others. While for some niches Twitter is the go-to social media platform to interact and engage, while for others Twitter is a dead end.
The following five niches are some of the best where you can use Twitter proxies to reach the largest audience and to generate leads for your business.
Either we are talking about personal finance, corporate finance or investments, finance and financial professionals are drawn to Twitter due to the social media easiness in posting new information.
Also, chances are most events will become known on Twitter before on other platforms or news agencies.
If your company caters to financial professionals, being active on Twitter is a must. Use Twitter proxies to automate your accounts and reach this demographic.
Similar to financial professionals, most legal professionals, from lawyers, compliance managers or corporate legal professionals are on Twitter.
Most pharmaceutical sales are done by sales representative and they target doctors across the country. A pharmaceutical selling company can leverage Twitter by reaching the largest audience possible with the help of Twitter proxies and then working towards converting them.
4. CONSTRUCTION AND DESIGN
All creative professionals are on Twitter, either if you are targeting industrial designers, architects or web designers, most of them are on the social media platform.
Your company can appeal to them by also liking and commenting on their content. Another two tasks that you can automate through private proxies.
Most consulting firms target high level corporate sales, because the usual customer is the upper management of large corporations. Therefore the number of prospects is very limited. And the best way you can capture as many leads as possible is to create a social proof dimension for your account through Twitter proxies. Basically, with multiple accounts you can target same followers.
WHAT DO THEY HAVE IN COMMON
This niches have in common two characteristics. The buying cycle is a long one, and usually involves many decisions and reviews along the way. And the other characteristic is that a sale usually requires a large amount of money, therefore a decision takes a longer period of time.
With this is mind, it is easy to see why, for these niches, is better to use Twitter proxies to generate leads that will be nurtured at a later date. Trying to sell on this niches via social media can be a disastrous move.
TO WRAP UP
The sole decision of selling or capturing leads on social media can mean the difference between a profitable marketing campaign and a disastrous one.
Use Twitter proxies to reach the largest audience possible. And use the gathered audience to promote your message with the intent of capturing leads. Leads that can be used to convert into buying customers at a later date.
Use Twitter private proxies to generate leads in these 5 niches
was last modified:
December 23rd, 2016
by