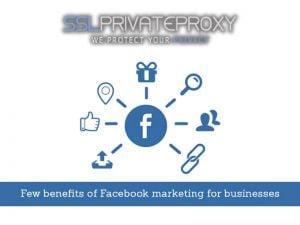 Facebook proxies as a simple mean through which a marketer can leverage the largest social media platform today. If your marketing strategy involves using Facebook for marketing, then consider the next five benefits of implementing Facebook proxies in your setup.
WHY YOU SHOULD USE FACEBOOK PROXIES
Facebook proxies are used to connect and manage multiple accounts from the same server. In addition to managing multiple accounts, through proxies, you can also target specific geographical areas and develop communities centered around your products or services.
BENEFITS OF USING FACEBOOK PROXIES
There are many benefits of using facebook proxies for marketing. The setup, through which you can use Facebook proxies for marketing, involves setting a virtual private server, a social media tool for automating your accounts and private proxies to connect them to Facebook.
You need a VPS because most social media automation tools are desktop based and they require an online connection and a PC running 24-7.
Below, there are five benefits that your marketing can take from Facebook.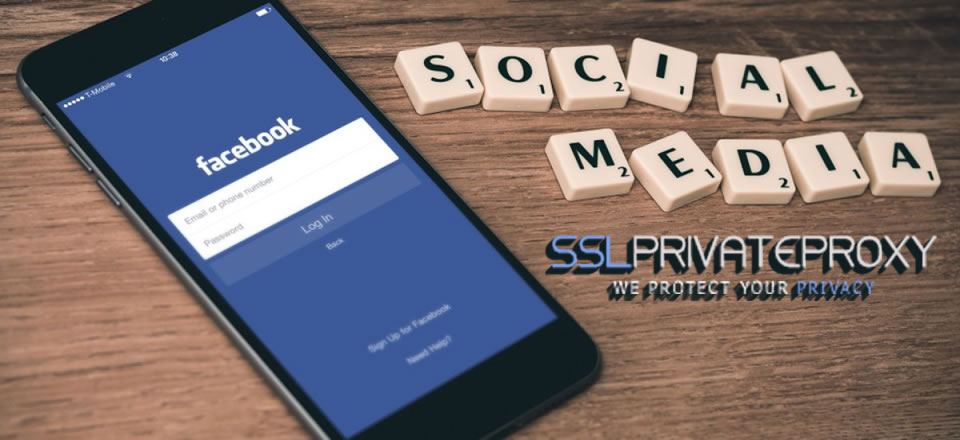 1. APPEAL TO ANY DEMOGRAPHIC GROUP
Whereas other social media platforms are focused on specific demographic groups, Facebook brings all of them together. There are high chances that any company can reach its target demographics on Facebook.
The great advantage of using Facebook proxies and Facebook for marketing is that you can reach any demographic group. The most important fact is that your company should be a B2C company, meaning a Business to Consumer. B2B companies can be successful at marketing on Facebook, but to a limited extent.
Because anybody, from teenagers to senior citizens have Facebook accounts, your company can promote any type of products and services.
You can use Facebook proxies and leverage this benefit by simply setting multiple accounts on proxies spread all over United States. This way, you can gather clients from the same demographic group, but from across the country.
2. CREATE AND PROMOTE ANY TYPE OF CONTENT
Another great advantage of marketing on Facebook is that you can promote any type of content. From instant articles and news pieces to videos and podcasts, any content type can find its place on Facebook.
Furthermore, you can use Facebook proxies to create a distribution hub for your content. You can use your multiple accounts to spread and distribute your content towards a larger audience.
3. LASER FOCUSED TARGETING
Because Facebook engulfs most demographic groups, you can focus on targeting specific demographics, or even subgroups of demographic groups.
With precise targeting you can increase your conversion rate because you will be able to appeal to customer groups interested in your products or services.
For targeting, you can leverage Facebook groups. These are groups that can be developed by inviting like-minded people to become members. Once you gather a certain number of potential customers in one of your groups, you can start promoting to them. Thus, you can increase your conversion rate even further.
4. ENGAGE WITH YOUR AUDIENCE
Facebook feels personal. Everybody posts pictures with themselves and their families. Therefore, the large majority of Facebook users, consider their accounts the most personal social media accounts.
Marketers can leverage this characteristic by simply interacting with present customers or future ones. Marketers can simply reach customers and start a dialogue with them.
In addition, with the help of Facebook proxies, marketers can leverage further the power of Facebook groups by starting discussions with customers and interacting with them in a personal manner inside their groups.
5. CREATE A SOCIAL PROOF DIMENSION
Social media craves social proof. Once a person notices a social media post or Facebook page with thousands of likes, suddenly she becomes more interested. In the same way, once we notice an YouTube video with million of views, we are tempted to click play and watch it.
Thanks to Facebook proxies, you can leverage the social proof dimension of Facebook by simply developing several sub-accounts and using them to share and like the content of your main account.
Apart from reaching a larger audience, through shares and likes you also boost the likelihood of making your content more tempting for your friends to click.
TO WRAP UP
Facebook, the largest social media platform today can be leveraged through facebook private proxies. You can use these proxies to develop several accounts. With the help of these accounts you can automate your marketing and increase its returns.
There are several benefits of promoting and marketing on Facebook through social media proxies. You can appeal to any demographic, attract new customers and engage them. In addition, you can promote and type of content. And with the help of Facebook proxies, you can create a social proof dimension to make your content tempting to your audience.
5 Benefits of using Facebook Private Proxies
was last modified:
January 15th, 2017
by