Search engine optimization is an ever changing game. What has worked two years ago, didn't work last year. And what worked last year, doesn't work this year and so on. This is a confusing domain. And the SEO experts that must buy Scrapebox proxies for their SEO tasks must pay attention to every cog from the SEO system. However, along the years, a few factors maintained their relevancy. Moreover, the SEO process can be performed through this five factors successfully. Furthermore, to increase their impact on an SEO campaign, one can buy Scrapebox proxies.
1 BUY SCRAPEBOX PROXIES BECAUSE… BACKLINKS
There is a small divergence from what Google says and what Google ranks. They will say that backlinks are not as important as they used to be. And that in 2017 there are other factors important for your ranking, such as social signals and the bouncing rate.
However, we still see poorly built, spam looking websites ranking on the first page of Google and maintaining their rankings over time. Thus, we must conclude that Google still relies heavily on backlinks to rank websites.
We consider this to be the main argument for which one must buy Scrapebox proxies. Not to spam the web with backlinks to his website, but to help him build relevant backlinks to his website.
2 BLOG COMMENT ON PAGES WITH HIGH PAGERANK
Google have dismissed the PR (pagerank) factor from its SEO algorithms. But, even if the PR doesn't weight anymore for ranking a website. It still offers a gauge over how important a website is.
Moreover, a webmaster buying Scrapebox proxies can 'ride the wave' of the PageRank by scraping the web for relevant websites with high PageRank and then commenting on these websites.
And while most highly ranked websites have their comment section built as a nofollow, webmasters can still profit from them. Mainly because Google will consider nofollow backlinks from comment sections as a type of social signal.
3 BUY SCRAPEBOX PROXIES TO ANALYZE YOUR COMPETITION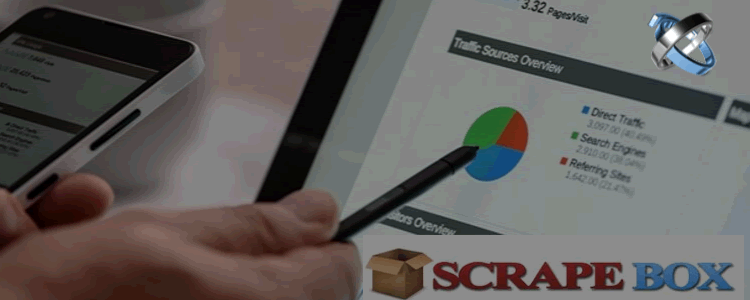 The SEO game is becoming increasingly difficult. Webmasters need to pay extra effort and consideration. And one way to gain an edge in SEO is to have a better backlink profile than your competitors. This can be achieved with the help of the Add-on Scrapebox backlink checker.
Simply insert your competitor's homepage in the harvester area and let Scrapebox do its job. For this process, you must buy Scrapebox proxies because, depending on your competitor's ranking, the scraping might take from a few hours to a few days.
Checking competitor's backlink through Scrapebox has several advantages over web services such as SimilarWeb or SEMRush. But, the most important is that you will have raw data, unadulterated and unfiltered. Thus, you will have a clear picture over your competitors' backlinks profile. So, buy Scrapebox proxies and start studying your competition.
4 IDENTIFY GUEST POST OPPORTUNITIES
Guest blog posting is still a relevant SEO strategy. Simply because it works. And most guest post opportunities offer 'do-follow' backlinks.
Even in 2017, you will find several highly ranked websites that rely heavily on guest posting backlinks building to rank and maintain their ranking position. And all you have to do is to use Scrapebox proxies to check for a few footprints that indicate guest blogging opportunities. And then add an extra filter, such as your main keywords.
Once the scraping has finished, filter your results based on Pagerank and guest blogging guidelines. And consider reaching only those websites which are relevant to your niche.
5 BUY SCRAPEBOX PROXIES TO PERFORM YOUR OWN SEO
We left this reason at the end of our list for which you should consider buying Scrapebox proxies because is an important factor.
Most SEO services offered online don't have a transparent backlink building policy. So, upon purchasing such services, you don't have the certainty they will build relevant backlinks for you. In addition, some SEO and backlink building services rely on PBNs (personal blog networks) to build their clients' backlink profile. Thus, if you purchase such services, the backlinks built by them actually might harm your business.
Therefore, you should consider two courses of action. First, you should look only for transparent backlink services. But they come at a premium, so it might be an expensive service to purchase. And the second action you can take is to buy Scrapebox services and perform your own SEO tasks. This is the time-consuming approach, but you have guaranteed quality because you can decide on which domains your backlink profile will be built.
TO WRAP UP
Even in 2017, you can buy Scrapebox proxies to perform SEO tasks. But the course of action is to filter your harvesting and build relevant backlinks. Not to spam the web with backlinks. Therefore, buy Scrapebox proxies from SSLPrivateProxy.
5 reasons to buy Scrapebox proxies in 2017
was last modified:
September 16th, 2019
by