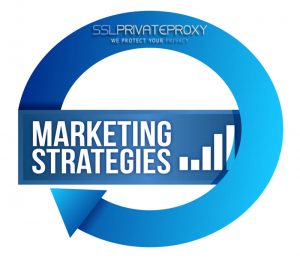 Very few marketers know that online marketing is very similar to investing in stocks. There are certain similarities. The first one is that both marketing and investing have the end goal of generating positive returns.
If you are an online marketer, you must buy proxies to increase your returns and performance. With their help, your marketing efforts will be enhanced by simply reaching the largest pool of potential customers.
WHY BUY PROXIES FOR MARKETING
You should consider buying proxies for marketing with the sole purpose of getting an advantage over your competition. There are several ways through which you can use proxies for marketing. But, the two main ways in which you can use them is to acquire customers and clients either via social media marketing or through search engine optimisation.
BUY PROXIES FOR SOCIAL MEDIA
Proxies are used in social media marketing with the sole purpose of connecting multiple accounts to the same social media platform.
Because you connect all your accounts through social media, you can control and manage them through the same tool, using the same server. Usually, social media automation tools include a function to use and implement proxies for each account.
The main advantage of using social media proxies is that you can leverage and scale your social media marketing on the most profitable platform for your products. Thus, you increase the chances of generating higher returns.
Another way you can use proxies for marketing is through SEO.
BUY PROXIES FOR SEO
Search engine optimization is another way of marketing online. Basically, you increase your likelihood of ranking on the first page of search engine results.
Marketers can buy proxies for SEO to either research and perform multiple queries on search engines or to perform blog commenting and backlink building to increase their pagerank.
The field of SEO and proxies has become very complex and we are not going to develop it further. For the sake of the present article, you should consider only that proxies are used to perform SEO.
HOW TO DECIDE WHAT PROXIES TO BUY
Your proxy purchase should be decided on whether your website and your marketing strategy require to rank higher in search engines or needs social media to promote content.
Private proxies for marketing should be used as a tool that facilitates your strategy, not as a strategy in itself. First define your strategy and the steps required to reach your potential customers. Then decide if you should buy proxies to enhance your marketing efforts.
Now, once the proxy issue has been decided, it is time to show how you can implement investment lessons in your marketing endeavors.
LESSON #1 – DECIDE ON A METHOD AND STICK WITH IT
It is very easy to switch between methods. Especially if you are using proxies. Therefore, it is very important to choose one method and stick with it.
Social media marketing or SEO results, even through private proxies, will take time to show returns. Therefore, once the strategy is defined at the beginning of your endeavors, stick with it.
The mistake investors and marketers do is to switch strategy before they see results. For example, a marketer might buy proxies for SEO. And could make the mistake of aborting his SEO strategy and adopt a social media strategy right before the SEO strategy returns its results.
LESSONS #2 – YOU NEED FINANCIAL POWER
Even the simplest and surest marketing or investing strategy will suffer or even generate losses instead of profits if there are not enough financial resources to back the strategy until its end.
Before deciding on a strategy, make sure you have enough financial resources to deploy it. For example, for social media marketing, after you buy proxies, plan your finances as to cover the proxies, VPS and marketing tool costs for several months. Plan your resources because it is very unlikely to generate a profit from day one.
LESSON #3 – SCALE EVERYTHING
In marketing, as in investing, positive returns are generated over time by simply performing the same task.
In marketing, if you have found success with social media automation, look to scale it. If you generate a profit of 10 USD per account, you will not get successful by doubling or tripling your profit every two months. Instead, you will manage to get decent returns by scaling your operation. You can scale by buying other proxies and automate more accounts. Thus, developing what have been proven to work.
TO WRAP UP
Investing and marketing are very similar. You can achieve success and improve your marketing efforts by simply looking at investing and applying some of its common practices.
In marketing, you have to stick to one strategy. Then, set appropriate funds to implement it and buy proxies to scale it and reach the largest pool of potential clients.
Buy proxies for marketing and apply these 3 investing lessons
was last modified:
January 15th, 2017
by