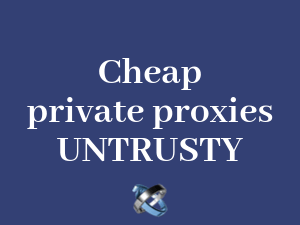 The world we live in is far from perfect. Same as with the private proxy world. Unfortunately, online you will find proxy providers offering cheap private proxies and advertising them as best elite premium proxies. In reality, cheap private proxies can't be used as elite premium ones. But certain providers, abusing their power, will advertise and sell cheap shared proxies as premium proxies. A behavior that led many to believe that the private proxy world is an untrusty one. In this article, our goal is to explain the practices that, unfortunately, some private proxy providers are employing.
WHY CHEAP PRIVATE PROXIES ARE CHEAP?
If you look online, you will find providers offering cheap private proxies with prices at which other providers are selling shared proxies. The main reason for this price difference is the false statement that the former group, of untrusted providers, advertise. While the latter group, of legitimate providers, do not. The false statement is that for very low prices if you buy from them, you will get elite private proxies. Unfortunately, these providers will sell cheap shared proxies. And the user, instead of getting dedicated premium proxies, will buy and share his proxies with other users.
There are two reasons for which some providers advertise their premium proxies for such low prices. First, there is no system in place through which a user can verify if the private proxies he bought are shared or dedicated ones. The only element that users can verify is the IP and PORT of a proxy, not the traffic passing through it. Thus, some providers, in the hope of increasing profits, will share premium proxies between several users. Thus, false advertising cheap shared proxies are premium ones.
And the second reason for which certain providers are recurring to this tactic of sharing their proxies between several of their customers is the overhead cost of a private proxy. Simply put, a private dedicated proxy incurs several costs and selling it at a low price to only one user will not cover its costs. Therefore, to cover their costs providers will sell the same proxy as a dedicated one to several users.
UNTRUSTY PROXY PROVIDERS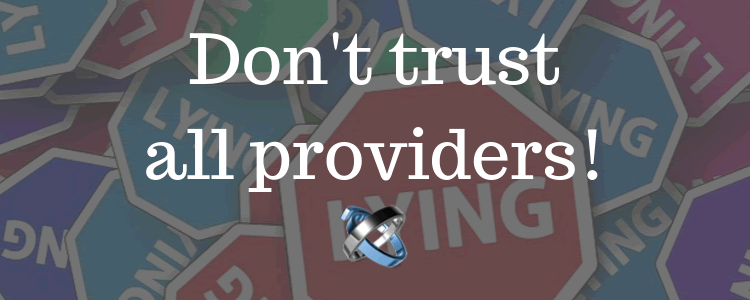 Unfortunately, certain providers are recurring to such techniques and tactics to increase their short term profits at the expense of long term customer satisfaction and reputation. They are willing to sacrifice anything, in order to squeeze a few extra dollars from each customer.
There are many providers recurring to these tactics. And while there is no higher authority regulating the private proxy world users can only protect themselves by researching and documenting.
HOW TO PROTECT AGAINST UNTRUSTY PROVIDERS
There is only one way for a user to protect against such behaviors He has to investigate and look for reviews of the provider's offers and customer service. There are several private proxy review websites where users can look for impartial, proxy providers review.
Moreover, users can also search through specialty forums, where most providers are advertising their offers and services. Here, on forums such as BlackHatWorld, users can search through other buyer's opinions, pose questions and even review a proxy provider. Even if the buying process will not be completed through forums or review websites, visiting and researching through them is a must in the buying process of either cheap private proxies or premium proxies.
BUY CHEAP PRIVATE PROXIES ONLY IF NEEDED
As mentioned in several of our previous articles, users should consider buying cheap private proxies only if they need them and their project allow the use of cheap proxies.
Moreover, the price element should not be a primary factor when researching for proxies. Because sometimes the cheapest proxies will cost the buyer more in the long run. And the price element should be considered only after identifying the right proxy type for the project. For example, it is suitable to buy cheap proxies for SEO. But the same cheap proxies would not work for social media marketing. Thus, first, the right proxy type must be identified and the price afterward.
TO WRAP UP
The private proxy world has some negative actors doing false advertising and selling cheap private proxies as premium dedicated proxies. Unfortunately, a buyer has no control and can't verify if the proxies he bought are cheap shared ones or premium virgin proxies. In addition, because lacking a higher authority, all those looking to buy private proxies should perform their own research and investigate providers. Potential buyers can perform their research on proxy providers by browsing review websites or specialty forums such as BlackHatWorld.
Cheap private proxies and their untrusty world
was last modified:
September 16th, 2019
by