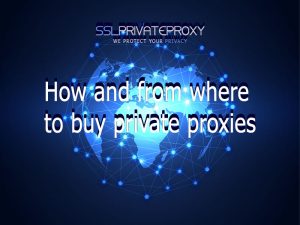 Many are drawn to proxies and their use, but very few know how to actually profit and use public or private proxies to their advantage. In this article, we are going to shed some light over how a beginner in the world of private proxies should approach the market, where to buy proxies and what to consider upon buying them. We are going to start with the simple question of where to buy proxies, what to look for and what type of proxies to consider. Finally, we are going to consider if the price factor is important.
WHERE TO BUY PROXIES
Public or private proxies, socks, http or https proxies are virtual products. Moreover, they should be considered virtual services, because they facilitate and offer a service on an ongoing basis. So, the simplest question of where to buy proxies can receive a complicated answer.
The first place to look, if you want to buy proxies, should be Google. However, you should not buy into the first proxy service you find. You should investigate in detail. In addition, certain people looking to buy proxies, can find them at vendors in places such as marketing forums or hacking forums. This is to the fact that proxies took a life of their own, and they evolved from a simple anonymity tool in a stand alone service that can be used for a multitude of tasks.
After considering where to buy proxies, you should have in mind the use of private proxies, how you are going to use them and if the provider you found online is capable of offering the proxies suited to your needs.
THE REASON TO BUY PROXIES
Nobody wants to buy proxies for the sake of them. Usually, proxies are bought with a special purpose in mind. This purpose varies. Therefore, you have to understand that proxies are different as well. And some of them not only will not work for your needs, but they could also harm your online operation. Therefore, once you look where to buy proxies, have in mind their purpose.
For example, there are users looking for 100% anonymity. Therefore, they have to buy elite proxies, which are anonymous proxies. Meaning they hide your true location, thus making browsing or communicating online safe again. Furthermore, such users can get harmful results if, instead of using elite proxies, will go for public proxies, which sometimes sniff traffic data. And instead of becoming anonymous, the user of public proxies will even get his private details stolen.
WHAT TYPE OF PROXY TO BUY
Proxies are split into two main categories, socks and HTTP proxies. Furthermore, HTTP proxies can be split into more detailed categories, such as HTTP and HTTPS proxies.
You should consider only one thing. Most proxies are HTTP, or a variation of it. And this variation can take many forms.
The type of proxy you should consider is directly related to the use of it. For example, for social media, due to the restrictive nature of most social media platforms, regular proxies will get in trouble most of its users. Therefore, marketers or entrepreneurs looking to connect their social media accounts through proxies, should consider only the use of virgin proxies. There are private proxies with dedicated access. They are dedicated, because only you can use them. And they are virgin because they were never used for social media before. Before, your accounts do not face the risk of getting banned due to a previous abusive use of that proxy.
SINGLE PROXY IP OR PROXY PACKAGE
The question of how many proxies to buy is related to the scale of your online operation. And it depends on the purpose and how aggressive you are in their use.
For example, an SEO agency might need hundreds or thousands of proxies to make multiple search engine queries per minute. For such a high volume and almost anonymous use, somebody might consider using a mix of public, shared and private proxies.
On the other hand, a social media marketing manager, looking to simultaneously connect multiple social media accounts and manage them from the same server, will need dedicated virgin proxies. After he searches for places where to buy proxies for social media, he needs to consider also the setup of his operation. Because every social media account needs to be regarded as independent from others, the marketer needs to use different IPs for different accounts. Therefore, he should consider purchasing one proxy per social media account. Furthermore, he should look for places where to buy proxies that offer a HTTPS connection. Thus, making his logins safe from traffic sniffing.
IS THE PROXY PRICE IMPORTANT
When it comes to proxies, what you buy is what you get. Even if the price pays a major role in selecting the private proxy provider suited to your needs, you have to consider that the higher the price of a proxy, the higher the chances of getting a 'decent' proxy. In addition, an user could not control if a proxy is shared or dedicated. Therefore, a higher price indicated a better service and usually means you get a 100% dedicated proxy instead of a shared one covered as a dedicated one.
How and Where to Buy Proxies
was last modified:
March 2nd, 2017
by