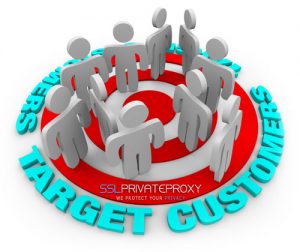 Every business model is based on a revenue stream. The revenue stream is based on a distribution channel. Expand your distribution channel and your company will generate more profit. One great way to expand your distribution channels is through private proxies and automation tools.
Today there are but a few monopolies left, and is even harder to create new monopolies. So in order to generate a profit, your business needs to dominate distribution channels. The on-line presence of your business can be included as well in one or more channels. Premium private proxies are a way to turn your business into the dominant online player.
HOW PRIVATE PROXIES CAN HELP YOUR DISTRIBUTION
When we say distribution, we refer to the channels your business is using to reach potential customers.
Private proxies can help you reach more prospects on-line. There are two major ways by which premium private proxies or even cheap shared proxies can help your business channels.
One way is to use private proxies to expand your already existing channels. This way, by using private proxies you can scale up the part of your marketing that is already generating leads.
By scaling your marketing through private proxies, you will need to automate your marketing process. This way you will enlarge your marketing funnel and generate more leads.
The other way private proxies can help is to explore new channels. With the help of private proxies, you can reach new potential customers by simply looking into other market segments. Segments unexplored until now.
No matter what channel you are using, bare in mind that once you start expanding and automating your marketing, you will have to buy proxies on-line. SSLPrivateProxy provides both cheap shared proxies and premium virgin proxies. Buy proxies depending on your business needs.
WHAT CHANNELS CAN BE EXPANDED WITH PRIVATE PROXIES
Depending on your marketing strategy, you can choose to use private proxies to expand either into one or all of the following distribution channels.
The first distribution channel is the online search results area. In order to get a higher ranking, your online presence needs to have a high SEO score.
For SEO, you can use ScrapeBox with private proxies. With SEO tools, it is the only time we recommend using cheap shared proxies. You can use SEO tools and look for other blogs in your area, research keywords and run multiple search engine queries.
The second way of expanding your channels is through Social Media. Depending on your business reach, you can use either one social media platform or even all of them. With social media you have to use private dedicated proxies. You can choose one of the social media packages as Instagram Proxies or Pinterest Proxies.
The third way to reach new potential customers is through local, classified ads websites. This is the least explored area. And there is still room for growth. This method works best for businesses with an off-line, physical presence. The more ads you generate, the less relevant your competition becomes. And because of your large number of ads, your products will appear in front of many more prospects.
For classified ads, you can use classified ads proxies such as Craigslist proxies.
WHAT PROXIES YOU NEED
As mentioned above, you can choose any private proxy package you need. The main take is that you have to use HTTPS proxies. These are proxies that allow you to connect through an SSL encrypted connection. Making it safe to connect to your online accounts.
Also, apart from SEO, where you can use cheap shared proxies, most other platforms will require private virgin proxies. These are private proxies never used for those platforms before. For example Pinterest Proxies are virgin proxies for social media. Meaning they have never been used for social media platforms before.
SSLPrivateProxy provides dedicated proxy packages for most on-line services and platforms.
A FINAL WORD
Your online business profitability depends on the prospects your distribution channels allow you to reach.
You can use private proxies to enlarge your distribution channels in two ways. The first way is to expand your already existing channels. You can achieve this by using private proxies and automation tools to scale your marketing operations.
The second way private proxies can help you is to explore new channels. Channels unused until now.
On-line there are three main channels that allow to to reach new customers. Scale your distribution into one or all of these channels. The three channels are search engine results, where you can use cheap share proxies for SEO tools. The second channel is social media, where you need to use dedicated virgin proxies with automation tools. And the last channel is the local, classified ads channel, where you can use Craigslist proxies offered by SSLPrivateProxy.
No matter what proxy package your marketing requires, all proxies provided by SSLPrivateProxy are HTTPS proxies. And depending on your requirements, we offer as well virgin proxies.
How your profit depends on private proxies and distribution
was last modified:
October 31st, 2016
by